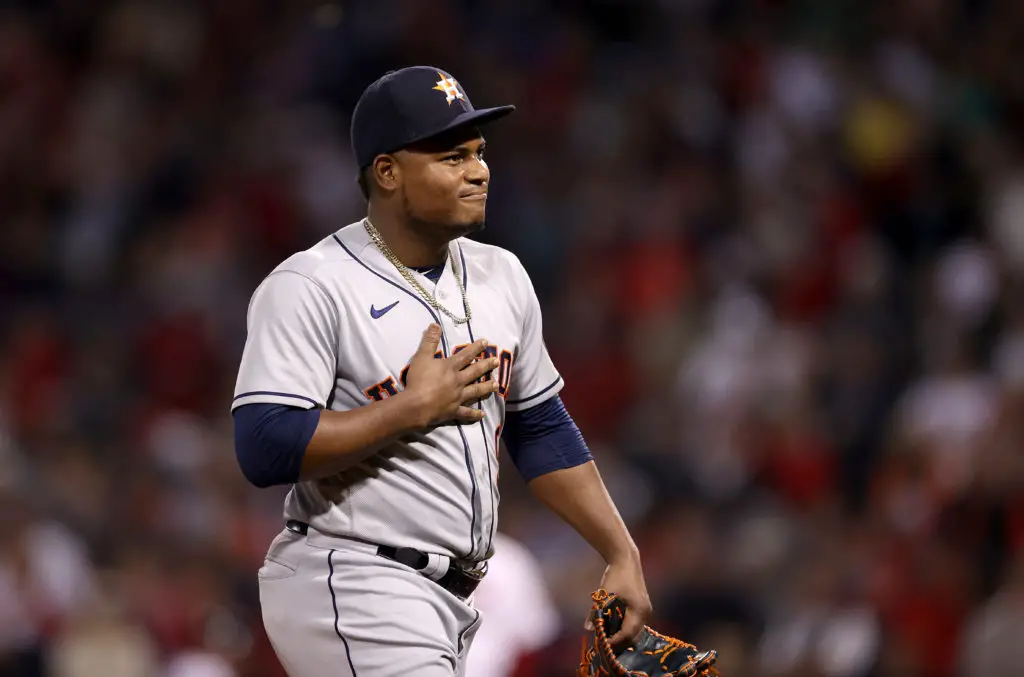 'Amazing' Framber Valdez delivers for Astros
Framber Valdez dominates Red Sox to put Astros within a victory of World Series
BOSTON – Framber Valdez seemed rattled after allowing his first hit of Game 5 of the American League Championship Series. He immediately followed it by hitting the next batter, which was odd because, to that point, he was in total control.
Sensing that his starter was unraveling, Astros manager Dusty Baker visited Valdez on the Fenway Park mound. Instead of sending pitching coach Brent Strom, Baker strolled to the mound himself.
With nobody warming up, Valdez found it odd that Baker was approaching him in the middle of the fifth inning. Baker kept it nice and sweet as the Boston Red Sox threatened to get back into Game 5 Wednesday night.
"I call him Framboso," Baker said after the Astros beat the Red Sox 9-1 to take a 3-2 lead in the ALCS. "I said, 'man, you're the best. Man, just be natural and just do your thing.'
"You know … I didn't say a whole bunch to him. It was kind of like you call a 20-second time-out in basketball and try to take the air out of the game. That was a 20-second time-out that probably took 15 seconds."
It was a simple yet crucial breather.
"He just came out and told me to breathe," Valdez said after putting the Astros within a victory of the World Series. "You can't let a walk and a hit take you out of your confidence. You know what you're doing. And he just gave me confidence."
It was just what the 27-year-old left-hander needed to hear. Turning to his best pitch — the sinker ball – Valdez induced a double play, which let the air out of a hopeful Fenway crowd. The following batter hit a weak ground ball to end the inning.
The "20-second timeout," as Baker referred to it, might have saved the game. The following inning, the Astros exploded for five runs, extending their lead to 6-0 in the eventual 9-1 victory.
Framber Valdez Turns to Meditation
During the Astros' sixth inning barrage, Framber Valdez sat in the dugout and began to meditate. He closed his eyes and took large breaths, clearing his mind of everything that went on in the previous inning. Then, he visualized himself pitching in the coming innings.
"That's something I've been working on and practicing with my psychologist in the Dominican," he said. "It's something that every time I use it, it's worked for me 100 percent. My emotions don't get out of hand. 
"I feel totally focused on what I need to do. It's something that I've been working on a lot, and it centers me and allows me to be calm out there."
Valdez tossed three more innings after Baker's visit. He pitched eight brilliant innings to shut down an offense that had been nothing short of on fire this postseason.
He scattered three hits and five strikeouts while giving up only one run to earn the win.
Valdez also provided his taxed bullpen with much needed relief.
'Amazing' Framber Valdez
"I think their guy was amazing," Red Sox manager Alex Cora said of Valdez. "He was throwing harder than usual. The ball was moving. We didn't hit the ball hard at all. 
"I think we had two fly balls, if I'm not mistaken, and a home run, right? Credit to him. His sinker was unreal tonight. Unreal. You tip your hat to him and you move forward."
For Dusty Baker, a start like this could not have come at a better time. No Astros starter had exceeded three innings of work in the ALCS until Game 5.
With a day off before Game 6 in Minute Maid Park, Houston is in good position to advance to the World Series for the third time since 2017.
"Now, we're playing for a split," Baker said. "And hopefully the split comes in Game 6."
Featured photo by Elsa/Getty Images.
Get the Our Esquina Email Newsletter
By submitting your email, you are agreeing to receive additional communications and exclusive content from Our Esquina. You can unsubscribe at any time.