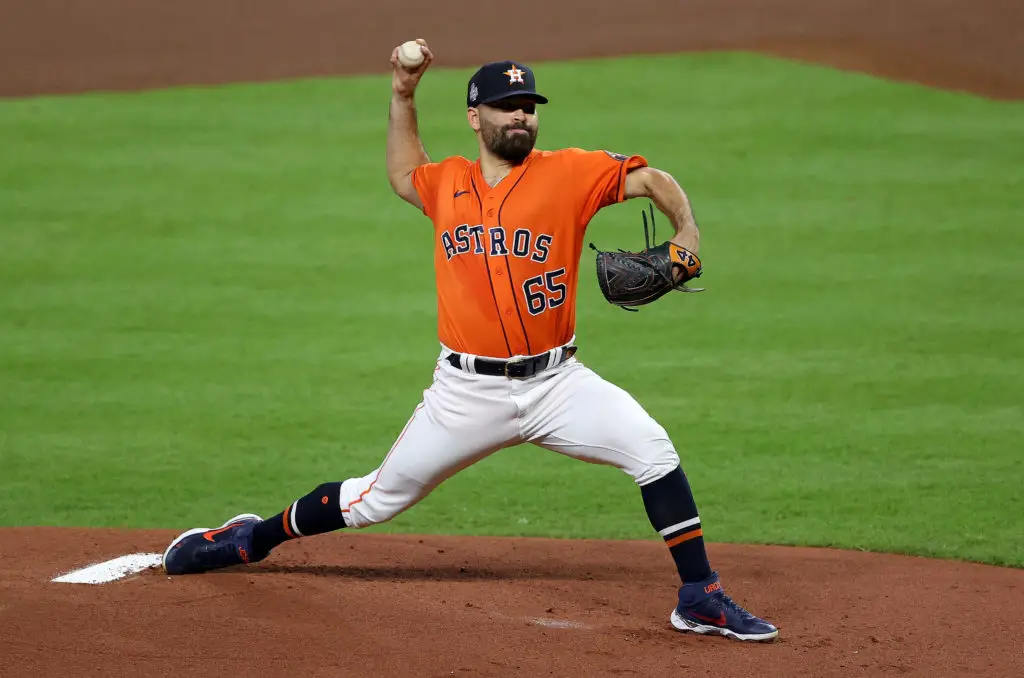 Astros Jose Urquidy gets special call before Game 2
Jose Urquidy vows to drape Mexican flag over shoulders if Astros win World Series
HOUSTON – Astros righthander Jose Urquidy received a call from childhood friend Julio Urias shortly before taking the mound for Game 2 of the World Series. The Mexican starters met 14 years ago as teammates on the Sinaloa state team, and they remain close.
Urias was in Urquidy's position in the last Fall Classic. He knows exactly how Urquidy was feeling before beating the Braves 7-2 at Minute Maid Park, and he had just finished playing Atlanta in the NLCS.
"I spoke with Urias briefly before the game," Urquidy said after holding the Braves to two runs on six hits with seven strikeouts in five innings. "He told me to get ready, and we spoke a little."
More World Series
– Astros' Jose Urquidy honors Mexican roots
– Lovable Dusty Baker guides Astros to World Series
-Andrew Dunn-Bauman amplifies Astros' Latino voices
Jorge Soler drills historic leadoff shot for Braves
Urias is famously nicknamed "El Culichi," which is a nod to his hometown of Culiacan, Sinaloa.
Urquidy is a proud Mazatleco, as he showed by paying tribute to his hometown with "El Corrido de Mazatlan" as his intro song Wednesday night. 
Jose Urquidy and Julio Urias make history
They've both made Mexican history in Major League Baseball this year. Urias, who closed out the 2020 World Series for the Dodgers, was 20-3 this season to become the first native of Mexico to lead the majors in victories.
Urquidy was hampered by injuries this season, but he came through in Game 2 to become the first Mexican born pitcher to win multiple World Series games. He added that victory to the one he had in Game 4 of the 2019 World Series against the Nationals.
In that outing at Nationals Park two years ago Urquidy became just the third native of Mexico and the first in 34 years to win a World Series game. Victor Gonzalez of the Dodgers became the fourth Mexico native to win a Fall Classic game last year when he won the title-clinching Game 6, which Urias closed out.
'Living the dream'
"It's something that I've been working on for a long time, (since) when I was a kid when I was playing in Mexico," Urquidy said. "I'm living the dream."
Urquidy's ultimate dream is to drape a Mexican flag around his shoulders while celebrating a World Series title, as Urias and Gonzalez did last year with the Dodgers.
Urquidy was one of millions of Mexicans who celebrated last year when Urias and Gonzalez helped the Dodgers win their first title in 32 years.
"I saw that game on television," Urquidy said. "Just imagine, I was very happy when (Urias) and Victor Gonzalez brought out the Mexican flag. I was very proud of them because they won it last year, and I was very happy to see them."
The best-of-seven World Series is tied at 1 apiece heading into Games 3-5 at Atlanta's Truist Field. 
Small group of Mexican World Series winners
It took 34 years between victories in the World Series by a Mexican born pitcher. Fernando Valenzuela was the first Mexican born pitcher to win a World Series game in 1981. Three years later, the Detroit Tigers' Aurelio Lopez became the second. 
It then took 34 years before Urquidy became the third Mexican born pitcher and second Mexican born starter to win a World Series game. With Gonzalez's victory last year in relief, Mexican born pitchers have won games in three consecutive Fall Classics.
Of the four Mexican born pitchers with World Series victories, only one of them didn't win the title that year. That was Urquidy. 
If he wins it all, he'll celebrate with the Mexican flag on his shoulders.
"I'm going to do it," Urquidy said. "I'm going to do it, God willing. But first, we have to win."
(Photo by Bob Levey/Getty Images)
Get the Our Esquina Email Newsletter
By submitting your email, you are agreeing to receive additional communications and exclusive content from Our Esquina. You can unsubscribe at any time.