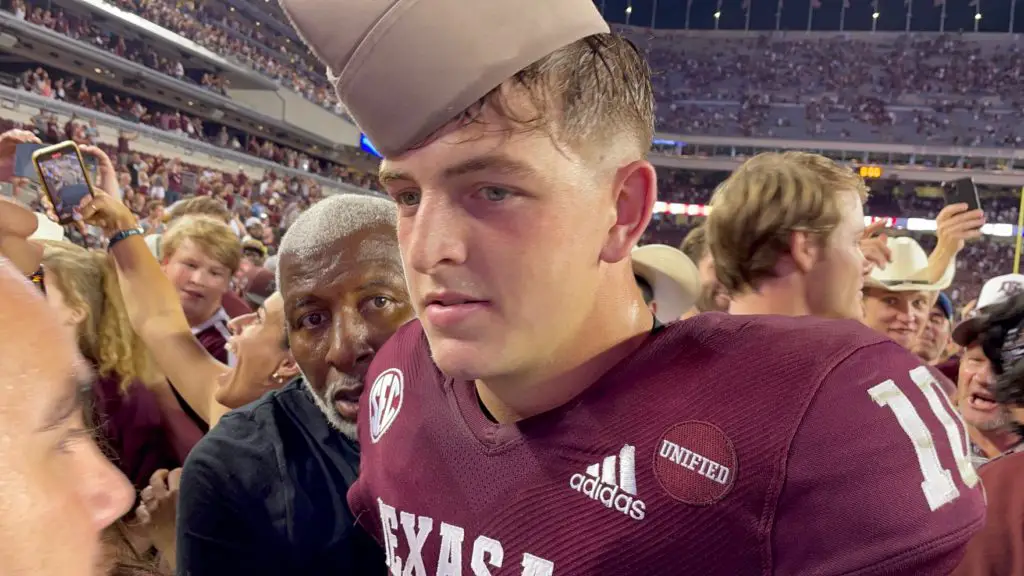 2021 College Football: 21 Blessings
2021 has provided plenty to celebrate in College Football
More than ever, the 2021 College Football season seemed like the year of the Latino quarterback. Whether it was Heisman Trophy candidate Matt Corral at Ole Miss or Zach Calzada at Texas A&M, Latino quarterbacks have shone this year.
Latino quarterbacks weren't the only reasons we have enjoyed the college football season. Here are 21 things to be thankful for in college football in 2021
21 in 2021 in College Football
The passage of Name and Likeness legislation. The NCAA after much discussion, reluctantly permitted players to make profitable use of their name and likeness. The fact that the NCAA permitted this a few days after receiving a hellacious beatdown by the Supreme Court shows it is not coincidence.
The NCAA has to be shamed or rebuked into doing anything positive for the players. We've seen a number of players, both male and female make significant money from endorsement deals in just a few months. Coaches bemoaned the passage of the legislation. Some said they would quit if players were compensated and we have yet to see that happen. 
The return of McKenzie Milton. The Florida State senior quarterback, a graduate transfer from the University of Central Florida, returned to the field after suffering a gruesome knee injury in 2018.  Milton came in against Notre Dame in Week 1 of the college football season and led FSU back from a two-score deficit only to lose in overtime.
3. Players Don't Need College to Play in the NFL. There were a number of players who gave up their remaining eligibility and opted out of playing the collegiate season, such as first round selections Micah Parsons of the Dallas Cowboys and Caleb Farley of the Tennessee Titans. It shows how ridiculous the premise is that a talented athlete needs to play college football to play in the NFL. 
Kicking greatness
Matt Araiza. Araiza, a punter and kicker for the Aztecs is having a stellar year and is a finalist for the Ray Guy Award, given annually to the nation's best collegiate punter. He's one of only four players in the country who handles all three kicking duties (punts, PAT/field goals and kickoffs). Araiza is averaging 51.8 yards per punts with 34 punts inside the opponents' 20-yard line, has made all 36 of his PATs, kicked 13 field goals, including three 50-yarders, and has 47 touchbacks in 57 kickoffs.  Araiza is a senior and has one regular season game remaining, perhaps a MWC Championship game and a bowl appearance remaining in his career. We expect that this won't be the last we see of him as his strength and versatility make him a strong NFL prospect. 
Bailey Zappe–  Zappe, a quarterback at FCS Houston Baptist from 2017-2020, transferred to Western Kentucky . Despite having only one scholarship offer out of high school, Zappe moved to the Bowling Green, Kentucky school and is now a Senior Bowl invitee. He's also being mentioned as a Heisman candidate and has the Hilltoppers atop Conference USA standings. He's an example of how much a player can benefit to transfer to a new school without penalty. 
Interesting Thanksgiving teams game. There were two nationally televised games on Thanksgiving as Fresno State and Latino players defensive end David Perales, wide receiver Jalen Cropper and tight end Juan Rodriguez make the drive across the Valley to San José State where they take on the Spartans in an early afternoon matchup. In the evening, Matt Corral and the Rebels face off against their in-state rival Mississippi State in the "Egg Bowl". 
Marco Regalado. The 29-year-old Director of On-Campus Recruiting at Washington State University went from being a Texas high school coach to a member of an FBS front office last season. During the early days of the pandemic, Regalado's videos of his lampooning overly enthusiastic coaches went viral impressing Washington State brass. He's now in Pullman, Wash., and  helping promote the bowl-eligible Cougars on social media. It's great to see industriousness and creativity rewarded.
8. University of Arizona uniforms designers. The University of Arizona went back to a more classic look that includes a traditional white helmet. It's a classic look and one that the program erroneously got away from. 
QB magic with Corral and Calzada
Latino quarterbacks. It's been the year of the Latino quarterback, especially in the SEC, where Ole Miss quarterback Matt Corral and Texas A&M's  Zach Calzada have led their teams to winning seasons. In the Big Ten, there's Adrian Martinez at Nebraska and Alex Padilla at Iowa. In the FCS, there's RJ Martinez at Northern Arizona University. 
UTSA Football. With just one game remaining in their season, the UTSA Roadrunners under second-year head coach Jeff Traylor are undefeated. Traylor has turned around the fortunes of this young and inconsistent program and was richly rewarded with a long-term contract extension that shows the institution's commitment to their football program. 
UTEP Football.  The Miners are sitting at 7-4 with a 4-3 record heading into the final game of the 2021 campaign. They are bowl eligible for just the second time in over a decade. It's great to see the fanbase heading to the Sun Bowl, just a stone's throw from the U.S.-Mexico border and excited to see los Mineros. 
UTRGV football.   We are thankful that Division One football is coming to the Rio Grande Valley. Just a few weeks ago, UTRGV students approved a student fee that would allow funds to be used to sponsor a football program. The program may start up as soon as 2024. 
13. College football Twitter. College football twitter is best when fans are at the snarkiest. For example, seeing all the "Texas is back" after Texas Longhorns losses is especially delicious. 
Malcolm in the middle of college football
Oklahoma State's Malcolm Rodriguez. Rodriguez, a super senior, leads the Cowboys in tackles and is one of the nation's best linebackers. Rodriguez and the Cowboys are 10-1, have a spot secured in the Big 12 title game and are ranked seventh. This week the spotlight shines brightly on the Cowboys as they face the tenth- ranked Oklahoma Sooners in Stillwater. 
The transfer portal-  Some coaches bemoan the transfer portal. (Even though they look to place talent on the roster through the use of the portal). For us, it's a great opportunity to see players transfer from one school to another to get more playing time or a bigger stage. Latino players such as Eastern Michigan's José Ramirez (previously at Arizona), Donny Navarro (Illinois, formerly of Valparaiso), and David Perales (Fresno State, formerly of Sacramento State).
Construction workers. Specifically, the workers at Aztec Stadium, San Diego State's new stadium for working hard to complete the stadium on time.  The Stadium is expected to be ready for the start of next year's season, making it the last year that the Aztecs play their "home games" 100 miles away, in Los Angeles County.
17. The University of Hawai'i on-stadium campus.  The Warriors finally allowed fans a few weeks ago to a converted stadium on campus after the old Aloha Stadium was deemed unsafe. It's nice to see school come back to campus. The atmosphere appeared raucous and should be a boon for the school that was handcuffed by a bad stadium deal. 
Dave Aranda captivates college football
Dave Aranda, Baylor Head Coach. The Southern Californian Latino coaching in his second year at Baylor. After a rough first season, he has the Bears with a 9-2 record.  Dave Aranda is also considered one of the top coaching candidates in this season's coaching carousel. He's rumored to be a candidate for the open USC program. 
Thomas Hammock and Northern Illinois Football. One of the sports good guys, NIU head coach Thomas Hammock was considered to be on the Hot Seat prior to the season. Nothing could have been further from the truth. Hammock and his team responded to the rumors by beating Georgia Tech on the road early in the season and peeling off eight wins and a spot in the MAC title game. 
Latino Coaches and Players. Simply, without you there's no column. We love highlighting the achievements of the Latino players and coaches. There's a lot of pride in discovering a Latino on a team. I may be more apt to tune into a game knowing I can see one of "US" during a game. I know this year I have found myself digging into box scores and making sure I'm in front of a television more to watch specific Latino players and coaches. 
Readers of the column. Lastly, we would like to thank those who read the column weekly. What started as a shot in the dark and was not planned became something that people look forward to. We appreciated the participation, namely the submission of names of other Latinos involved in college football. We hope this starts a groundswell where we are supportive of each other in not just athletic endeavors but in other walks of life. It was great to see the support from all of you, about us and each other.
Get the Our Esquina Email Newsletter
By submitting your email, you are agreeing to receive additional communications and exclusive content from Our Esquina. You can unsubscribe at any time.