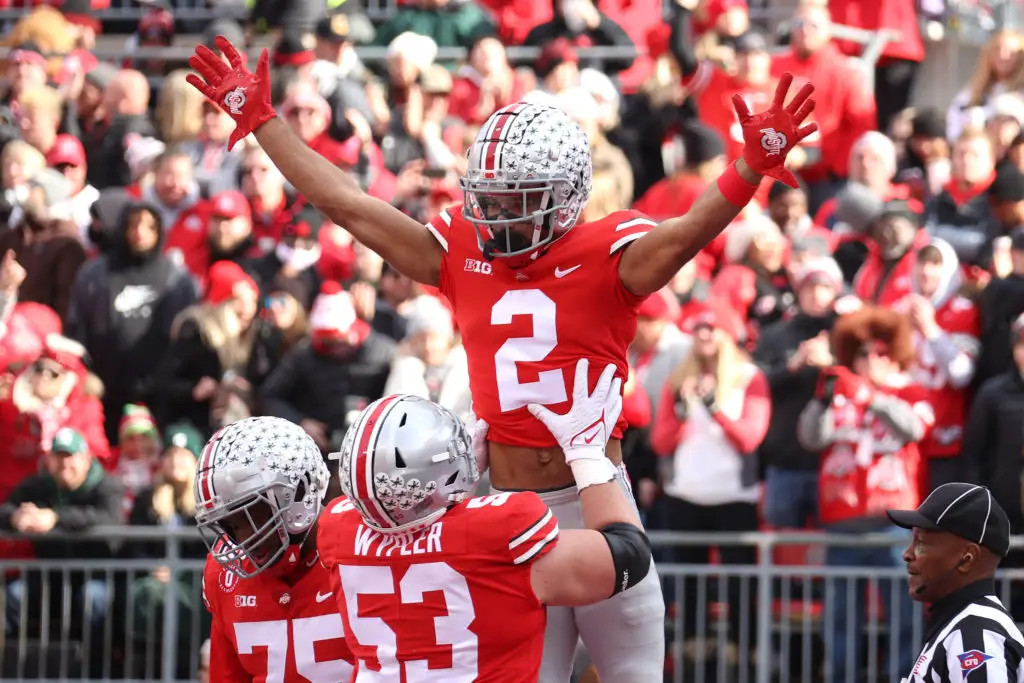 Texas A&M's Seth Small, Ohio State's Chris Olave set school records
Seth Small becomes Texas A&M's all-time points leader.
Seth Small has made a lifetime of memories on Kyle Field, for himself, for his family and for generations of Texas A&M Aggies. Wide receiver Chris Olave has done the same for Big Ten power Ohio State and the Buckeyes' legions of fans.
Small downed No. 5 Florida in the final seconds as a junior. Then as a senior he brought down the house, literally and figuratively, last month when his field goal capped the upset over No. 1 Alabama.
Olave has tormented the entire Big Ten, and he has Ohio State firmly entrenched in the College Football Playoff race.
More than that, Small and Olave put their names atop the record books at two of the most prestigious football programs in America. 
More Seth Small, Chris Olave
Texas A&M Kicker Seth Small Embraces Mexican roots
Texas A&M's Seth Small is a Groza Award semifinalist
Ohio State's Chris Olave shines again
Chris Olave is now Ohio State's all-time leader in touchdown receptions. Small is the all-time points leader in Texas A&M history.
Olave, a native of the border town San Ysidro, Calif., had a pair of touchdown catches on Saturday against Michigan State to set Ohio State's school record with 35 career touchdown catches. He set the record with a 43-yard touchdown catch.
Chris Olave's 'Huge Blessing'
"It's a huge blessing," Chris Olave told the Columbus Dispatch. "I thank God for that. When I first came in as a three-star, the lowest recruit in my class, I didn't know it would come to this day.
"But I kept my head down and kept working and tried to maximize my potential. I feel like I've done that, and I've got a lot of blessings."
Olave broke David Boston's previous Ohio State receiving touchdown record of 34. He finished with 140 receiving yards on seven catches in the stunning rout Saturday against Michigan State.
Small passed 2011 Lou Groza Award winner Randy Bullock on Texas A&M's all-time scoring list on Saturday against Prairie View A&M. The Katy (Texas) High graduate made six extra points and a 27-yard field goal to finish with nine points, increasing his career total to 371 points.
"To be honest, I don't feel any different, but it's a very cool feeling," Small said. "I need to send out a big thank you to Connor [Choate], to Nik [Constantinou], to Braeden [Kobza] and Austin because without them, I wouldn't be able to do my job at the level that we're capable of doing it.
"And how cool is it to be mentioned with Randy Bullock? You come to Texas A&M because of the fraternity of specialists that are here. And to be mentioned in that conversation, it feels amazing. But at the same time, it's what I trained for. But it's not what I live for. I live for something more."
Seth Small moves up SEC record book
Small is now tied for seventh on the SEC's all-time scoring list with Alabama's Leigh Tiffin. With 70 field goals, he is also tied for ninth on the SEC's all-time field goals list with Florida's Caleb Sturgis and South Carolina's Parker White.
Small started Senior Day at Texas A&M with his wife, parents and sisters during a pregame ceremony honoring the seniors. He capped his final game on Kyle FIeld as the Aggies' all-time points leader.

"I was fighting back tears all game long," Small said. "It's been so sweet to break a couple of records here at Kyle Field and to share it with my teammates and the 12th Man.
"It's just been incredible. Texas A&M means so much to me. I met my wife here, and it's just always felt like home."
Featured photo by Gregory Shamus/Getty Images
Get the Our Esquina Email Newsletter
By submitting your email, you are agreeing to receive additional communications and exclusive content from Our Esquina. You can unsubscribe at any time.