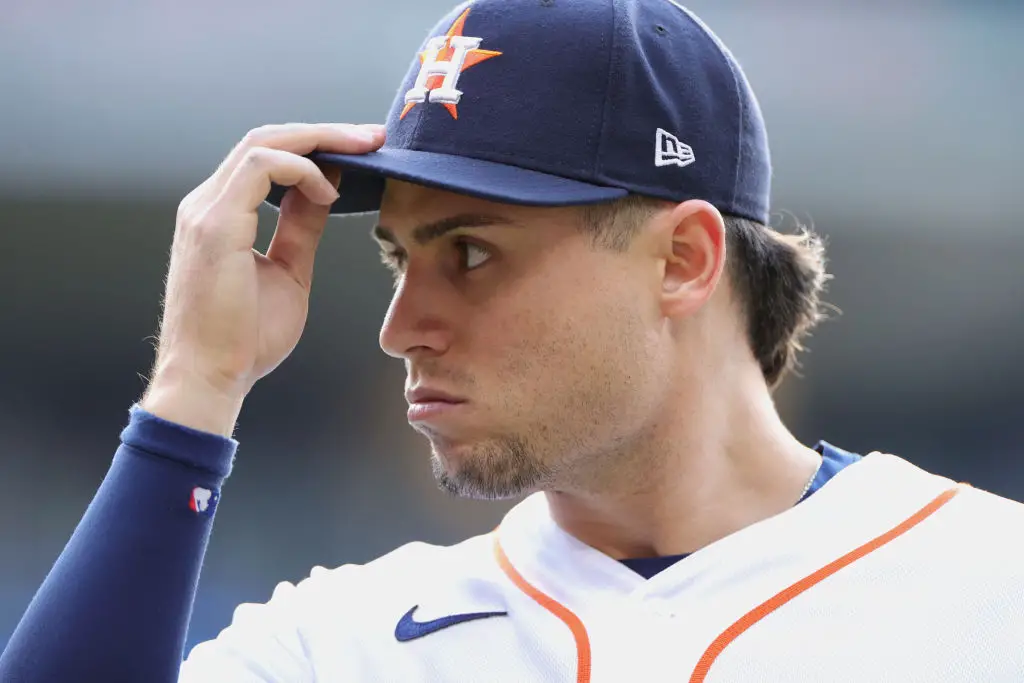 Astros' Aledmys Diaz Supports Cuban Protesters
Aledmys Diaz hopes for a Cuba where citizens can think differently
Aledmys Diaz has a message, and he wanted to share it each time he stepped to the plate. The Astros' Cuban infielder returned from the injured list a few weeks ago with new walk-up music, "Patria y Vida," the song that has become a rallying cry for Cubans seeking political change.
Diaz is one of many Cuban players, including the Yankees' Aroldis Chapman, who have expressed support for their countrymen who took to the Cuban streets in July to demand change. 
Patria y Vida translates to Motherland and Life. It's a play off the slogan the late Fidel Castro used for the first time at a rally in 1960, "Patria o Muerte," which translates to Homeland or Death. Although Castro died on Nov. 25, 2016, his communist regime had maintained firm control on the island. 
That grip didn't seem as strong in early July. Thousands of Cubans demanded change in large protests not seen in Cuba since Castro took power. The song by Gente de Zona, Descemer Bueno and Yotuel Romero has become the soundtrack of the protests. 
Aledmys Diaz joins Cuban chorus
Diaz was on the injured list when the protests started. Chapman and Texas Rangers rookie outfielder Adolis Garcia both spoke out in support of the protesters during the All-Star week festivities at Denver's Coors Field.
"My message is that we have to keep fighting," Chapman said.
The hard-throwing Yankees closer wrote "Patria y Vida" on the right side of his All-Star cap and "SOS Cuba" on the left side of the Yankees' red interlocking NY logo during the All-Star Game.  He also wore a shirt with those slogans during the Home Run Derby a day earlier. 
"We cannot stop or be fearful," Chapman said. "We have to go forward. "Confronting what happens or whatever, we have to try to look for the liberty that every Cuban has dreamed about for many years."
Many Cuban players in the majors have expressed support for the protesters, including the Washintong Nationals' Yadiel Hernandez.
"I think that's the least we can do," Diaz said. "I made the decision to leave Cuba nine years ago and I haven't been able to return because of political problems. The Cuban government doesn't let me in. I think the least we can do to support the Cuban people is to play that song."
Cuban flavor in Houston
Diaz is one of the three Cubans in the Astros' starting lineup these days, joining veteran first baseman Yuli Gurriel and slugger Yordan Alvarez. Gurriel expressed support for the protesters with a Twitter post in July. 
In many ways, Gurriel delivered a major blow to Castro's regime when he and his brother Lourdes Jr. defected. Their father Lourdes Sr. was one of Cuba's greatest baseball figures, and they were considered loyal to Castro.
When the Gurriels defected, it was clear that the Castro regime's grip had loosened drastically. 
Gurriel also dreams of being allowed to return to Cuba again.  Like Diaz, Yuli Gurriel is not allowed to return to Cuba yet. 
"There are many things that must change in Cuba," Diaz said. "The first thing is that Cubans must be free, must be able to choose what to do with their life. It shouldn't be a crime to think differently. …
"Cubans should be free to think what they want, live where they want and do with their lives something good for their family. That's what we're promoting for the Cubans to be free and able to do what's best with their life."
Aledmys Diaz longs for free exchange of ideas
To be clear, Diaz is adamant that all Cubans don't need to think as he does. He doesn't expect all Cuban big leaguers to express their support for the protesters as publicly as he and Chapman have.
"I think that has to come from within," he said. "That's the Cuba we want, where all Cubans can think how they feel. It doesn't matter if they're in favor of the government or against. That's what we're all looking for.
"Including, if you're in favor of the government and I'm against, we can sit and talk about our different points of views. I think that's the civilized world. We're in 2021. Everybody should have the liberty to think differently. I think that would be the ideal Cuba, a Cuba where we could all see each other with love."
Get the Our Esquina Email Newsletter
By submitting your email, you are agreeing to receive additional communications and exclusive content from Our Esquina. You can unsubscribe at any time.