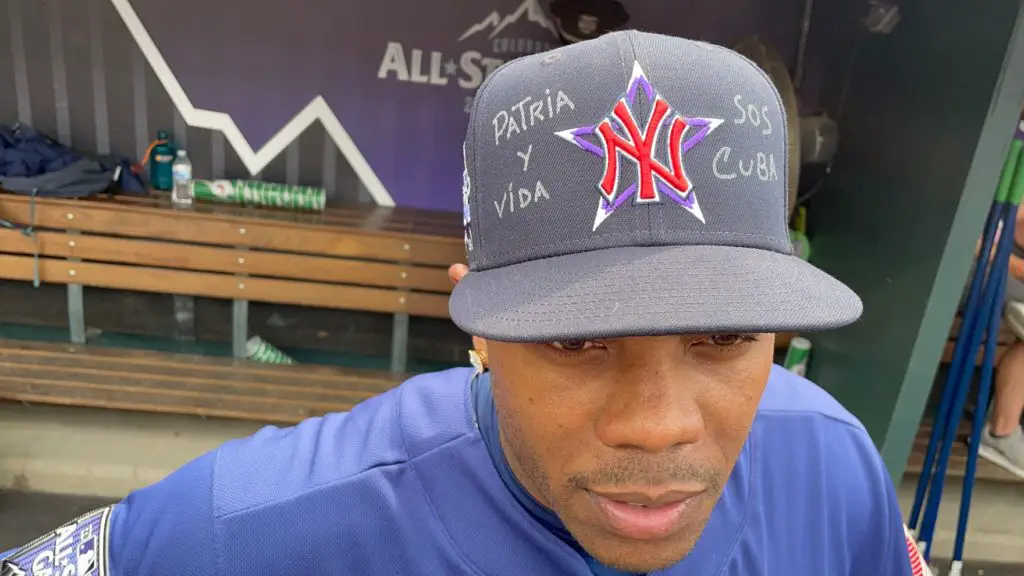 Yankees closer Aroldis Chapman declares support for Cuban protesters
Aroldis Chapman says Cubans must keep fighting for change
DENVER – Aroldis Chapman sent a strong message of support to his countrymen protesting the Cuban government. The Yankees' All-Star closer wore a message on his All-Star Game cap Tuesday night.
"Patria y vida," he wrote on the right side of the cap, "Homeland and life." He wrote "SOS Cuba" on the left side of the Yankees' red interlocking NY logo.
"My message is that we have to keep fighting," Chapman said at Coors Field during batting practice before the MLB All-Star Game. "We cannot stop or be fearful. We have to go forward. 
"Confronting what happens or whatever, we have to try to look for the liberty that every Cuban has dreamed about for many years."
Chapman still has many friends and relatives in Cuba. He commended the protesters. The hard-throwing lefty says that he has been told that Cuban police are beating protesters. 
Aroldis Chapman notes courage
Chapman, 33, defected from Cuba in July 2009. The late Cuban dictator Fidel Castro took power in Cuba in 1959. He died on Nov. 25, 2016, but Cubans didn't protest their government in this way under his rule in his recent memory. 
Protesters have called for president Miguel Díaz-Canel to resign, and Chapman backs that sentiment. 
"It's the first time that I know of in my 33 years," Chapman said. "It's good that this has happened for the people to rise up. The courage to go out to the streets, that has never happened. That is good. 
"Let's hope it works so we can have a chance and get those people out of there. We'll see."
Adolis Garcia also supports Cuban protesters
Rangers rookie outfielder Adolis Garcia, the other Cuban All-Star this year, also expressed his support for the protesters Monday at Coors Field. Astros first baseman Yuli Gurriel, one of the biggest names in Cuban baseball history, also expressed his support for the protesters via Twitter on Monday.
"We know the situation going on right now," said Garcia, a native Ciego de Avila. "The people are in the streets protesting and fighting for their rights. Be strong. We are all here with you. … 
"I was born in Cuba. I'm Cuban. All that happens there, sure I feel it. I have family in Cuba. A part of me is there, my roots. The people of Cuba are part of me also."
Garcia and Chapman are just two Cuban major leaguers who have spoken out in support of the protesters back home. 
Chapman wanted to capitalize on the Midsummer Classic's stage to bring awareness to the protesters back home in Cuba.
He wore a "Patria y Vida" T-shirt on the field Monday night during the Home Run Derby. 
"It's important," Chapman said. "How can I tell you? It's an event for me because the whole world sees it. It's an event that the entire U.S. watches. Many countries see it. I'm sending a clear message to the whole world so they know what's happening in my country."
Get the Our Esquina Email Newsletter
By submitting your email, you are agreeing to receive additional communications and exclusive content from Our Esquina. You can unsubscribe at any time.