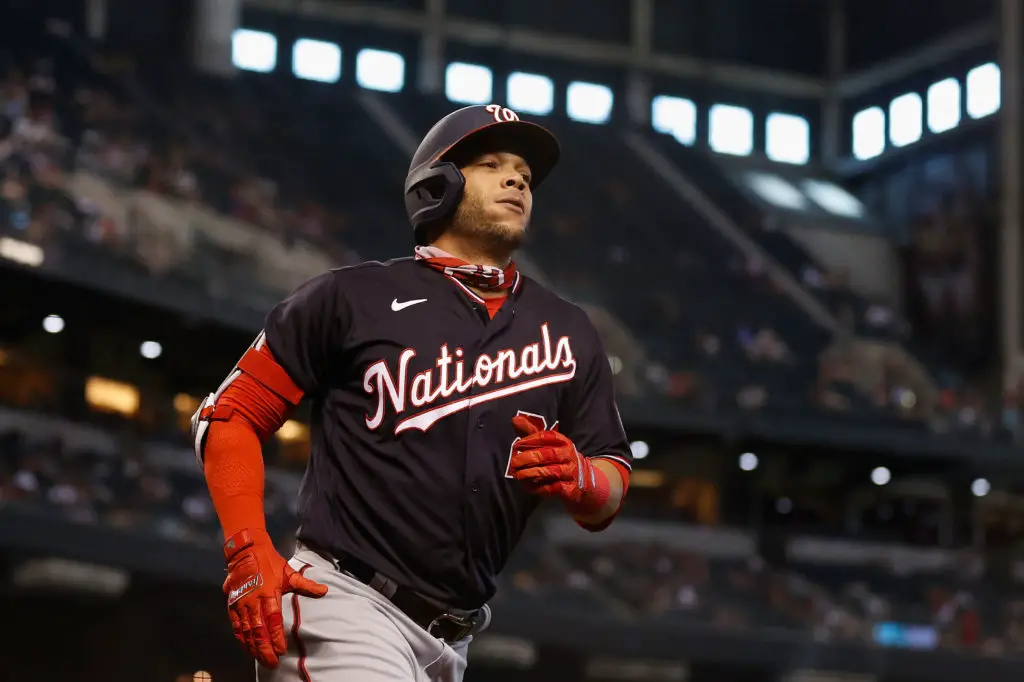 Nationals outfielder Yadiel Hernández stands with Cuban protesters
Nationals outfielder Yadiel Hernández urges the world to stand with Cuba during #SOSCuba protests.
When Washington Nationals outfielder Yadiel Hernández defected from Cuba in 2014, he was in pursuit of a dream playing in Major League Baseball. After years of being separated from his parents, Rubén and Milagros, and his brother, he's ready to see his family again.
Especially, now that his homeland is in the midst of a potential revolution.
Throughout this pandemic, the Pearl of the Antilles has suffered economically as tourism has declined. Now, rising COVID-19 cases and deaths are pushing the country's medical system to the brink, and the Cuban people have had enough.
Hernández has too.
"I think that we need change," he said. "We need a better government, a better life for all Cubans. We need to be free. Freedom is the most important thing."
Having existed under a communist government for over 60 years, Cubans are now taking to the streets in search of liberty. To demonstrate their lack of basic needs, people are sharing their experiences via social media using the hashtag #SOSCuba.
"It's not easy for poor people in Cuba," Hernández said. "You can't find food to eat. We have to fight for our food. We don't have shoes. You see kids in the streets playing without shoes and without shirts. That's very difficult for a child. The most important thing is the food. It's very difficult to feed a child in Cuba."
Yadiel Hernández, Other Cuban MLB Players Support Protests
As protests have continued to escalate, players have begun to express their support for the cause. Cuban MLB players began sharing a clenched fist with the Cuban flag painted on it.
Other players, like New York Yankees closer Aroldis Chapman encouraged Cubans to keep fighting at this year's MLB All-Star Game. He even declared his support for the overthrow of the Cuban government.
Sharing in those sentiments, Texas Rangers rookie Adolis Garcia expressed similar support to his fellow countrymen.
"Be strong. We are all here with you," he told Our Esquina.
Washington Nationals outfielder Yadiel Hernández is the latest to throw his name in with the growing list of players showing support for the protests. However, his message is to the world, which at times is quick to forget the conditions in places like Cuba.
"To the world, keep supporting us," he said. "Keep standing with us so we can get ahead and be free."
Even the Miami Marlins entered the discussion. This week, etched on the back of the pitcher's mound in LoanDepot Park are the words "Patria Y Vida." The literal translation of this is "Homeland and Life." That slogan is a play on the Cuban government's slogan, "Patria o Muerte" – "Homeland or Death."
"I felt very happy seeing that," Hernández said about Marlins' gesture. "Even considering that they don't have a single Cuban player it was beautiful to see."
Get the Our Esquina Email Newsletter
By submitting your email, you are agreeing to receive additional communications and exclusive content from Our Esquina. You can unsubscribe at any time.