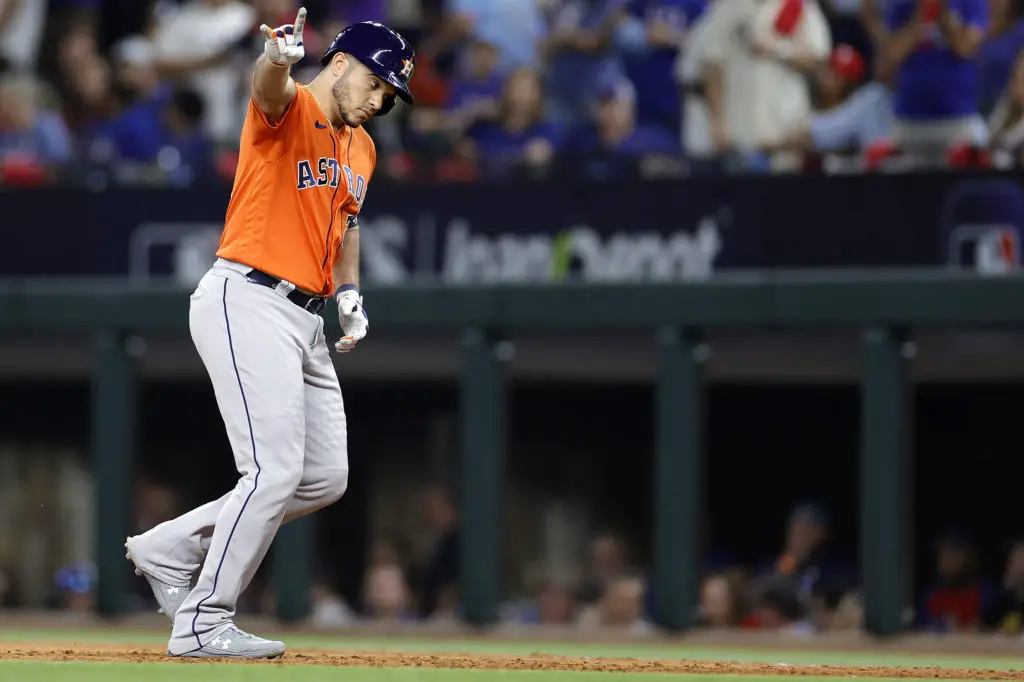 Yainer Diaz, Jon Singleton set up Altuve's heroics
Diaz, Singleton come off the bench to set up Altuve's game-winning blast
The Rangers appeared only three outs away from claiming Game 5 of the American League Championship Series when Astros bench coach Joe Espada approached Yainer Diaz in the visitors' dugout Friday night. 
The sellout crowd of 41,519 fans at Globe Life Field was stirring with anticipation. Rangers closer Jose Leclerc looked to put the defending champions away to move within a victory of the Fall Classic. 
"I felt good," Diaz said after Jose Altuve's three-run home run led the Astros to a 5-4 victory. "I picked up the bat, went to the on-deck circle and took several swings with the weight. I felt the bat, and we went up."
Hitting for the 2022 World Series and ALCS MVP Jeremy Peña, Diaz helped set up Altuve's game-winning blast.
Yainer Diaz capitalizes
Espada took over the managerial duties after Dusty Baker was ejected for throwing his hat when arguing with the umpires. Baker was upset after reliever Bryan Abreu was ejected for hitting Adolis Garcia with a pitch in the bottom of the eighth inning.
Espada turned to the Astros' backup catcher to lead off the top of the ninth inning. Down 4-2, the 25-year-old Diaz was ready for his postseason moment. Diaz had been 0-for-10 with five strikeouts in four games this postseason.
The Azua, Dominican Republic, native redeemed himself in a pivotal spot. On a 2-1 count, Diaz smoked a leadoff single to left field to start the winning rally. Former top Astros prospect Jon Singleton then hit for Martin Maldonaldo. Singleton worked a 3-2 count for a walk.
With runners on first and second and nobody out, a historic moment was all lined up for Astros great Altuve after Grae Kessinger was sent to run for Singleton.
Altuve praises Yainer Diaz and Jon Singleton
"I know everybody is talking about the homer," Altuve said. "But if you go and see Díaz's base hit and then Singleton walks. Especially when he hasn't played in a lot of days and coming from the bench facing probably one of the best closers right now in the playoffs, so I think the key was these two guys and to be able to score all those runs."
MORE FROM OUR ESQUINA
Jose Altuve adds to his resume as the greatest Astro
Astros rookie Yainer Diaz has patience and pop
Yainer Diaz finally hosts his family in Houston
Diaz was admittedly a little shocked when Espada called him to hit for Peña, who had a .345 batting average last postseason with four home runs and eight RBIs to earn the ALCS and World Series MVP in 2022.
Peña has struggled at the plate this postseason, though. He was 0-for-3 in Game 5. Nonetheless, Diaz knew he had big shoes to fill at the moment.
'Source of pride'
"I mean it's a source of pride for me," Diaz said. "A batter like Jeremy Peña , like you said, was the (ALCS and World Series) MVP last year. All those things give me confidence. It helps me be proud that in reality it gives me the confidence that I do have the talent."
Third baseman Alex Bregman, who gave the Astros a 1-0 lead with a home run in the first, raved about Diaz and Singleton.
"Talk about two guys who haven't had many postseason at-bats really come through for us right there," Bregman said of Diaz and Singleton. "It speaks to their character and preparation they put on a daily basis, even if they're not in the lineup every day."
Get the Our Esquina Email Newsletter
By submitting your email, you are agreeing to receive additional communications and exclusive content from Our Esquina. You can unsubscribe at any time.