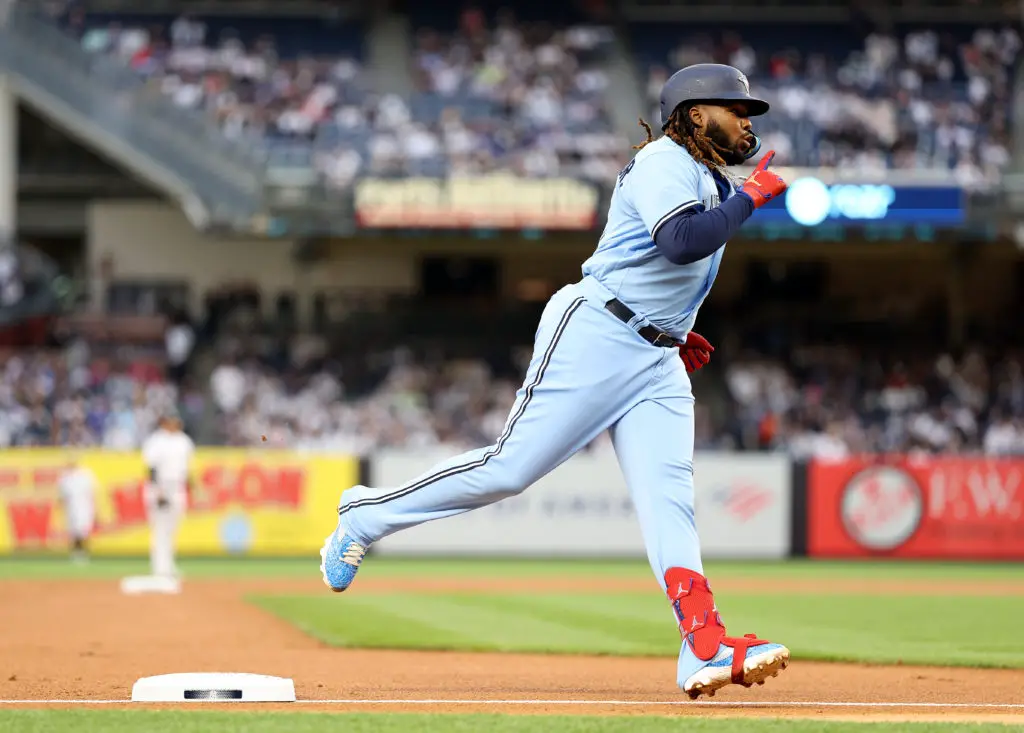 Vladdy Jr. remains Yankees' daddy
Vladdy Jr. has more home runs in Yankee Stadium than any visiting player since 2019.
Vladimir Guerrero Jr. will never sign with the Yankees. At least that's what he told Dominican YouTuber El Dotol Nastra in an interview this past winter.
Why would he? Heading into Friday's game, Vladdy has dominated the Yankees. Especially in New York. 
In the series opener between Toronto and New York, it was more of the same. 
In his first at bat against Yankees pitcher Domingo German, Guerrero hit his fourth home run of the season. It was a majestic 417-foot blast that hung in the air for an eternity before landing beyond the fence in left-center field.
It was his 14th career home run against the Yanks. 
On Friday, Guerrero doubled down. He will never play for the Yankees.
"It's a personal decision. It goes back with my family," he told reporters. "That's my decision and I will never change that."
Vladdy should reconsider
Vladdy is the son of Hall of Famer Vladimir Guerrero. The elder Guerrero played 16 MLB seasons, mostly with the Montreal Expos and the Los Angeles Angels. There has never been any hint of "beef," for lack of a better term, between New York and Guerrero Sr.
As a Dominican-American, my only guess could be that the Guerreros hold the same opinions a large portion of Dominicans share about the Yankees. That the organization is anti-Dominican and therefore should be rooted against at all costs.
This feeling stems from the lack of a Dominican presence on the team in the 1980s and 90s. This feeling was exacerbated when the Boston Red Sox fielded teams with Dominican favorites Pedro Martinez, David Ortiz and Manny Ramirez at the height of the rivalry.
It is also completely unfounded. Just look back at the number of Dominicans who called Yankee Stadium home. Players like Luis Polonia, Alfonso Soriano, Robinson Cano, and Alex Rodriguez.
If anything, Vladimir Guerrero Jr. should rethink his comments. Few teams have the money to spend that the Yankees do. Pair that with the player who hit his 11th at Yankee Stadium on Friday, three more than any visiting player since Vladdy's rookie season in 2019, and that's a recipe for success.
Get the Our Esquina Email Newsletter
By submitting your email, you are agreeing to receive additional communications and exclusive content from Our Esquina. You can unsubscribe at any time.