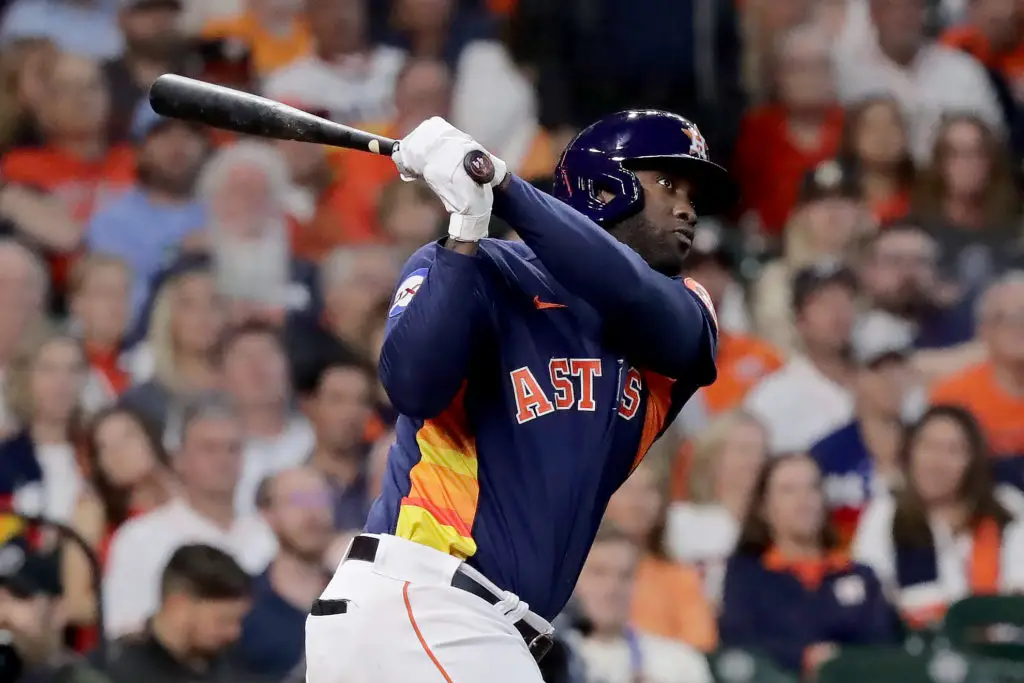 Two Yordan Alvarez homers not enough for Astros
Alvarez becomes first Astro with 2 multi-homer games in a postseason
HOUSTON – With the exception of a virus, little has bothered the Astros' Yordan Alvarez this postseason. The Cuban slugger's second multiple-home run game of this postseason wasn't enough Monday, though, to deny the Rangers a 5-4 victory in Game 2 of the American League Championship Series. 
"What I like about our team is that we're not panicking," Alvarez said after the Rangers took a 2-0 lead in the best-of-seven ALCS. "There's no panic in here."
After going 0-for-4 in Game 1 on Sunday while dealing with a virus, Yordan Alvarez drilled solo home runs in the second and eighth innings Monday afternoon to become the first Astro to have a pair of multiple-home run games in a single postseason.
He also had two home runs in Game 1 of the Division Series against the Minnesota Twins. Alvarez is leading all players this postseason with six home runs. He had a rare off night in Game 1 of the ALCS on Sunday night. On Monday morning, the Athletic cited anonymous sources while reporting that Alvarez had a virus on Sunday.
Yordan Alvarez bounces back
"I'm fine," Alvarez said when asked how he felt after Game 2. "I was playing today."
When asked specifically if he had a virus Sunday, Alvarez acknowledged the illness.
"Yes," he said. "It's something personal. I don't know how that came out if it didn't come from me or the team. I don't know how it became public."
Alvarez, who has hit 12 career postseason homers since his rookie season in 2019, looked as strong as ever in Game 2. Unfortunately for the Astros, it wasn't enough to overcome the five runs (four earned) the Rangers scored against All-Star lefthander Framber Valdez. 
MORE FROM OUR ESQUINA
Yordan Alvarez reunited with parents in U.S.
Rangers, Astros lead effort for Uvalde Boys & Girls Club
Cabrera, Judge among Roberto Clemente Award nominees
The Rangers scored four runs in the first inning. One of those runs was unearned because of two errors Valdez made on Robbie Grossman's dribbler.
Alvarez led off the second inning against Nathan Eovaldi with a home run to right field to cut the deficit to 4-1. The Rangers added another run in the third off Valdez, who pitched 2 ⅔ innings. Alex Bregman countered with a solo homer in the fourth to get the Astros within 5-2.
Alvarez was 2-for-3 with a walk and three runs scored. He walked in the sixth and scored from second on Michael Brantley's double to center to cut the deficit to 5-3. Alvarez then hit a solo home run to right field in the eighth inning off Aroldis Chapman, cutting the Rangers' lead to 5-4.
'That's normal'
"We all know the quality that Yordan has," Jose Abreu says. "I think that for me, that's normal. Sincerely, I can tell you, that's normal. (Alvarez) can do whatever he wants in baseball."
There's a trite saying in baseball that solo home runs don't beat you. That proved to be the case on Monday.
"We gave up three homers," Rangers manager Bruce Bochy said. "They were solo homers. That works. It gives you a chance to win. We weren't thinking about putting (Alvarez) on base, with nobody on there (in the eighth). 
"You try to keep him in the park. He's a good hitter. He got a couple of balls he could handle. That's baseball, but, no, I didn't want to start putting guys on when we had a lead. That's the last thing I want to do at that point. We attacked them, and he got us a couple of times."
The first Lone Star ALCS will shift to Arlington for Game 3 on Wednesday. Games 3 and 4 and 5, if necessary at Globe Life Field. The Astros have been a dramatically better team on the road than at home this year.
The defending World Series champions were 51-30 on the road and 39-42 at home this season. They'll need to win at least two games in Arlington to continue their season.
"I think we're playing against a great team," Alvarez said. "They've shown it in all the games they've played in the playoffs. I think we have no choice but to go and win."
Get the Our Esquina Email Newsletter
By submitting your email, you are agreeing to receive additional communications and exclusive content from Our Esquina. You can unsubscribe at any time.