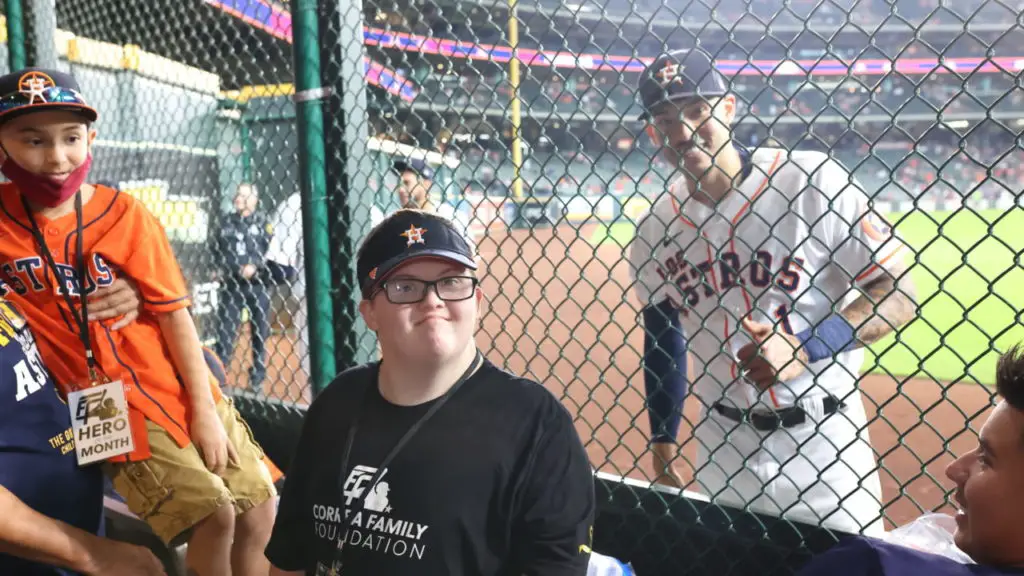 Astros All-Star Carlos Correa Shares Gifts
Carlos Correa makes difference on and off field
Carlos Correa was blessed with a gift to play baseball. That's what got the All-Star shortstop to Houston and made him one of the most beloved Astros of his era. 
More importantly, those gifts helped carry him out of poverty and enticed the Astros to make him the first Puerto Rican selected No. 1 overall in baseball's amateur draft in 2012. That talent has also helped Correa achieve his life's calling to help his fellow man. 
As Correa celebrates his 27th birthday on Wednesday, he has already fulfilled his promise in Houston while also living up to the legacy of Puerto Rican icon Roberto Clemente.
He was only 17 when the Astros made him the surprise No. 1 overall pick. History and the record books have proven that the Astros made the right choice in 2012. It's myopic, however, to look at Correa's value merely through his contributions on the diamond.
Carlos Correa pays it forward
Correa has never forgotten his modest roots, his Puerto Rican people, his commitment to help others and his vow to help Houston win championships. That much was on display again Sunday when the Correa Family Foundation honored 12 youth cancer patients at Minute Maid Park.
"A lot of people helped me throughout my career," Correa said. "When I was a little kid, we didn't have any money, so a lot of people back home supported my career since I was a little kid.
"I just feel like it's just part of who I am. I gotta go out there and give back to my community whenever they need me."
The young "Heroes of The Month" enjoyed a day at the ballpark and visits by several of the AL West-leading Astros while the Correa Foundation recognized Childhood Cancer Awareness Month.
On the field, Correa lived up to the hype from the moment he made his big league debut on June 8, 2015, on the road against the White Sox.
Winning culture
He has been a key piece of the Astros' lineup since his debut. Despite not making his debut until the third month of the 2015 season, he edged out fellow Puerto Rican Francisco Lindor for the American League Rookie of the Year Award that season.  
Correa also helped the Astros make their first playoff appearance in a decade in 2015. They've been one of the best teams in baseball since they won the franchise's first World Series title in 2017.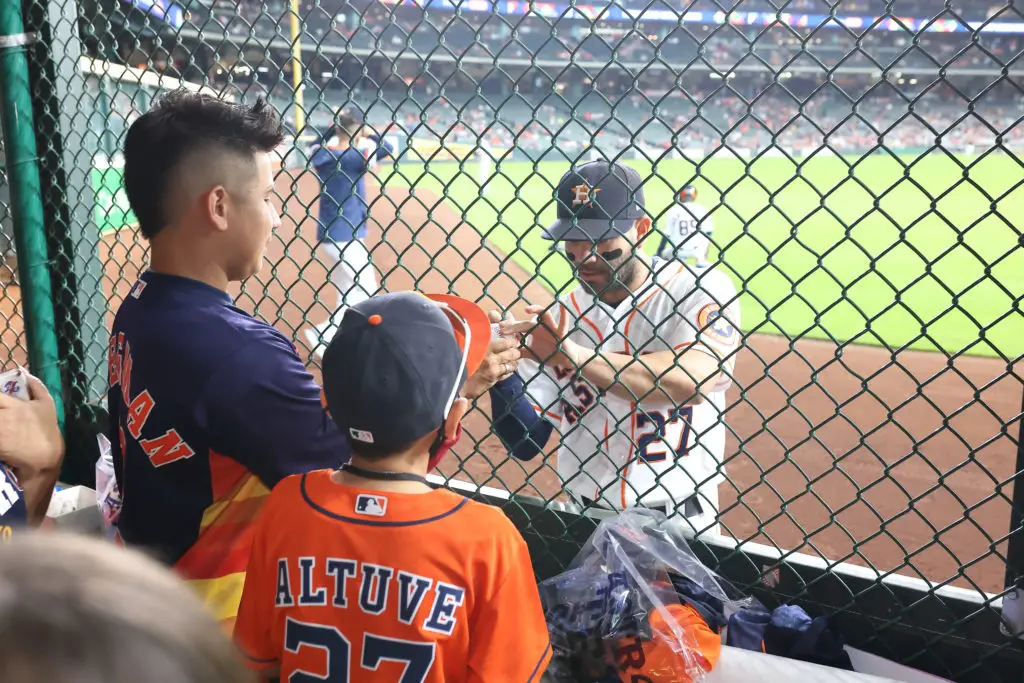 With Correa at short, the Astros have secured playoff berths in six of his seven seasons in Houston. They've made four consecutive trips to the American League Championship Series, winning two AL pennants in that span.'
The Astros will try to make it five in a row this October. He has also gained the admiration of Hall of Famer Jeff Bagwell, one of the greatest figures in Astros history.
"When you're young and you're the No. 1 pick, and you are Showrrea and all these kinds of stuff," Bagwell said, "there's a lot that goes with that. … He's a good kid.
"I'm just, I'm very happy. I'm happy for us. I'm happy for the organization. And then I'm happy just to see a young kid grow like that."
Carlos Correa views Jeff Bagwell as father figure
Bagwell and Correa have developed a close bond. They visited often in the Astros' clubhouse until the coronavirus pandemic prompted MLB to close the clubhouse to most non-playing personnel. 
Nonetheless, they text often. Bagwell was proud in February 2020 when Correa spoke up for his teammates in the aftermath of the cheating scandal. While most of the baseball world turned on the Astros, Bagwell texted Correa to tell him how proud he was of him. 
"Jeff Bagwell is like a father figure to me," Correa said. "When he was in the clubhouse a couple years back before COVID we'd sit down and talk a lot. Not only hitting but also life, about his career. Obviously baseball is a very mental sport. So he's been helping me with all that. He's a very special player."
Bagwell spent his entire Hall of Fame career with the Astros, just as fellow Hall of Famer Craig Biggio did. It remains to be seen if Correa will get that chance. He'll likely be the biggest name on the free agent market this winter.
Correa says he has put all contract talks with the Astros on hold until after the season. He's busy trying to reach another World Series.
Making a difference
Along the way, though, he's making a difference in the community. He and his wife Daniella Correa Rodriguez capped the penultimate homestand of the 2021 regular season playing host to 12 cancer patients and their families.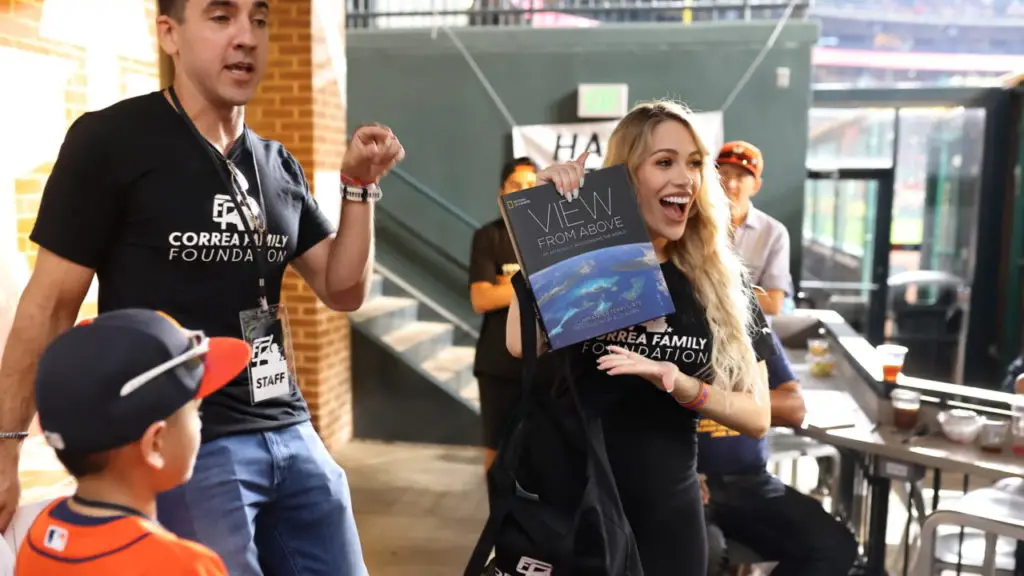 They gave the children baseball memorabilia and signed copies of astronaut Terry Virts' book, "View From Above." The Correa Family Foundation also donated 100 tickets to frontline workers.
Correa began his charitable efforts after his rookie season by donating mattresses to children in need.
Those efforts prompted him to start the Carlos Correa Family Foundation, which began working with children fighting cancer.
The foundation shifted its focus a bit during the pandemic to hand out medical supplies and masks to hospitals in Houston and Puerto Rico.
"But also back home in Puerto Rico when the earthquakes happened a lot of people lost everything," he says. "The Correa Family Foundation came through. We went over there and helped a lot of people. 
"So our main focus is kids with cancer, but whenever something tragic happens we shift our focus and we figure out ways to help."
Carlos Correa has packed a lot into his short career. He's barely celebrating his 27th birthday. He vows to continue sharing his gifts.
Get the Our Esquina Email Newsletter
By submitting your email, you are agreeing to receive additional communications and exclusive content from Our Esquina. You can unsubscribe at any time.