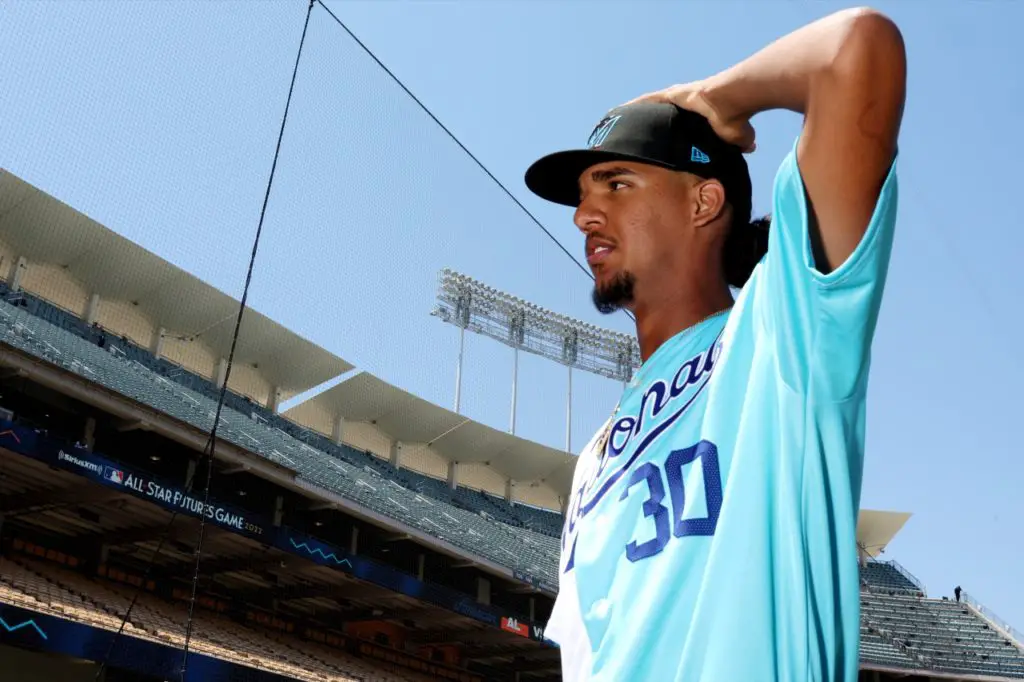 Top 10 Latino non-roster invitees to watch
The Marlins' Eury Perez is one of baseball's top pitching prospects
There are many young talented prospects heading down to spring training this week, and some of the ones drawing the most attention are still not on the 40-man roster. The Yankees' Jasson Dominguez and the Marlins' Eury Perez are two of Top 10 Latino non-roster invitees who will draw the most attention in the Grapefruit League.
We ranked the Top 10 non-roster invitees headed to the Grapefruit and Cactus leagues this spring.
A non-roster invitee is a player who gets invited to spring training before they are placed on the 40-man roster. NRIs could be given out anywhere from top prospects all the way down to scrappy veterans. 
All 30 MLB teams have revealed their non-roster invitees to spring training. Almost every major star got his first taste of spring training as non-roster invitees. 
No. 10: Pirates 1B/3B Malcom Nuñez 
Malcom Nuñez was acquired from the Pittsburgh Pirates in a trade that sent Jose Quintana to the St. Louis Cardinals last year. Nuñez ranks No. 12 in the Pirates' farm system, but the Bucs see a special player in the making.
Before the Cardinals signed him in mid-July of 2018, Nuñez was hammering the ball in the Dominican Summer League. At the end of the 2018 DSL, he won the Triple Crown after slashing .415/.497/.774 including 13 home runs, 59 RBIs and a 1.272 OPS.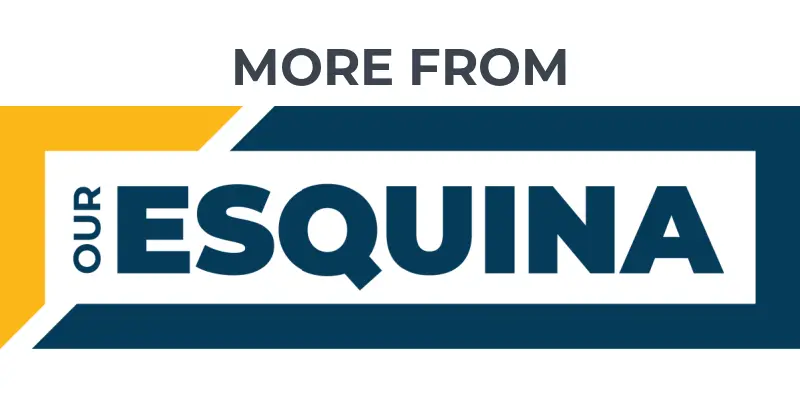 Way-too-early World Baseball Classic predictions
Mexico's Diana Flores stars in NFL Super Bowl ad
Cristian Javier gets 5-year, $64 million deal with Astros
The 21-year-old has exceptional bat speed with tremendous raw power, including a great eye at the plate. 
In 2022, Nuñez hit .262/.367/.466  with 23 home runs, 88 RBIs, 69 walks and posting a 110 wrc+. Also, he continued to boost his walk rate at 13.7%, while dropping his strikeout rate to 20.3%.
The Pirates are riding with veteran first baseman Ji-Man Choi. If Nuñez continues to improve and produce his offensive numbers, the Cuban can eye a major league debut sooner than later.
No. 9: Angels C Edgar Quero 
Some MLB analysts have Edgar Quero as a top 100 prospect this coming year, but he missed the cut on MLB Pipeline. Quero is ranked No. 3 in the Angels organization and is notably a top 10 catcher, according to MLB Pipeline.
The 2022 Angels Minor League Player of the Year turned heads last season. Quero slashed .312/.435/.530 with 129 hits, 35 doubles, 17 home runs, 75 RBIs, 73 walks. He stole 12 bases in 17 attempts. He had an expected .439 wOBA and produced a 150 wRC+.
The Cuban switch hitter can hit consistently above average with power from both sides. Quero shows better numbers hitting from the left side, slashing .326/.438/.553 with 14 home runs and close to a 1.000 OPS last season. 
The 19-year-old also has a quiet approach at the plate, turning his front foot when he loads. He also displays a great eye.
Quero will be considered a top 100 prospect next year if he continues to head in the right direction.
No. 8: Diamondbacks 3B/1B Deyvison De Los Santos 
Deyvison De Los Santos isn't a top 100 prospect, but you should keep a close eye on him this upcoming spring training. The Diamondbacks' No. 6 prospect can hit to every part of the diamond while producing raw power and serious exit velocity off the bat. 
Combining his Single A, High A, and Class AA stats in 2022, De Los Santos slashed .306/.348/.499 with 22 home runs, 106 RBIs and a .847 OPS. When he's placed in the middle of the lineup, his batting average is over .350 and an OPS over 1.000. 
The D-backs have an established young core with players like Gabriel Moreno, Corbin Carrol, Jordan Lawler, and much more. The 19-year-old Dominican is headed to spring training looking to learn and improve his craft so he can take the field with some of his teammates later. 
No. 7 Pirates 2B/SS Nick Gonzales 
Nick Gonzales is ranked No. 5 in the Pirates organization. He is notably a top 10 second baseman, according to MLB Pipeline. Gonzales was drafted as a shortstop from New Mexico State, but he has spent the majority of his time at second base. 
He's one of the most intriguing non-roster invitees this spring.
The 5-foot-10 prospect from Vail, Ariz., took a significant jump in 2022. Gonzales hit .264/.382/.435 with 21 doubles, 7 home runs, 37 RBIs and produced a 127 wRC+. Even though Gonzales has yet to play a full healthy season, the soon to be 24-year-old presents a calm presence at the plate with solid contact and sneaky power.
Gonzales has played in the Arizona Fall League (AFL) the last two years. In 18 games with the Surprise Saguaros, he slashed .279/.351/.500 with three home runs, 14 RBIs, .851 OPS and was considered a top performer in the AFL. 
With Ke'Bryan Hayes and Oneil Cruz commanding the left side of the diamond, Gonzales could make his MLB debut as a second baseman in 2023.
No. 6 Mets outfielder Alex Ramirez 
Alex Ramirez is one of the best athletes that the New York Mets have in their whole farm system. Ramirez is ranked 96 on MLB Pipeline's top 100 prospects and ranked No. 4 in the Mets farm system. That could change this coming new year.
The Dominican has great bat-to-ball skills with significant power, driving the ball gap to gap. He shows exceptional speed on the base path.
In 2022 between both Single A and High A, Ramirez hit above average, slashing .281/.346/.782 with 11 homers, 71 RBIs, 21 stolen bases and 48 extra base hits.
With the outfield depth the Mets present, Ramirez wouldn't make the cut for the MLB roster this year. The 20-year-old outfielder will continue to learn and grow from veteran players like Brandon Nimmo and Starling Marte this upcoming spring training and could later establish himself as a five tool player. 
No. 5 Mets catcher Kevin Parada
The New York Mets have two of the best catching prospects in their farm system, Francisco Álvarez and Kevin Parada. One is already in the majors. The other is one of the top non-roster invitees in baseball this spring.
Parada was one of the three finalists for the 2022 Golden Spikes award, college baseball's highest honor. The Georgia Tech alum was drafted as the 11th overall pick by the Mets. He is ranked 36 in MLB Pipeline's top 100 prospects, and No. 3 in the Mets farm system, and notably a top 10 catcher.
The Mexican American presents solid framing and a defensive wall behind the plate. When Parada's at the plate, he shows a very unique batting stance with the barrel of his bat wrapped around his lower back and loads up with a leg kick. The 21-year-old shows a high exit velocity with hard contact and raw power off the bat.
In 13 games between Rookie level and Single A, Parada slashed .275/.455/.425 with 11 hits, three doubles, one home run, eight  RBIs, 12 walks and an .880 OPS.
Parada still needs some more time to develop in the minor leagues, however. It'll be fun to see both Álvarez and Parada in spring training.
No. 4 Angels shortstop Zach Neto
No one in Campbell University's baseball program had been drafted in the first round of the MLB draft until 2022. Zach Neto was selected as the 13th overall pick by the Los Angeles Angels last summer.
Neto cracked MLB Pipeline's top 100 prospect list at No. 89. He ranks No. 2 in the Angels' farm system.
With an unusual high leg kick that shows his knee almost touching his left elbow, the Cuban American establishes great power and solid contact at the plate.
In his first professional year, Neto slashed .299/.377/.476 with 44 hits,  five homers, 27 RBIs and a .853 OPS. Playing 30 games in Class AA, he hit .320/.382/.492 with four home runs and 23 RBIs.
The 22-year-old shortstop will be a valuable piece to the Angels' success in the near future, but for now will look to improve in spring training.
No. 3 White Sox outfielder Oscar Colas
Oscar Colas is looking to make his mark in the majors this coming year. Colas is ranked No. 86 by MLB Pipeline. He's No. 2 in the White Sox farm system.
At the age of 16, Colas played in Cuba's Series Nacional and in Japan's minor winter league. The "Cuban Ohtani" pitched a little in both Cuba and Japan as his fastball topped out at 95 mph.
The 24-year-old made a huge splash in his first year. The Cuban slashed .314/.371/.524 hitting 23 home runs, 79 RBIs and a .895 OPS. 
Colás is very aggressive at the plate. He drives the ball to both sides of the field, but the majority of his home runs are pulled to the right side. Against lefthanders in High A, he slashed .400/.447/.571 with a 1.018 OPS.
Colás represented the White Sox at the 2022 All-Star Futures Game in Los Angeles, where the center fielder made a diving grab to rob Darren Baker from a hit. 
The White Sox have an opening in right field, where they believe Colás could make an immediate impact. He will enter spring training hoping to prove that this is the year.
No. 2 Yankees OF Jasson Dominguez
Jasson Dominguez was arguably one of the most hyped and upcoming superstars signing with the Yankees in 2019. None of the non-roster invitees in baseball this year will draw more attention than Dominguez in Tampa, Fla., this spring.
He drew comparisons to Mike Trout, Bryce Harper and Bo Jackson. The 20-year-old is ranked No. 47 on MLB Pipeline's top 100 prospects. He is ranked No. 2 in the Yankees' farm system, behind another non-roster invitee, shortstop Anthony Volpe.
"The Martian" has all the tools to become a superstar at the major league level. Domínguez is a switch hitter who can hit from both sides of the plate. He shows elite bat speed, a high exit velocity off his bat and lots of speed on the bases.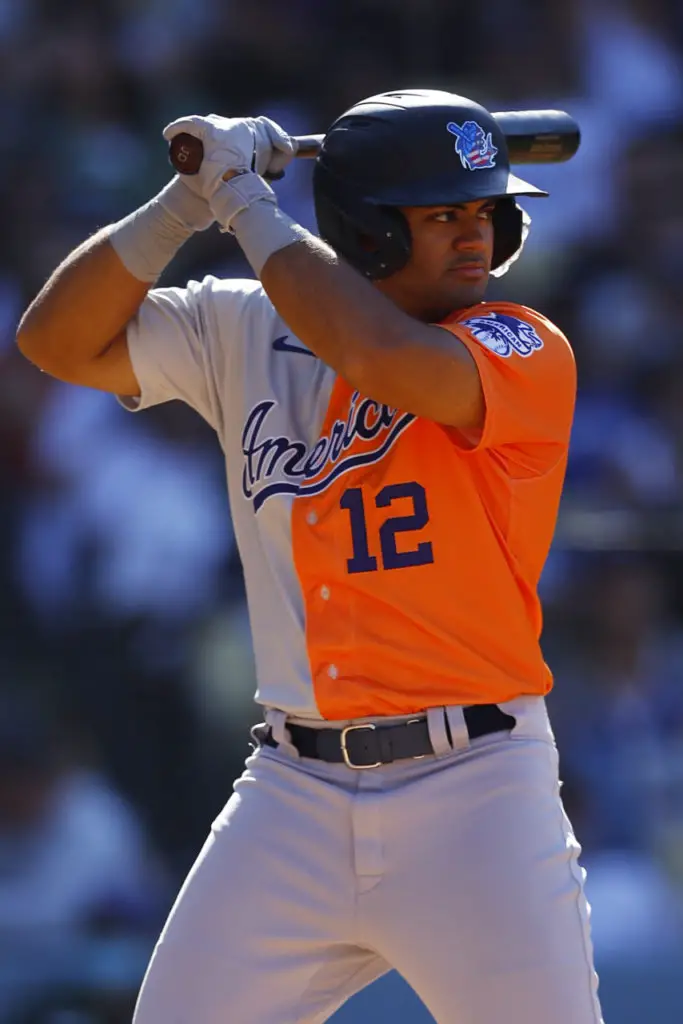 Domínguez climbed the ladder quickly in 2022. He slashed .273/.376/.461 smashing 16 home runs, 59 RBIs, a strong .837 OPS and stole 37 bases out of 44 attempts.
Domínguez represented the Yankees at the 2022 All-Star Futures Game in Los Angeles, where he cranked a two-run home run. The Dominican is still maturing and learning, but he does have the power and speed to become a phenomenal superstar in the upcoming future.
No. 1 Marlins RHP Eury Perez
The Marlins' starting rotation already has some young arms like Jesús Luzardo, Edward Cabrera, and Trevor Rogers. Eury Perez, 19, will join them soon. Perez is ranked No. 13 on MLB Pipeline's top 100 prospects. He is also No. 1 in the Marlins farm system and No. 1 in our list of top non-roster invitees this year.
He has been mentored the last two years by Marlins ace Sandy Alcantara. Perez was among the select group Alcantara invited to join his family when he won the 2022 National League Cy Young Award.
Perez's 6-foot-8 frame makes it difficult for hitters to adjust. He generates a lot of weak contact. Perez presents a rising fastball that can reach up to 100 mph, an upper 80s changeup with downward movement that tails away from hitters, a tight mid 80s curveball. He also developed a whipping slider in 2022.
The Dominican pitched one game at Class A and was instantly promoted to Class AA. Peréz started 17 games in Class AA, posting a 3-3 record, 4.08 ERA, allowing 25 walks and striking out 106 batters. 
Perez represented the Marlins at the All-Star Futures Game in Los Angeles, pitching a scoreless inning that included a strikeout. He has the potential to become a breakout star this upcoming season and possibly make his MLB debut in 2023.
Get the Our Esquina Email Newsletter
By submitting your email, you are agreeing to receive additional communications and exclusive content from Our Esquina. You can unsubscribe at any time.