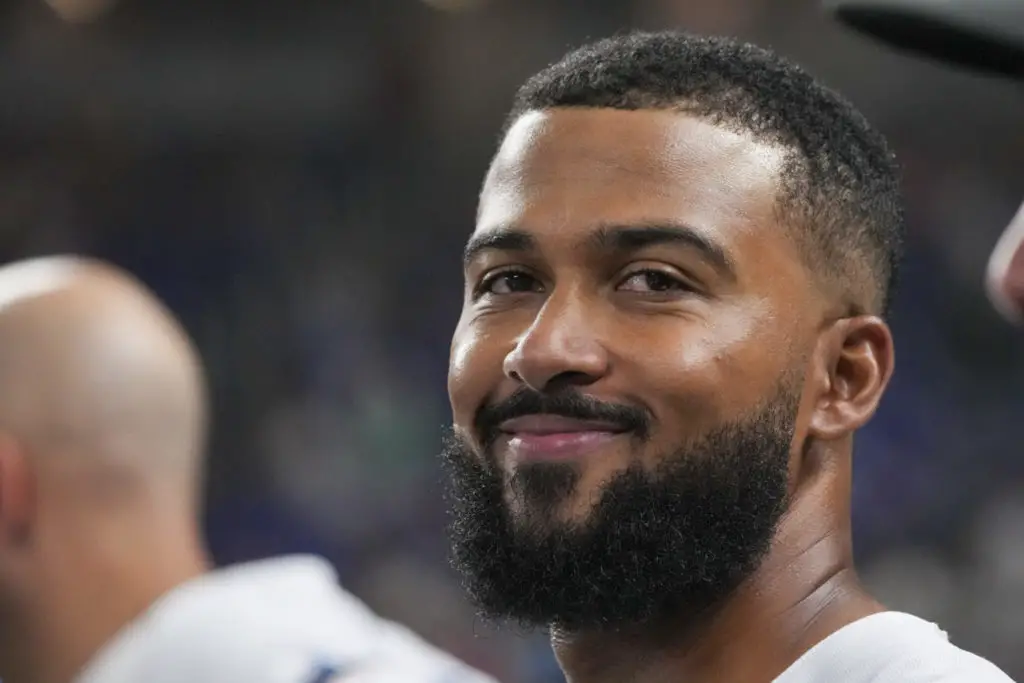 Sandy Alcantara credits roots for NL Cy Young
Sandy Alcantara is the first Latin American Cy Young Award winner since 'King' Felix.
Sandy Alcantara's father barely cracked a smile when Dominican icon Pedro Martinez announced that his son was the 2022 NL Cy Young award winner. Inside, Confesor Alcantara must have been bursting with happiness.
It's just not in his nature to show it. Confesor and Sandy Alcantara disguise the power that propelled the younger Alcantara to the most prestigious pitching award in baseball.
"You see my dad, he's super quiet. He is always like that," Alcantara said. "He has the same mentality that I have. I'm a super quiet guy. I always try to be chilling. But inside my body, it's something more aggressive than a lion. I think I'm like that because of him."
"Since the day that I came to this world, he (has) made me feel so special because I know where I came from and I know where my dad came from and he made me."
This explains the two-time All-Star's throwback approach to the game. Standing at 6-foot-5 with a gentle face, Alcantara attacks hitters with a fastball-sinker combo that touches 100-mph deep into games.
Sandy Alcantara is old-school
Alcantara was a unanimous selection by the Baseball Writers Association of America. He easily edged out finalists Max Fried of the Atlanta Braves and Julio Urias of the Los Angeles Dodgers. That's no surprise when you consider Alcantara had the highest bWAR, 8.0, and fWAR, 5.3, of the finalists.
He exhibits the stamina of a hurler from another era. His 228 ⅔ innings were the most thrown by a pitcher in six years. Alcantara also threw six complete games, the most thrown by a pitcher since 2016.
What's more, he went beyond the seventh inning in 16 of his 32 stars. The next best Cy Young finalist, Alek Manoah, did it only five times.
In an era when pitchers rely on overpowering hitters with heat, Alcantara isn't afraid to pitch to contact. He utilizes his elite sinker ball to induce ground balls. As a result, he posted an MLB-fewest 14.20 pitches per inning.
In the end, he finished the year with a 2.28 earned run average and 207 strikeouts, both Top 5 stats in the NL.
A Dominican Achievement
This is another huge accomplishment for the Dominican Republic. The Azua native joins Bartolo Colon (2005) and Pedro Martinez (1997, 1999, 2000) as the only Dominican-born players to win a Cy Young award.
"That company right there? I mean, it makes it more and more special," he said of Martinez and Colon. "Especially being the last Dominican to win the Cy Young since Bartolo Colon made it, I feel so happy to be with those guys because those guys are the special to me. I was watching Pedro and Bartolo on TV, and now I'm with them on that list."
Alcantara is the eighth native of Latin America to win the award, and the first since Venezuela's Felix Hernandez of the Mariners won it in 2010. Cuban Mike Cuellar became the first native of Latin America to win a Cy Young in 1969 with the Baltimore Orioles.
With Julio Rodriguez winning the AL Rookie of the Year award earlier this week, this is also the third time there have been two Dominican-born BBWAA award winners in the same year. 
The other two were Colon (AL Cy Young) and Albert Pujols (NL MVP) in 2005, and Rafael Furcal (NL Rookie of the Year) and Martínez (AL CY Young) in 2000.
Sandy Alcantara will never forget this day. From hearing the news of his award from his idol to his embrace with his family, how could he?
Get the Our Esquina Email Newsletter
By submitting your email, you are agreeing to receive additional communications and exclusive content from Our Esquina. You can unsubscribe at any time.