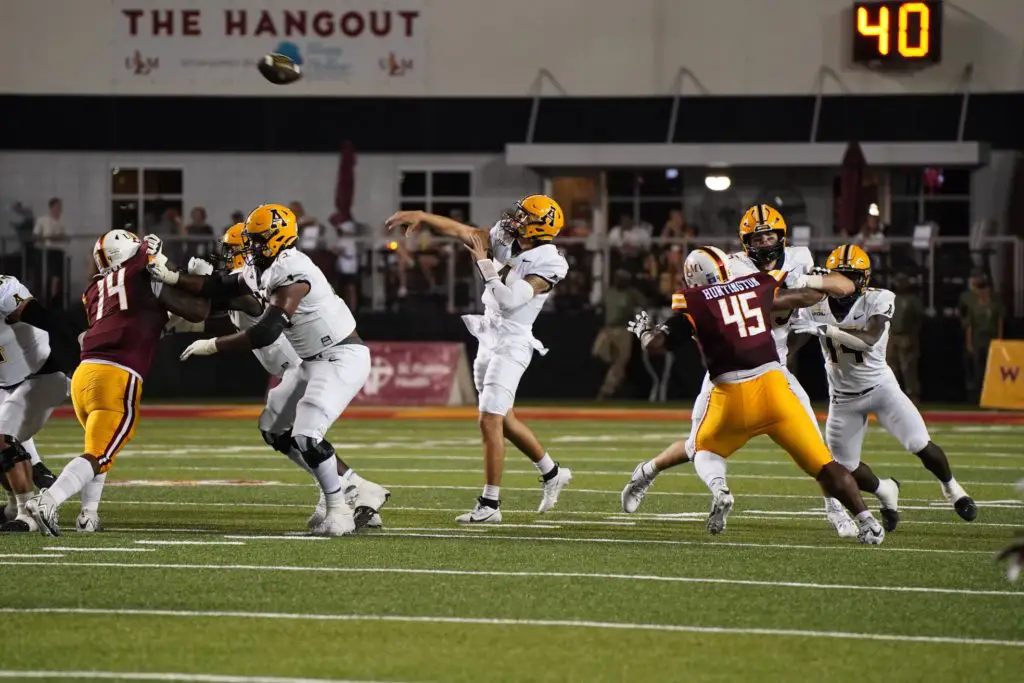 App State QB Joey Aguilar leads Latinos in college football
Aguilar leads Our Esquina's weekly recap of Latinos in college football
Appalachian State quarterback Joey Aguilar had the best performance of his Division I career. The Diablo Valley Community College transfer showed why he was considered one of the best JUCO quarterbacks last season.
Joey Aguilar was dominant in App State's 41-40 victory over the University of Louisiana Monroe. Aguilar threw for 335 yards and three touchdowns with two interceptions. The 6-foot-3, 220-pound junior from Antioch, Calif., added 49 rushing yards on seven carries. 
Joey Aguilar threw for at least 300 yards twice last season at Diablo Valley CC. Now, he has his first 300-yard passing game in Division I. Now Joey Aguilar has earned his Our Esquina's Player of the Week honors for Week 5 in college football.
Oregon State running back Damien Martinez scored his second touchdown of the season. He rushed for 65 yards and one touchdown on 16 carries in the 21-7 upset victory over Utah. The sophomore from Lewisville, Texas, is three yards away from 500 for the season after five games for Oregon State (4-1).
Boston College quarterback Thomas Castellanos completed 16 of 26 passes for 183 yards with two touchdowns and two interceptions. He added 78 rushing yards on 16 carries in the 27-24 victory over Virginia.
Cam'Ron Valdez gets it done
Texas Tech running back Cam'Ron Valdez rushed for a team-high tying 106 yards on only five carries. The sophomore from Rockdale, Texas, got more than half of his output on a 54-yard run. 
The redshirt sophomore had a 41-yard run for his first career touchdown to cap the Red Raiders' scoring in a 49-28 victory over Houston. Nehemiah Martinez added 11 rushing yards on four carries for Texas Tech.
Kent State running back Gavin Garcia rushed for 49 yards on 17 carries in a 22-3 loss to Miami of Ohio. North Carolina State freshman wide receiver Kevin Concepcion had one catch for seven yards in a 13-10 loss to Louisville. 
Wyoming's Ryan Marquez had three catches for 16 yards in a 35-26 victory over New Mexico. Notre Dame freshman receiver Rico Flores Jr. had two catches for 28 yards in a 21-14 victory over Duke.
MORE FROM OUR ESQUINA
Gallegos, Woodyard, Sanchez highlight Latino High School All-America Football Team
USC commit Marquis Gallegos proudly raises Mexican flag
Five-star Devin Sanchez has football elites after him
East Carolina sophomore quarterback Mason Garcia, the former starter, was limited to one carry for minus 1 yard against Rice. Eastern Carolina lost 24-17 against Rice. Wyoming receiver Ryan Marquez had three catches for 16 yards
Western Carolina quarterback Cole Gonzales was 22-for-28 for 237 yards and one touchdown. He also rushed for nine yards on three carries in a 49-14 victory over The Citadel. Only Joey Aguilar had more passing yards than Gonzales among Latino quarterbacks in Week 5.
Defensive Player of the Week: Jesus Machado
Tulane linebacker Jesus Machado led the Green Wave yet again. He had a team-high nine tackles in the 35-23 victory over the University of Alabama-Birmingham. 
The 6-foot-1, 220-pound junior from Miami leads the Green Wave with 42 tackles, 20 solo. He already has two more tackles than his previous career season high, which he set last season.
UCF sophomore defensive back Nikai Martinez had five tackles in a 36-35 loss to Baylor. Iowa's Sebastian Castro, the Week 2 Defensive Player of the week, had his second interception of the season. The senior defensive back from Chicago had five tackles and an interception against Michigan State.
Idaho State junior linebacker Kris Sanchez had seven tackles in a 28-20 loss to Montana. Redshirt sophomore linebacker Adrian Rodriguez added five tackles for the Bengals. Colorado State senior linebacker Justin Sanchez had six tackles in a 41-20 victory over Utah Tech.
Syracuse defensive lineman Denis Jaquez Jr. had one tackle in the 31-14 loss to Clemson.
Alec Marenco shines in loss
New Mexico's Alec Marenco had a team-high nine tackles in a 35-26 loss against Wyoming. Bryce Santana had three tackles against Wyoming. Kent State's Jesus Duran had one tackle in a 23-3 loss to Miami of Ohio.
Texas Tech's Bryce Ramirez had two tackles. Marshall defensive lineman Jalil Rivera-Harvey had one tackle in a 41-35 victory over Old Dominion. Notre Dame's defensive tackle Gabriel Rubio had two tackles against Duke.
Stanford's Wilfredo Aybar had one tackle in a 42-6 loss to Oregon. Virginia Tech sophomore defensive end Keyshawn Burgos recorded two tackles. Texas State's Devin Martinez had two tackles.
Special Team Player of the Week: Aaron Rodriguez
New Mexico punter Aaron Rodriguez had his best performance of the season against Wyoming.
The redshirt senior from Newhall, Calif., averaged 50.3 on four punts. He netted 46.3 yards per punt. Rodriguez, a 6-foot-1, 200-pounder, drilled a 61-yard punt.
Rodriguez, who spent his first two seasons redshirting at Missouri, has been one of the most used punters in college football the last three seasons. He led the nation in punts each of the previous two seasons with 81 each year. Rodriguez has punted 20 times already this year.  
Iowa State's Chase Contreraz was 2-for-2 on field goals and PATs in the loss to Oklahoma. His longest field goal was from 48 yards. Texas Tech kicker Gino Garcia was perfect on seven PATs.
Tarleton State's Adrian Guzman was perfect on two PATs. He also averaged 39.4 on seven punts. The longest punt of the night went for 59 yards. LSU kicker Damian Ramos was 7-for-7 on PATs, but missed a field goal in the loss to Ole Miss.
Alyas Vigil drills punt 76 yards
Southern Utah punter Alyas Vigil averaged 55.3 yards on four punts. He booted a punt for 76 yards. Tulane kicker Valentino Ambrosio was 5-for-5 on PATs with one missed field goal. Wake Forest punter Ivan Mora averaged 32 yards on two punts. Mora punted a ball in the 20 and drilled a punt for 48 yards.
Colorado kicker Alejandro Mata was 5-for-5 on PATs in the loss to USC. Old Dominion kicker Ethan Sanchez made all five PATs in the 41-35 loss to Marshall.
South Alabama kicker Diego Guajardo made a 40-yard field goal. He also was 2-of-3 on PATs in a 31-23 loss to James Madison.
Idaho kicker Ricardo Chavez nailed a 38-yard field goal and was 5-for-5 on PATs for the Vandals. He also had one punt for 29 yards in the 44-36 victory over Eastern Washington.
Bowling Green kicker Alan Anaya, a sophomore from Queretaro, Mexico, hit a 40-yard field goal and all five PATs in a 38-27 victory over Georgia Tech.
Get the Our Esquina Email Newsletter
By submitting your email, you are agreeing to receive additional communications and exclusive content from Our Esquina. You can unsubscribe at any time.