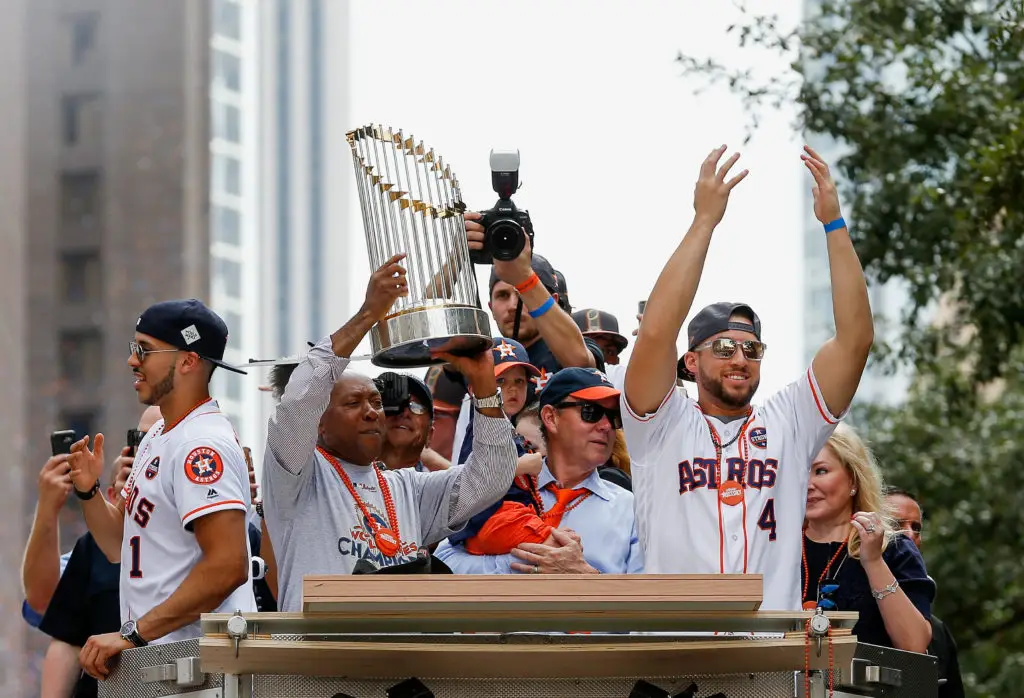 Carlos Correa, George Springer fight to return to Houston
Former Astros teammates meet in Wild Card
Carlos Correa and George Springer shared the October stage in five postseasons. They were major parts of the Houston Astros' greatest era, helping the franchise win the 2017 World Series. Now they want to earn a trip back to Minute Maid Park.
Shortly after Springer was named the 2017 World Series MVP, Correa famously proposed to his wife on the Dodger Stadium field before a nationally televised audience. Most of their greatest memories as big leaguers were made with the Astros.
Now they're eager to return to Minute Maid Park for the Division Series. Correa and his Minnesota Twins will square off against Springer and his Blue Jays in the Wild Card. The winner will face the defending champion Astros in the Division Series. 
Both men made their postseason debuts in 2015 with the Astros. They helped the Astros break a 10-year postseason drought. That Astros team beat the Yankees at Yankee Stadium in the wild-card game to reach the Division Series against the Royals.
Houston experience
"I don't think there is any substitute for experience," Springer said. "The more time you play in these atmospheres the better." 
Experience is one thing Carlos Correa and Springer gained in their time with the Astros. Correa, who bolted Houston via free agency before the 2022 season, has been to the postseason six times with the Astros. Springer appeared in the postseason five times with the Astros before joining the Blue Jays via free agency after the 2020 season.
MORE FROM OUR ESQUINA
Carlos Correa honors young Uvalde survivor
Astros saddened by Carlos Correa departure
Alejandro Kirk is a rare star catcher from Mexico
Correa, 29, has played in 79 postseason games. He's registered 82 hits, 18 home runs, and 59 RBIs. Although he hasn't played for the last two weeks due to his plantar fasciitis, Correa says he is healthy and ready to contribute. 
Springer and Correa were teammates together in Houston for six seasons. They were together from Correa's rookie season in 2015 until Springer left via free agency after the 2020 season ALCS. Springer described Correa as a mental giant who blocks everything out. 
Springer praises Carlos Correa
"He seems to almost make the moment still when it's not," Springer said. "He has the innate ability to kind of control the flow of a lot of things."
Springer has a .270 career postseason batting average with 72 hits, 19 home runs and 38 RBIs in 65 playoff games. Only two of those 65 playoff games have been with Toronto.
Both men plan to use their previous October experience to rally their teams to a World Series. The Twins have lost 18 straight postseason games since Game 2 of the 2006 Division Series against the Yankees. 
"When we have these conversations about playoff baseball it's just talking about my personal experience and what has worked for me and the team I've been on in the past," Correa told the media Monday in Minnesota. "Confidence is one of the main things you can have going into postseason baseball. And I feel like our young guys don't lack any confidence." 
The 2015 Rookie of the Year has had a track record of being a vocal clubhouse leader since his time in Houston. In the 2020 American League Championship Series against the Tampa Bay Rays, Houston's Framber Valdez walked Yandy Diaz on a 3-2 count, which led to some heated words toward Valdez. 
Carlos Correa leadership
Carlos Correa, the 2012 top overall draft pick, was quick to step in and motivate Framber. He sternly urged his teammate to stick to this game plan and not let the Rays faze him. After Correa's lecture, Valdez induced an inning-ending double play. 
Correa's former teammate confirmed the leadership qualities the 2021 Platinum Glove winner possesses. Springer calls Correa a true leader who knows how to lead and motivate a team.
Springer has had his fair share of familiarity with postseason play. His mentality coming into this postseason is focused on learning from his past participation in October baseball. The Blue Jays were swept in the Wild Card by the Seattle Mariners last year. 
Springer, 34, and his teammates were shut out by the Mariners in Game 1 last year. Then the Mariners came back from a seven-run deficit in Game 2 to deny Toronto and Springer a trip to Houston for the 2022 Division Series.
"You just learn from the past," Springer said. "That's all. Every year is completely different. There are things that might have worked last year that didn't this year. For us as a team and individually, we understand what happened last year. You move past it. You learn from it."
Down year
Both 2017 World Series winners have had a down year based on their previous success. Carlos Correa and Springer have each had a career low in home runs, batting average and OPS. However, there is no match for the aptitude they garnered from October baseball.
As the Twins and the Blue Jays joust to advance to the ALDS, Correa and Springer certainly have a chance to showcase their knowledge against their former team where it all started. 
"I've said a lot of times that this team reminds me of the '15 Astros," Correa said. "You have some veteran guys already who have had success in the past. And then you bring the young guys and they have success right away. …
"It reminds me a lot of that team. I feel like that win in the Wild Card that year made the team believe they could beat anyone. I feel like with the guys that we have right now and the way the roster is constructed I think a good win right away out the gate would give everybody the confidence to know that we are a great team and we can compete against anyone."
Get the Our Esquina Email Newsletter
By submitting your email, you are agreeing to receive additional communications and exclusive content from Our Esquina. You can unsubscribe at any time.