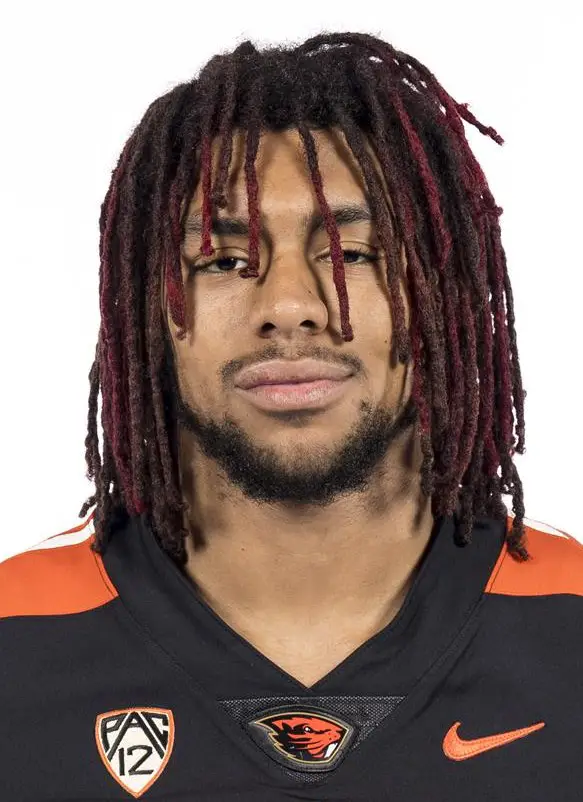 Oregon State's Damien Martinez gets 100 again
Week 1 highlights of Latinos in College Football
Oregon State running back Damien Martinez, the 2022 Pac-12 Offensive Freshman of the Year, started his sophomore season where he left off.
The sophomore from Lewisville, Texas, rushed for 145 yards on 18 carries to lead the Beavers to a 42-17 victory over San Jose State. Martinez also had two catches for 19 yards while earning Our Esquina's College Player of the Week honors for Week 1.
Martinez now has seven 100-yard rushing games in his career. He had six 100-yard games last season. San Jose State receiver Branden Alvarez had two catches for 25 yards and a touchdown in the losing effort against Martinez and the Beavers.
As we did the previous two seasons, Our Esquina will try to track down how all the Latinos in Division I football did on a weekly basis.
RJ Garcia has breakout
Kansas State receiver RJ Garcia II was one of the top Latino performers in college football in Week I. The sophomore from Land O' Lakes, Fla., had five catches for a team-high 119 yards and a touchdown. He and Damien Martinez had the biggest performances among Latino college football players this past weekend.
He also had a 44-yard catch in the 45-0 victory over Southeast Missouri State. Garcia is the son of former Florida basketball player Renaldo Garcia, a three-year starting guard who helped the Gators win their first SEC basketball title in 1989.
Mario Escobar rushed for 30 yards on four carries in Syracuse's 65-0 victory over Colgate. Kent State running back Gavin Garcia had a team-high 45 rushing yards on 18 carries in a 56-6 loss against UCF.
MORE FROM OUR ESQUINA
Garret Rangel takes talent, leadership to Oklahoma State
Gallegos, Woodyard, Sanchez highlight Latino High School All-America Football Team
Class of 2023 loaded with Latino football recruits
Miami's Xavier Restrepo had five catches for 68 yards against Miami of Ohio. Josh Lopez and Aaron Romero each had a tackle for Southern Utah. Lopez also had a 14-yard kick return. Josh Cuevas had a 31-yard touchdown catch for Washington in a 56-19 victory over Idaho State.
Notre Dame freshman Rico Flores Jr. had a pair of catches for 31 yards in a 56-3 victory over Tennessee State. He also had a two-yard catch the previous week in Dublin against Navy in his debut,
Toledo receiver Anthony Torres had two catches for 30 yards in a 30-28 loss against Illinois. Vanderbilt offensive lineman Julian Hernandez was credited with a tackle against Alabama A&M. 
Freshman Garrel Rangel earns start at Oklahoma State 
Redshirt freshman quarterback Garret Rangel started the season opener for Oklahoma State. He completed 10 of 15 passes and one touchdown and an interception in the 27-13 victory over Central Arkansas.
Rangel also ran for 18 yards on three carries in a 27-13 victory over Central Arkansas. He is competing with Gunnar Gundy and Alan Bowman for the starting position. All three quarterbacks played. 
Senior tight end Ryan Rivera had a nine-yard kickoff return for Louisiana Tech. Francisco Calderon added a nine-yard catch for the Thunderbirds in the 24-21 loss to Arizona State.
Freshman David Amador II had a 20-yard run in his debut for UTSA. Ryan Marquez caught one five-yard pass for Wyoming. 
Isaiah Garcia-Castaneda, who tore his ACL, made one catch for Nebraska in a 13-10 loss to Minnesota. East Carolina quarterback Mason Garcia was 11-for-18 for 80 yards. He also ran for 36 yards on eight carries in a 30-3 loss against Michigan.
North Carolina tight end Kamari Morales caught three passes for 46 yards in the 31-17 victory over South Carolina. Western Carolina sophomore Cole Gonzalez completed 9 of 14 passes for 118 yards in a loss against Arkansas. 
Washington State Carlos Hernandez had five catches for 58 yards against Colorado State. UCLA receiver Logan Loya had three catches for 37 yards in a 27-13 victory over Coastal Carolina.
Defensive Player of the Week: George Ramirez
Southern Utah safety George Ramirez had six tackles and an impressive 47-yard touchdown return on a blocked punt against Arizona State. Ron Stone Jr. had four tackles for Washington State. Tulane linebacker Jesus Machado had eight tackles (three solo) and one tackle for a loss. 
Defensive lineman Denis Jaquez Jr. added two tackles for Syracuse. Gio Paez had three tackles (one solo) for Wisconsin in a 38-17 victory over Buffalo.
Georgia freshman defensive back Joenel Aguero, Our Esquina's High School Player of the Year last season, had a tackle in his debut for the national champions.
Zach Vigil and Gabriel Lopez each had a tackle for New Mexico in a 52-10 loss to Texas A&M. 
Special Team Player of the Week: Chase Contreraz
Iowa State's Chase Contreraz, who transferred after graduating from Nebraska, hit a 56-yard field. He was also 3 of 4 on PATs in a 30-9 victory against Northern Iowa.
Texas Tech kicker Gino Garcia made two of his five field goal attempts in a 35-33 loss against Wyoming. Jacob Rodriguez had two tackles, and Bryce Ramirez had one tackle for the Red Raiders. Cam'Ron Valdez rushed for 20 yards on six carries for Tech.
Alabama A&M kicker Victor Barbosa made two field goals and one extra point in a loss against Vanderbilt. Kicker Andres Borregales added three field goals with a long of 43 yards in the 38-3 victory.
LSU kicker Damian Ramos made a 36-yard field and converted three PATs in the 45-24 loss to Florida State. Alejandro Mata, who transferred to Colorado from Jackson State with coach Deion Sanders, made one extra point in the 45-42 upset over TCU.
Punter Aaron Rodriguez was busy for the Lobos. He averaged 37.5 yards per punt over six punts with a long of 50. Nikai Martinez had two tackles for UCF.
Valentino Ambrioso added three field goals and four PATs for the Green Wave in the 37-17 victory over South Alabama. Wake Forest punter Ivan Mora averaged 43.8 yards on four punts, dropping two inside the 20-yard line. 
This is not a complete list. If you know of any Latino Division I players we missed, please email JesusOrtiz@OurEsquina.com or AngelCantu@OurEsquina.com.
Get the Our Esquina Email Newsletter
By submitting your email, you are agreeing to receive additional communications and exclusive content from Our Esquina. You can unsubscribe at any time.