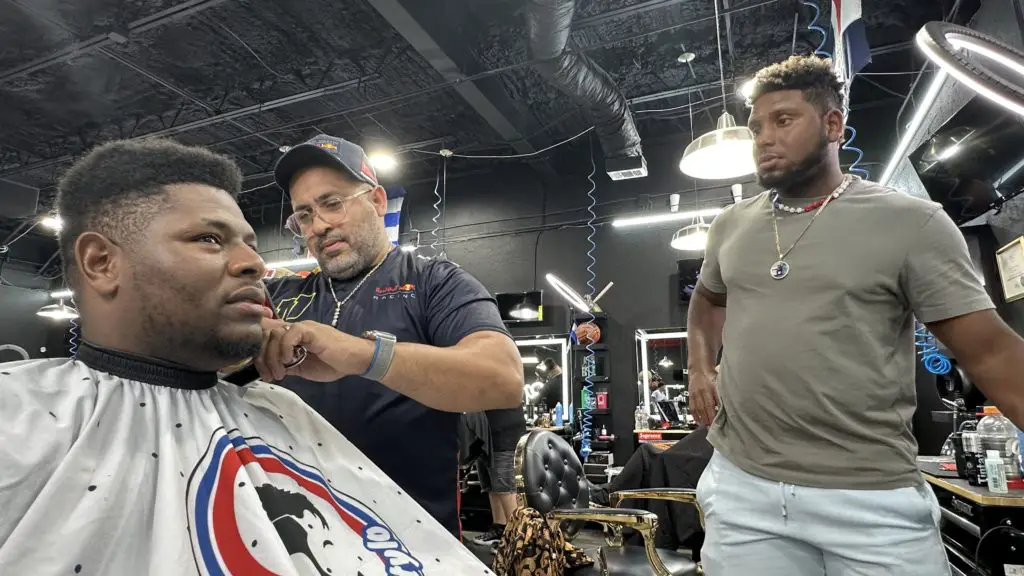 Neno's Stylo has Hector Neris, Astros feeling, looking good
Neno's Stylo salon is where Altuve, Neris, Alvarez go for their haircuts
HOUSTON – A couple of young men play billiards in the middle of the salon, and a little girl playfully offers her mother a taste of her lollypop while sitting in the corner. Reggaetón oozes from the speakers. Most of the barbers' chairs are full at Neno's Stylo, and there's a buzz in the air as Hector Neris strolls in.
It's almost 7 p.m. on the eve of the American League Division Series, and Neno's is popping. At a time when most of the barbershops and salons in Houston are closed or about to close, Neno's has the feel of a club getting ready to pop this Friday night.
Hardly anybody raises a well-manicured eyebrow as the Astros' setup man arrives. Victor Abreu has left his barber's chair open for Neris, a righthanded reliever who is all smiles as he shakes hands and hugs Abreu's colleagues and some customers.
Dominican feel in Houston
If you didn't know any better, you would think you were in the Neris' hometown of Villa Altagracia, Dominican Republic. It feels like the Caribbean or Central and South America. Spanish is the preferred language in this popular salon that draws many of baseball's biggest names to Southwest Houston.
Abreu, an immigrant from La Vega, Dominican Republic, is on first-name basis with most of the Astros' Latino players and many of the top Latino stars in baseball. Hall of Famers and All-Stars call on him when they're in Houston. Journeymen and rookies trying to establish themselves call on Abreu, too.
By the time Neris arrives, Astros righthander Ronel Blanco is already waiting for his turn. Blanco, who has shuttled between Minute Maid Park and Class AAA Sugar Land over the last two seasons, is on the Astros' taxi squad this postseason.
MORE FROM OUR ESQUINA
Gunpoint demand paid off for Hector Neris
Goat stew emblematic of Astros winning culture
Jose Altuve treats home crowd with his 2,000th hit
Blanco smiles and greets Neris, his mentor. It's unclear whether any Minnesota Twins will call on Abreu during the Division Series. If the Astros extend their playoff run into the American League Championship Series and World Series, though, many opposing players and broadcasters will make a pilgrimage to Neno's Stylo.
Others will summon Abreu to their team hotels, as they have done throughout the 162-game season for the last six years. Hall of Famer David Ortiz and Alex Rodriguez visited the salon for trims last postseason. Abreu, 43, is a devoted fan of Hall of Famer Pedro Martinez.
That's his baseball hero. Abreu is proud to say that he has been in Martinez's presence because of the relationships he has made through the Astros. But the barber from the Cibao region is loyal to the Astros.
Astros corner
His corner of the salon is practically a shrine to the Astros. Once you sit in his chair and look above the mirror you'll see autographed jerseys from three of the Astros' greatest postseason performers. From left to right, you'll see Jose Altuve's No. 27 jersey, Yordan Alvarez's No. 44 and 2022 World Series and ALCS MVP Jeremy Peña's No. 3.
"To Neno, may God bless you!" Altuve wrote in Spanish on the jersey's No. 2. 
He wrote "17 AL MVP," on the top of the No. 7 with his signature in the middle of the numeral and " Psalm 27" at the bottom.
Peña gave Abreu a gold-trim jersey that commemorates the 2022 World Series title.
"To my brother Neno," Peña wrote in Spanish on the top line of the No. 3. 
"Prayers for all," Peña added in the middle of the number with his signature in the bottom line.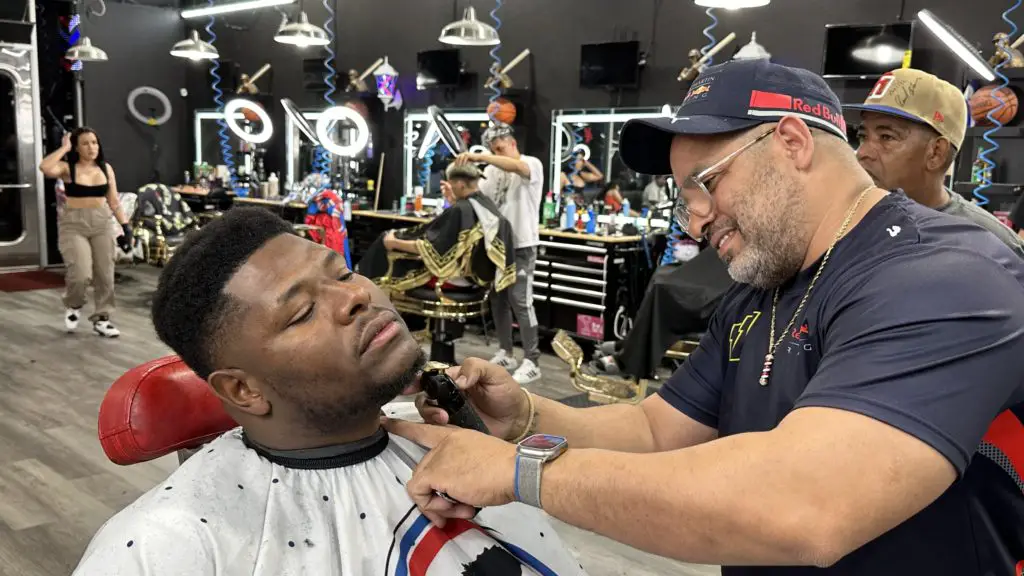 Abreu arrived from the Dominican Republic in 2014. Altuve won his first of three AL batting titles that season. A year later, Altuve helped the Astros reach the postseason for the first time in a decade. That same season, Altuve met Abreu at another location.
Abreu seems at ease and almost like family now with the Astros and other big leaguers. Yet, in 2015 he could hardly hold his clippers when Altuve asked him for a trim.
"I remember the first time Altuve came, and I got very nervous," Abreu says in Spanish. "My hands kept shaking and my hands were sweating. My head was sweating. It was nerve-racking because I was giving a haircut to somebody who many people would want to give a haircut to."
A piece of home for Hector Neris
Not all of Abreu's customers go to Neno's anymore. He makes many house calls.
Neno's Stylo beautifully represents Houston's diversity, especially the Latin American diaspora here. A sign with the Dominican Republic flag is featured prominently on the salon's facade to the left of the "Neno Stylo" logo and Barber Shop sign with a silhouette of barber's clippers.
A large Dominican flag drapes from the ceiling near Abreu's chair.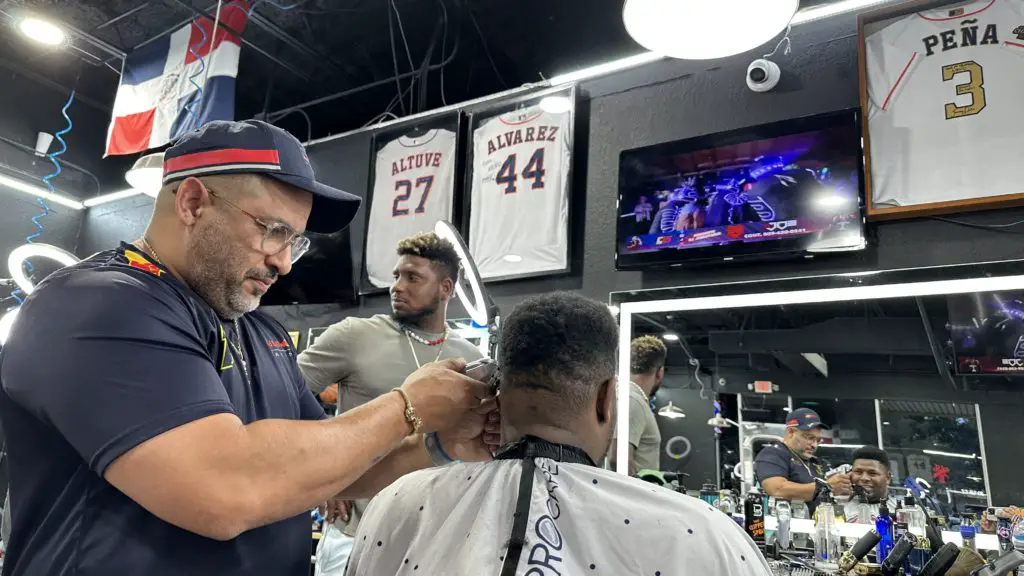 "It's beautiful because when you come here (to the United States) you miss many things about your culture," says Hector Neris, who is Dominican. "You miss a lot of things that you're used to having there.
"Seeing it here is like having a tiny piece of your country next to you in this place where you miss some of the routines from home. It's something very beautiful. It fills your heart and it helps you remain focused."
Flags from Honduras, Venezuela, Cuba and Colombia also hang from the ceiling in other sections of the salon. The ambiance is a mix between a familial gathering spot and a club for adults. More importantly, Abreu makes the Astros and their rivals feel good about their appearance.
Even though he wears a cap for work, Hector Neris wants to have his hair style and goatee looking good on the mound. 
"That's where it all starts," Neris says with a smile as he leaves Neno's salon. "It renews you, and you say, 'here we go.' You feel like a new person with new goals."
For many of the defending World Series champions, the road back to the Fall Classic has a stop at Neno's Stylo.
Get the Our Esquina Email Newsletter
By submitting your email, you are agreeing to receive additional communications and exclusive content from Our Esquina. You can unsubscribe at any time.