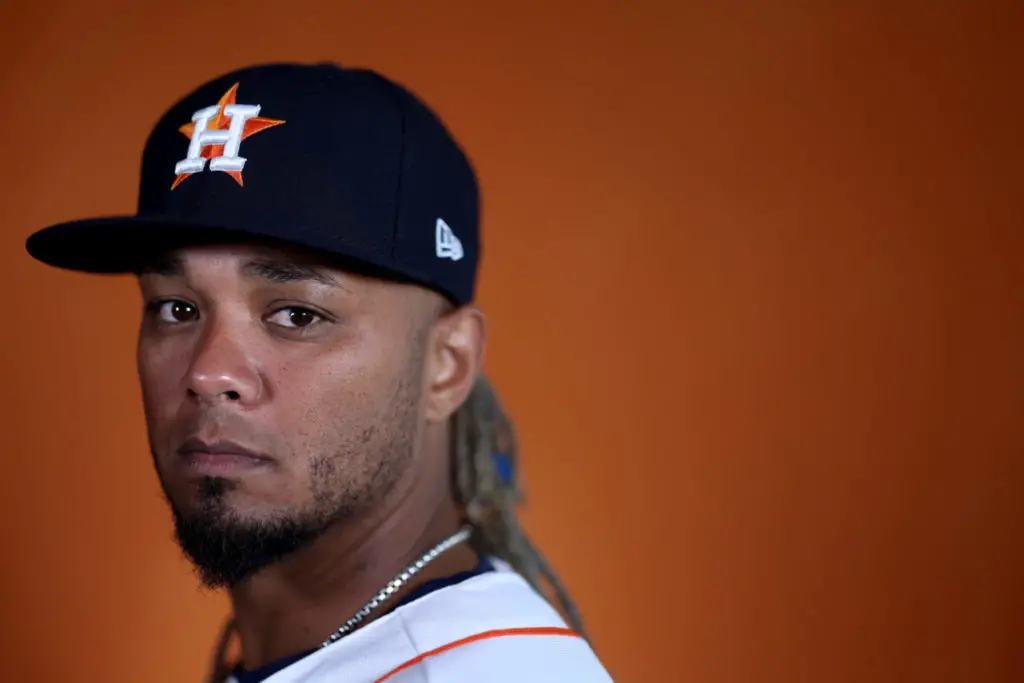 Martin Maldonado makes ESPN history with ease
Maldonado calls second inning while being mic'd up for Sunday Night Baseball
HOUSTON – Martin Maldonado appeared at ease Sunday evening while making big league and television history. For years, the Astros' veteran leader has encouraged his fellow Latin American players to learn English.
Maldonado has encouraged his teammates to improve their English skills to communicate for themselves. He showed off his bilingual skills while being mic'd up for ESPN Sunday Night Baseball.
With a cannon for an arm, innate leadership skills and a gift for guiding a pitching staff, the native of Naguabo, Puerto Rico, showed a national audience how he became one of the most respected catchers of his generation. Communication is key at every position on the baseball diamond, but it's perhaps most paramount behind the plate.
Being bilingual has proved crucial for Maldonado, a native Spanish speaker who also learned English as a child from his Nuyorican mother Jeanette Valdez. She gave her boy a solid foundation in English, and he built on it by taking English classes in middle and high school before the Angels drafted him in 2004.
Being bilingual "is 100 percent beneficial," Maldonado said. "That's the reason why I learned. I knew that coming in."
Martin Maldonado gives 'great insight'
Maldonado, 36, notes that he is still learning English. Nonetheless, his command of the language and the pitching staff was evident as he guided Astros ace Framber Valdez through a scoreless second inning while also talking to the Sunday Night Baseball broadcast team. He answered questions from Eduardo Perez and David Cone in between pitches.
"It was great insight and a sneak peak into what an MLB catcher thinks, prepares and does during an MLB game," Perez said. "It was awesome."
It's not unusual for managers or players to be mic'd up during live broadcasts. But no big league catcher had been mic'd up while he called a regular season Major League Baseball game until Sunday.
Rangers manager Bruce Bochy, a former big league catcher, knows exactly how difficult it would be to try to call a game behind the plate while speaking to the broadcasters.
Javier Assad builds on Tijuana's baseball legacy
King Ryan Garcia vows to destroy Tank Davis
Language barrier not a pitch clock problem
"I couldn't have done that," Bochy told ESPN reporter Buster Olney during the fourth inning. "I can't multi-mask like that, so that would have been way too much pressure on me."
Encouraging others to learn English
Maldonado made it look easy, all things considered. The interview was even more impressive because he didn't speak much English when he signed with the Angels. Although he took English classes to build on the foundation his mother gave him, he says he didn't speak much English in Puerto Rico.
He worked hard to truly become fluent in English. Moreover, he encourages players from other Latin American countries to learn English.
"That's something you have the opportunity to learn," he tells his teammates. "Watch TV, watch movies, all that stuff where you can learn and you can speak for yourself."
That's the type of mindset that has garnered Maldonado respect throughout the majors. He doesn't just lead his fellow catchers and the pitching stuff. Astros manager Dusty Baker noted during the broadcast that Maldonado is a leader of the Latino players. Baker then added that Maldonado is a leader for all of the players. 
Get the Our Esquina Email Newsletter
By submitting your email, you are agreeing to receive additional communications and exclusive content from Our Esquina. You can unsubscribe at any time.