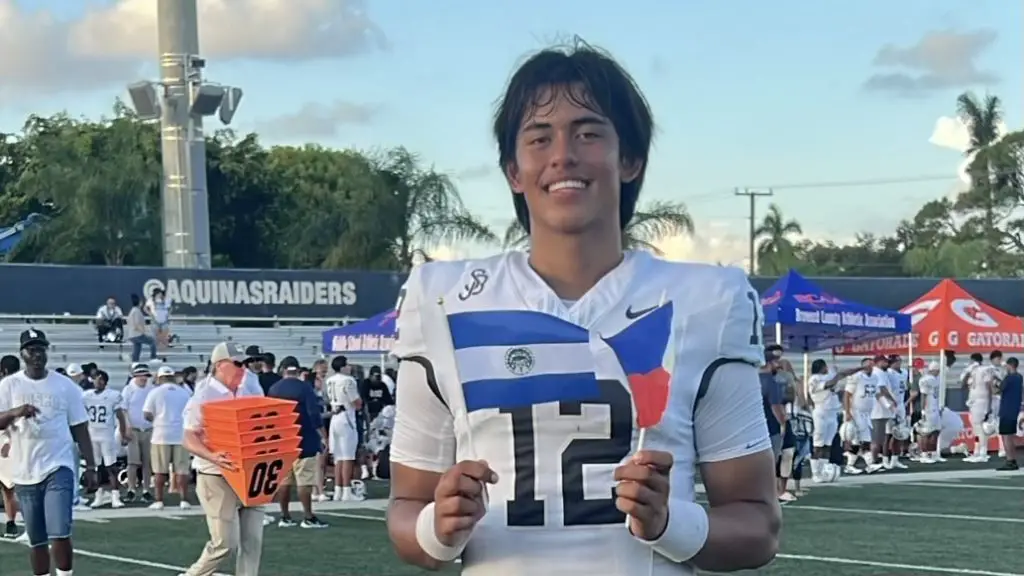 Loyalty pays off for Caleb Sanchez
Quarterback Caleb Sanchez leads national power St. John Bosco
It was admittedly difficult for Caleb Sanchez to wait his turn to lead the offense at national power St. John Bosco High School. He received his first college scholarship offer as a freshman from Nevada. Then the talented quarterback waited behind two Division I talents.
Sanchez had always played against older kids growing up in Carson, Calif., and he was confident that he could help the Braves. But he waited for the chance to showcase his talent while several teammates received early hype and college offers over the last two years.
In an era when patience is often in short supply, especially among elite athletes, many quarterbacks with Sanchez's talent might have transferred. He could have easily transferred and started as a sophomore at another high school. The 6-foot-3, 220-pound gunslinger had made a commitment, though.
He was adamant about keeping his word and finishing what he started. Now he's a member of Our Esquina's Latino All-America High School Football Team. Sanchez is taking advantage of the opportunity to prove he's one of the best high school quarterbacks in America.
Moreover, he's gaining a cult following among Filipinos and Salvadorans in Southern California who are proud to see a Salvadoran-Filipino American quarterback on the No. 1 ranked high school team in America.
Caleb Sanchez expected to compete
"It was hard to see guys get early offers and early hype and stuff, which I didn't have," Sanchez says. "I had a reason to stay, and obviously it's paying off. I believed in myself. 
"And when I committed to go to Bosco, I couldn't go back on that. I would be like a traitor. I trusted the process."
Considering that the school in Bellflower, Calif., has had one of the best football programs in America for more than a decade, Sanchez knew he would compete against talented players for playing time.
MORE FROM OUR ESQUINA
Gallegos, Woodyard, Sanchez highlight Latino High School All-America Football Team
Lineman Raymond Pulido settles in at Arizona
Five-star Devin Sanchez has football elites after him
He sat behind Pierce Clarkson and Katin Houser as a sophomore. After Houser graduated and signed with Michigan State, where he is likely to start this year, Clarkson became the starting quarterback. Clarkson led the Braves to the CIF title and a 12-1 record before enrolling at Louisville.
"I stayed honestly for the culture and the competition we have here," Sanchez said. "We are a family. It's high-level coaching. The whole program is fully professional. It's like college, how fast it is and the rotations."
Caleb credits his father Armando with instilling the mental toughness that has proved critical. Armando Sanchez arrived in Los Angeles as a six-year-old from El Salvador. His mother Maridel moved to the Los Angeles area as a child from the Philippines.
Best of two worlds
Armando and Maridel settled in Carson, which has a large Filipino community. Maridel does most of the cooking at her house. Caleb raves about his mom's Lumpias (Filipino egg rolls). He also enjoys Salvadoran pupusas when he visits his father's family in Los Angeles.
Sports have always been a central part of the Sanchezes' lives. Armando coached Caleb in baseball, football and basketball. Education has always been paramount too.
"As a parent you just have to be a team player and you have to support your kid no matter what," Maridel says. "We just take them and let them develop in whatever they want. We didn't specialize.
"First, of course, was education. Caleb knows that. That's why he's maintained a GPA over 4 since elementary, middle and high school."
Caleb Sanchez currently carries a 4.4 weighted GPA. He's bright enough to have put Stanford atop his wish list early on. His recruitment is wide open right now, though. 
Armando Sanchez settled in Los Angeles near Korea Town shortly after arriving in the early 1980s. It took him about two years to feel comfortable speaking English.
From futbol to football in one generation
Armando Sanchez played soccer at Los Angeles' University High. He doesn't remember any Salvadoran kids playing football at the time. Heck, he didn't learn much about football until after high school. 
Although soccer was his sport, he registered Caleb for baseball, basketball and football at Carson's Parks and Rec league. Caleb was always a big kid, so Armando always registered him for teams one or two years older.
"I wanted them to build that adversity," Armando said. 
Caleb eventually starred on a 14U Snoop League team that won a national title when he was in eighth grade. He played on that team with Servite High center Eduardo Saldaña, who is also a member of Our Esquina's Latino All-America High School Football Team.
"I knew for a fact he was going to be a football player," Armando says of Caleb. "Football came naturally to him, but I wanted to build that stressful moment. That's when you grow. He pitched, and I knew these stressful moments would help him a lot."
Facing adversity against older kids prepared Caleb for the competition he has faced at St. John Bosco. 
"My dad had a lot to do with everything that I am now," Caleb Sanchez says. "He had me playing up at a young age, because I always worked with him at an early age. Playing with kids my age was too easy."
Caleb Sanchez off to strong start
There's nothing easy about Caleb Sanchez's competition these days, although he does make it look easy at times. He completed 22 of his 26 passing attempts for three touchdowns and 272 yards in the first game of the season against Henderson (Nev.) Liberty.
St. John Bosco then traveled to Ft. Lauderdale, Fla. last weekend for the second game of the season. They faced Florida power St. Thomas Aquinas, which had a 27-game winning streak.
Sanchez completed 36 of 48 passing attempts for 349 yards and two touchdowns in the victory against St. Thomas Aquinas. Now, he's preparing for Washington D.C. power Friendship Collegiate Academy.
St. John Bosco 5-star safety Peyton Woodyard, another member of Our Esquina's Latino High School All-America Team, is adamant that Sanchez made an impression with his commitment to the Braves.
"Caleb's a real special person, and he's the right guy to lead our football team," said Woodyard, an Alabama commit. "He's going to stick through everything with us, like he's done.
"He's going to continue to do great things for us and do great things at the next level. Caleb's opened up a lot of eyes." 
You can see several fans waving flags from El Salvador and the Philippines at St. John Bosco games these days. Caleb is proud to represent his Filipino and Salvadoran roots. He waved miniature Filipino and Salvadoran flags on the field after beating St. Thomas Aquinas.
"For a Latino or Filipino to be in this very important position, it's like (boxing legend Manny) Pacquiao," Maridel Sanchez says. "When Pacquiao came here everybody supported him. That's what we're seeing here. A lot of my people are supporting him. That's how we are, just like Latinos."
Get the Our Esquina Email Newsletter
By submitting your email, you are agreeing to receive additional communications and exclusive content from Our Esquina. You can unsubscribe at any time.