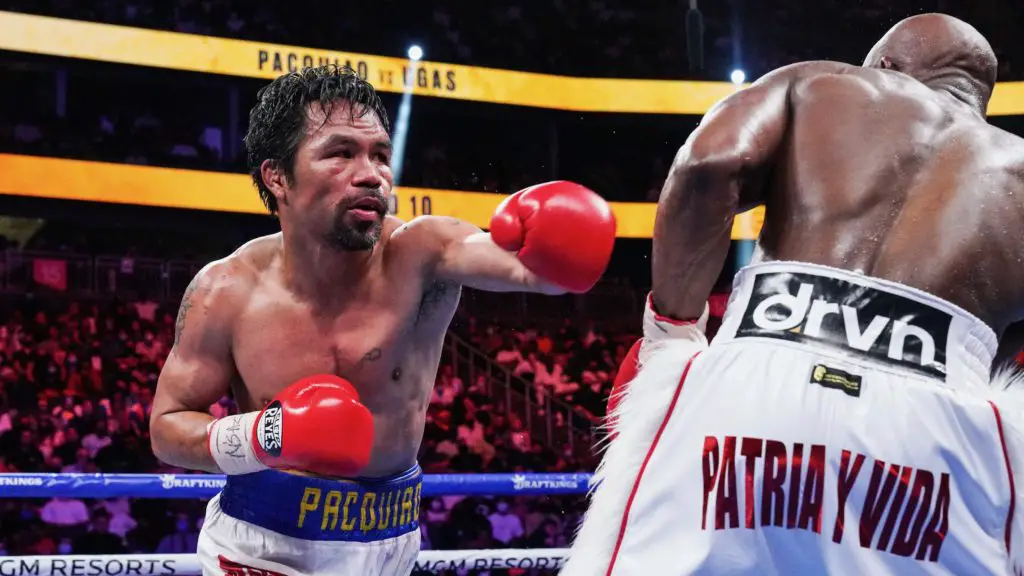 Cuba's Yordenis Ugas Stuns Manny Pacquiao, Delivers Message
Yordenis Ugas wants to "free Cuba"
Yordenis Ugas brought the heat Saturday night, living up to the Yankees' fireballer who inspired his nickname. Although he was already a veteran champion, Ugas delivered his biggest win Saturday night in Las Vegas against the legendary Manny Pacquiao.
Ugas also added his name to the chorus of Cuban athletes in the United States supporting the protesters in their native island. "Patria y Vida" was written in red on the back of his white trunks against the boxing icon from the Philippines.
"He's a legend, one of the greatest fighters that ever lived," Ugas said of Pacquiao, 42. "I'll always respect him not only as a great fighter but outside the ring. I also admire that he fights for his country, as I do. I want to free Cuba." 
Ugas is nicknamed 54 Milagros in honor of his best friend Aroldis Chapman, the New York Yankees' All-Star closer. As Chapman did at the Major League Baseball All-Star Game in Denver last month, Ugas delivered a message to the countrymen who took to the streets to demand change in Cuba.
Ugas entered the T-Mobile Arena ring with "Patria y Vida"stitched on the left breast of his white robe. That slogan translates to "home and life," and it's a title of a popular song of dissent in Cuba. The slogan is a counter to the late dictator Fidel Castro's slogan "Patria o Muerte," which translates to homeland or death.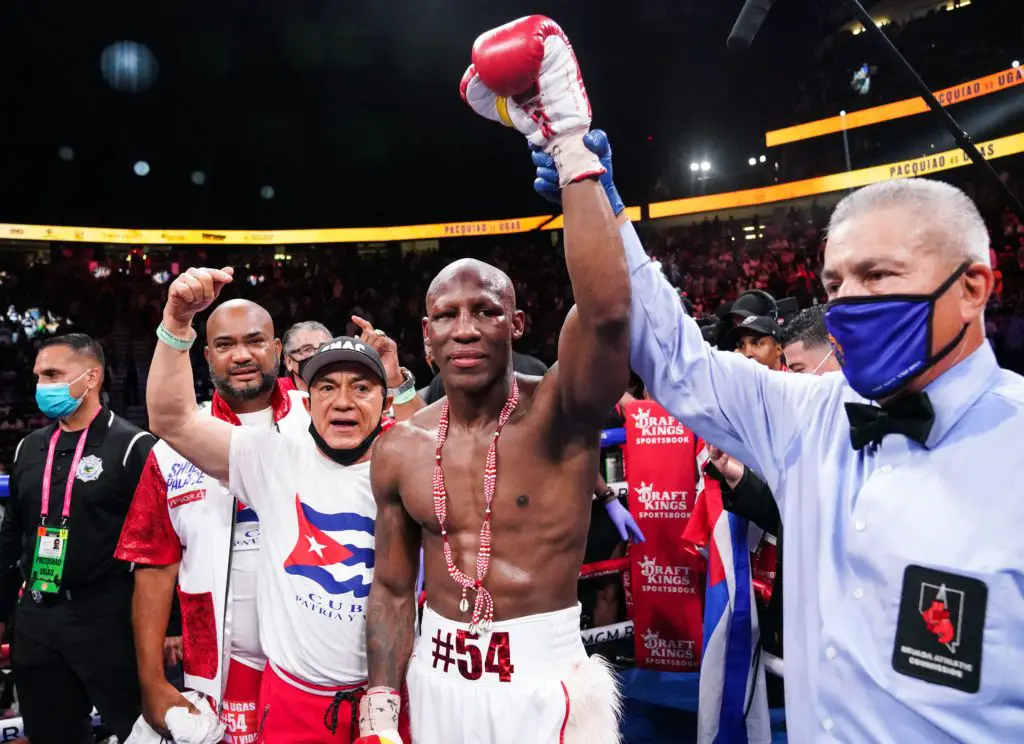 Ugas wore No. 54, the number Chapman wears for the Yankees, on the top of the front of his white trunks. His corner wore T-shirts with the Cuban flag and Patria y Vida.
More importantly on a professional level, he delivered in the ring to defeat the aging boxing icon.
Even the casual sports fan knows who Yordenis Ugas is now.
Yordenis Ugas excited
 "I'm very excited," Ugas told the media afterward. "But, most of all, I want to thank Manny Pacquiao for giving me this moment in the ring today.
"I told you, I am the champion of the WBA, and I showed it tonight. I'm very emotional. A lot of people say Cubans can't win the big fight. So, I'm very proud that I got this win for Cuba and showed what we are all about."
Ugas, 35, retained his WBA Welterweight World title with the victory, improving to 27-4. Pacquiao fell to 67-8-2 in his career, and some wonder if it's time for him to retire.
"In the future, you may not see Manny Pacquiao in the ring," Pacquiao said. "I don't know. Let me rest first, relax and make a decision if I'll continue to fight or not."
Ugas, meanwhile, has the signature victory of his career. The record will also show that Yordenis Ugas used his platform to call for a free Cuba.
Get the Our Esquina Email Newsletter
By submitting your email, you are agreeing to receive additional communications and exclusive content from Our Esquina. You can unsubscribe at any time.