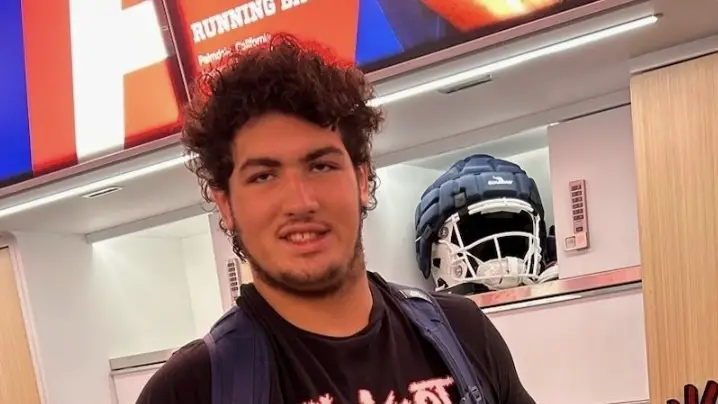 Lineman Raymond Pulido settles in at Arizona
Freshman offensive lineman vies for starting spot
Raymond Pulido has always given his mother Jennifer Marie a thumbs up and a smile on the first day of school. He's now a towering 6-foot-7 freshman offensive lineman at the University of Arizona, but he'll always be Jennifer Marie's baby.
The smile was a bit more mischievous when he was a first grader at Sitting Bull Academy in Apple Valley, Calif. But the tradition continued through Mariana Academy for sixth through eighth grade and then at Apple Valley High. 
Raymond made his parents' day Monday morning when he sent them a picture from inside the Arizona locker room on the first day of classes. He was wearing his usual attire: flip flops, shorts and a T-shirt. Pulido accessorized the outfit with a thumbs up and a smile for mom.
"I feel emotional a lot lately because I miss him a lot," Jennifer Marie Pulido said. "He's super kind and caring. Every time he would come out of his room he would give me a big hug. 
"He knew how important it was for me to have a picture of him. I texted him this morning, 'Son, I don't have a first day picture.'"
Raymond Pulido makes good first impression
Raymond Pulido is one of close to 100 Latinos who will play Division I college football this year. He was one of the most highly recruited Latino high school players in the class of 2024, and he has made a strong impression already at the University of Arizona.
Pulido left Southern California in June to report for summer practices at Arizona. Since then, Robert and Jennifer Marie Pulido have visited him about twice a month on the Tucson campus.
MORE FROM OUR ESQUINA
Class of 2023 loaded with Latino football recruits
Patriots pick Christian Gonzalez honors Colombia
Mexico's Diana Flores lands in Pro Football Hall
Although true freshmen offensive linemen aren't usually expected to contribute at major college programs, Raymond Pulido has impressed the Arizona coaching staff. According to multiple reports out of Tucson, Raymond is in position to earn a starting spot at right guard or right tackle.
Arizona offensive coordinator Brennan Carroll told the media earlier this summer that Pulido has "done great."
"The movement is there, and the strength is there and the desire to learn," Carroll added. "We'll keep pressing on him."
Raymond Pulido has showcased the talent that prompted Alabama head coach Nick Saban to recruit him. The four-star recruit actually committed to Saban last year before eventually signing with Arizona to be closer to home.
"I always told him he had a gift," Robert Pulido says of his son. "I always told him to take that gift and work on that gift and see how far it takes him. He's always been humble. He never thought that football was everything. 
"Raymond understood that it was going to get him an education. He achieved that. Now that he's there, he sees how much his gift continues to grow, and he keeps working."
Following father's footsteps
The elder Pulido was a talented nose tackle and offensive lineman growing up in San Fernando, Calif. At 6-foot-6, he garnered a scholarship offer to Arizona State in the late 1980s. He couldn't pass his physical, however, because of fainting spells and prolonged headaches he would get after games. 
It didn't take long for Robert to realize his oldest son from his second marriage could be a special athlete. The Pulidos signed Raymond up for soccer and baseball when he was four years old. Raymond played goalie and defender in soccer.
He grew to 5-foot-9 and 180 pounds by the time he was 10 years old. Two years later, he was already 6-foot-1. He was so big at 10 years old, local youth league officials said Raymond had to play with 13-year-olds two levels above where most 10-year-old kids played. 
Because of safety concerns, the Pulidos refused to let him play in their local league. They took him to the Victor Valley Outlaws, a United Youth Football League team. 
"It was probably one of the best things we could do," Robert Pulido said. "That way he could play with kids his size. He was about 180 pounds, just solid. Raymond's always been solid. He's never been obese. He was just gifted with thickness."
As Raymond developed into one of the best offensive linemen in America, Robert often told Jennifer Marie that their son was a special football prospect.
'It' factor
Robert has coached hundreds of children over the years, and he is adamant that he can tell which ones have the "it" factor. He would tell Jennifer Marie that Raymond had "it." 
Jennifer Marie assumed her husband was merely a proud parent. She didn't truly appreciate Raymond's football potential until they traveled to Tuscaloosa, Ala., on a recruiting visit to perennial national championship contender Alabama.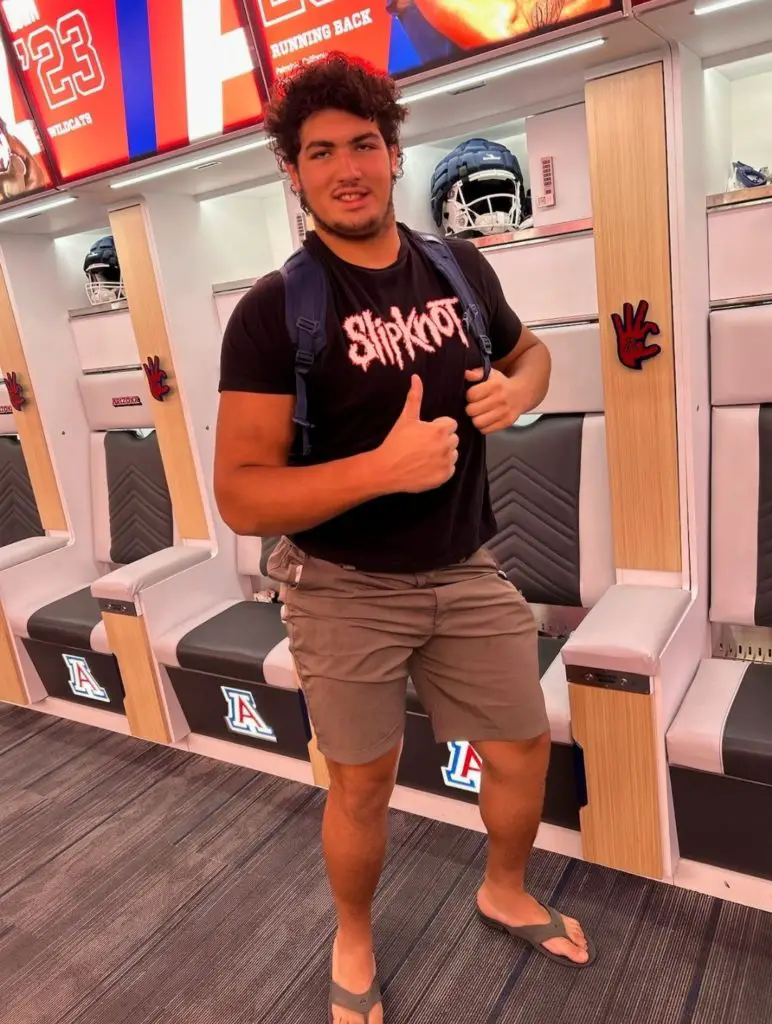 Saban made a strong push for Raymond's commitment in June 2022. 
"I was under a rock," she said. "I'm super humble. He's my kid. He's great, but I was still a little iffy. I would ask my husband and he would say he has  'it.'
"When we got the offer from Alabama we got there and Nick Saban was (saying), 'You need to come here.' I was like, 'OK.' He's always been hard-working and dedicated."
Equally important for his parents, Raymond Pulido also remembers that they miss him. He knew he needed to send his mother a picture on the first day of school, but the hugs must wait until Arizona opens the season.
The picture on the first day of classes made his mother cry tears of joy. Even a talented offensive lineman cannot block those away.
Get the Our Esquina Email Newsletter
By submitting your email, you are agreeing to receive additional communications and exclusive content from Our Esquina. You can unsubscribe at any time.