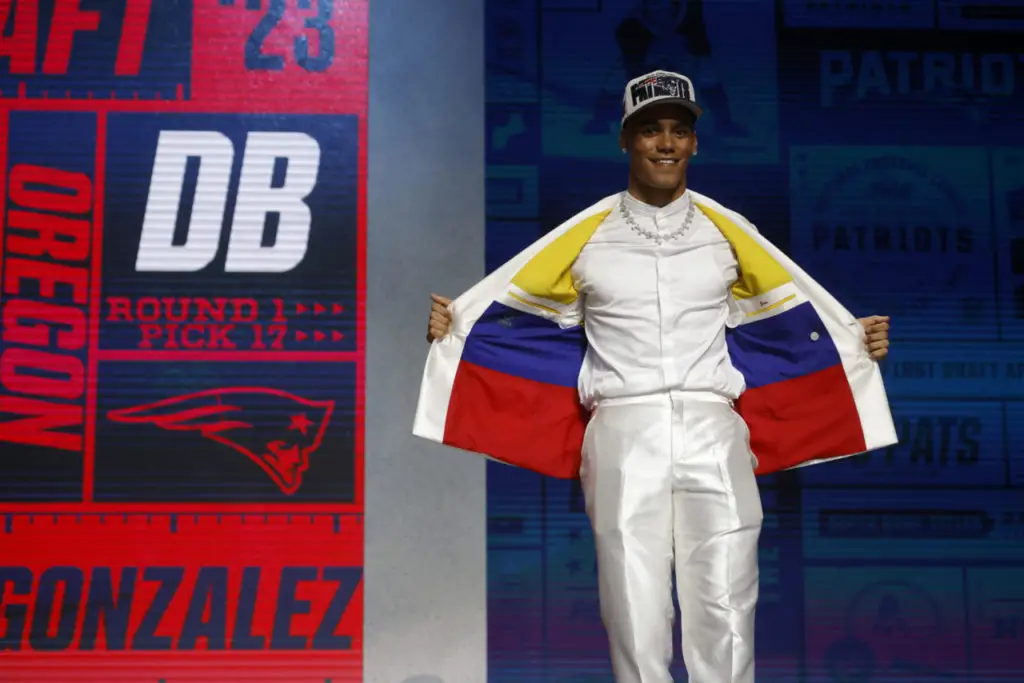 Patriots pick Christian Gonzalez honors Colombia
Christian Gonzalez set to be third player in NFL history with Colombian roots
Wearing a sharp, white suit and a New England Patriots cap, Christian Gonzalez strolled toward Roger Goodell later than most expected Thursday night. The cornerback from The Colony, Texas, hugged the NFL commissioner and then turned to the crowd attending the NFL draft in Kansas City.
He unbuttoned his suit jacket, flashed a smile as big as Bogota and opened up the jacket to show off the suit liner. The jacket liner featured the colors of the Colombian flag – a yellow stripe atop a blue stripe atop a red stripe.
Gonzalez wore the jacket in honor of his father Hector, who arrived in the United States from Colombia 30 years ago to play college basketball.
South American pride
"I wore it because I'm Colombian," he told Boston media on a Zoom call. "My dad was born in Colombia, and he moved to America to play basketball when he was 18. It took some planning, yeah. And it means the world to me to just be able to put it on for South America." 
Gonzalez was considered by some experts the best cornerback prospect in a deep cornerback class. Some mock drafts had him going as high as seventh overall. Although he fell to 17th, he is still the first player with Colombian roots picked in the first round of the NFL draft. 
According to NFLReference.com, only two natives of Colombia have played in the NFL. 
"They don't really play football over there," Gonzalez said of Colombia. "But having little kids that know they can do what they want if they set their mind to it (I) just want to be able to let them know that they have somebody to look up to."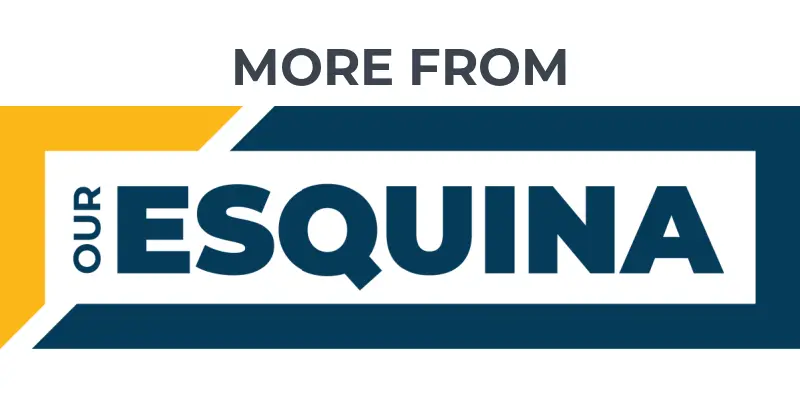 Christian Gonzalez leads Latino NFL draft prospects
Dana Brown visits Astros' Dominican Academy
Felix Bautista brings 'The Wire' whistle to Orioles
Gervonta Davis was too much for Ryan Garcia
Gonzalez's father Hector moved to Jacksonville, Texas, from Colombia as an 18-year-old in the early 1990s. Hector Gonzalez was a 6-foot-8 forward at Jacksonville Junior College. He received his Associates Degree and transferred to UTEP, where he played for two seasons.
Christian Gonzalez follows Reveiz, Penaranda
There have been two natives of Colombia in the NFL, but none since kicker Faud Reveiz in 1995. Reveiz, a native of Bogota, played in 147 games over 11 seasons with the Dolphins, Chargers and Vikings from 1985 through 1995. 
The former University of Tennessee kicker earned one Pro Bowl appearance in the penultimate season of his career. He converted 188 of the 250 field goals he attempted.
Former UCLA running back Jairo Penaranda was the first Colombia native in the NFL. He appeared in 16 games with the Los Angeles Rams in 1981, accounting for one yard on one kickoff return. 
He didn't play in the NFL again until 1985 with the Philadelphia Eagles. Penaranda appeared in four games that season, accounting for no stats.
As was evident by his suit jacket, Christian Gonzalez hopes to inspire more Colombians to pursue football.
Get the Our Esquina Email Newsletter
By submitting your email, you are agreeing to receive additional communications and exclusive content from Our Esquina. You can unsubscribe at any time.