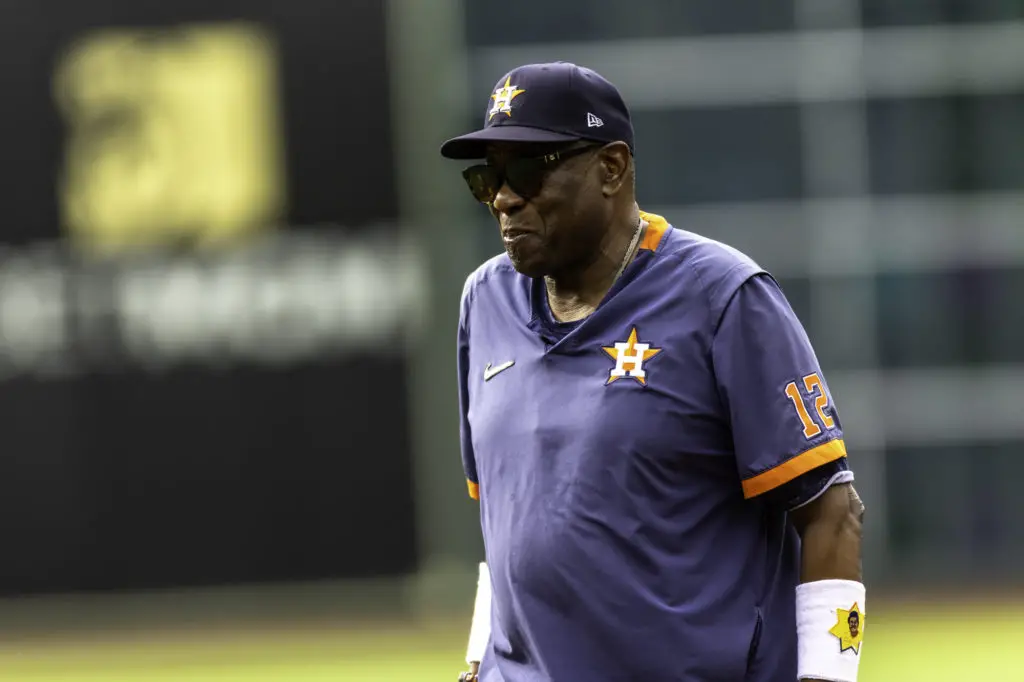 Legendary Astros manager Dusty Baker retires
Dusty Baker thanks Jim Crane for honesty, transparency
Houston Astros manager Dusty Baker informed the organization that he will retire. One of baseball's greatest managers decided it was time to hang it up after being around the game for over 55 years.
"I'm very grateful and thankful to Jim Crane and the Houston Astros for giving me this opportunity, and to win a championship," Baker told USA TODAY Sports. "I felt like they've been good for me, and I've been good for them.
"What I really appreciate is that Jim has been totally honest and transparent with me on all things."
In late January 2020, Dusty Baker was introduced as the 24th manager in Astros history.  He was hired to replace AJ Hinch, who was fired along with general manager Jeff Luhnow after Major League Baseball suspended them in the aftermath of the 2017 cheating scandal.
Dusty Baker, a champion in Houston
As the Astros dealt with verbal jabs from opposing players and fans upset about the cheating scandal, Baker brought stability to the club. He supported his players and bought them some goodwill because of his longtime status as one of the most popular men in baseball.
The three-time Manager of the Year took the Astros to the Fall Classic two out of the four years he managed, winning it all in 2022. Baker finished his managerial career with a 2,183-1,862 record and three league pennants, two of them with the Astros.
He is seventh all-time in managerial wins, 11 victories shy of Hall of Famer Sparky Anderson. Dusty Baker is also the only manager in history to lead five teams to division titles.
Baker fell short from winning the American League pennant in 2020 against the Tampa Bay Rays. Then he made it to the 2021 World Series. The Astros lost that best-of-seven Fall Classic 4-2 against the Atlanta Braves. 
After 25 years of managing, Baker won his first World Series title as a manager in 2022 while helping the Astros raise their second Commissioner's Trophy in franchise history.
"If I win one, I want two," he said after becoming the oldest manager to win a World Series.
Baker exits with two rings
Dusty Baker, 74, signed a one-year contract to return shortly after the Astros won the 2022 World Series.
Baker is a two-time World Series champion. He won a title as a player with the Dodgers before finally winning one as a manager. He led the Astros to their sixth AL West division title in Game 162 of the regular season. 
MORE FROM OUR ESQUINA
Russ Ortiz: 'I always knew Dusty Baker cared'
More than Pozole Power for Dusty Baker, Jose Urquidy
Jim Crane makes winning move with Dana Brown
The Astros were gearing up for another deep run to their seventh consecutive postseason and trying to become the first team to win back-to-back World Series since the 1998-2000 New York Yankees. 
However, they fell to their AL West and Lone Star rival Texas Rangers in the best-of-seven American League Championship Series.
Baker addressed the players after the game as their season came to an end Monday night.
"Well, I just told the guys I loved them and I appreciate their effort," Baker said after the 11-4 loss to the Rangers in Game 7. "I appreciate how they go about their business and how professional they are."
Beloved by players
Baker was always there for his players. He treated his players as if they were a part of his family. He was described as a "Players' manager." 
The Sacramento, Calif., native would bring Latino dishes to his Latino players any time he had a chance. He often brought food or snacks to the clubhouse for his players. On Monday, Baker brought pistachio and blueberry muffins to the home clubhouse before Game 7 of the ALCS.
Minnesota Twins and former Astros shortstop Carlos Correa talked to the media before Game 1 of the American League Division Series. The 2021 Platinum Glove winner called the future Hall of Famer a father figure before they squared off Saturday night.
"Dusty's a man I respect so much," Correa said. "As a manager you know he was always great to me and we built a great relationship.
"There was a relationship way more than just player-manager. He was another father figure to me."
Baker, Astros owner Jim Crane and general manager Dana Brown will hold a press conference at 11 a.m. CT on Thursday at Minute Maid Park to discuss Baker's retirement.
Get the Our Esquina Email Newsletter
By submitting your email, you are agreeing to receive additional communications and exclusive content from Our Esquina. You can unsubscribe at any time.