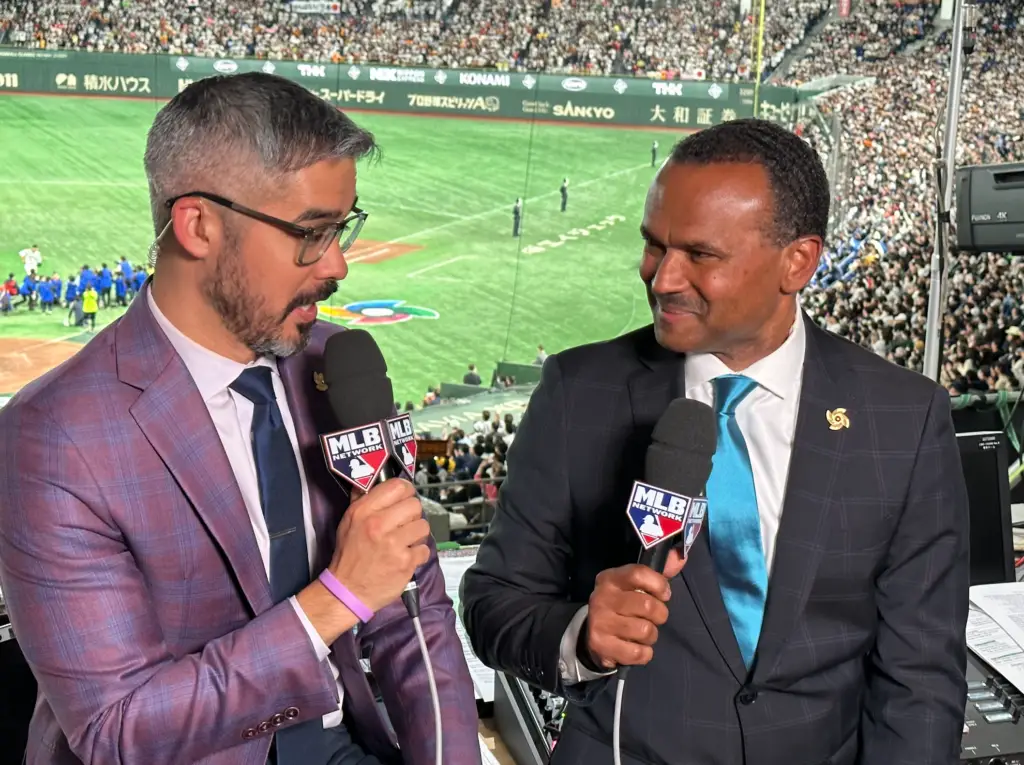 Jose Mota reflects on World Baseball Classic
Jose Mota shares his experience brooadcasting the WBC.
Jose Mota has been broadcasting World Baseball Classic games since the inaugural tournament in 2006. This time around, he couldn't believe what he was seeing or hearing. 
While broadcasting all 12 games in Pool B of the group stage in Tokyo, Mota was blown away by how everyone was received.
"The whole country was behind one team," he said. "And at the same time, we saw how teams like the Czech Republic were embraced, and Australia, China, and even Korea, who has a big rivalry with Japan. It was truly much different than broadcasting in the United States."
Mota, the son of Dominican icon Manny Mota, has been a part of MLB broadcasts for more than two decades. In all those years, he had never experienced something like this past WBC.
One major difference is that batting practice is open and well attended in Japan. Like in the WWE, fans celebrate every time a player takes the field. They fall silent each time a pitch is delivered only to explode with amazement and joy when a ball travels off the bat.
It was no different during the game. Between every Japanese pitch, everything went silent in anticipation. Then, they'd react to a Yoshinobu Yamamoto strikeout or a Masataka Yoshida home run with exuberance.
The faster the pitch or the farther a home run traveled, the louder the reaction from fans in Tokyo.
The WBC's global impact
What stuck with Mota most is how fans carried themselves in Japan, how they clapped for the opponents, and appreciates opponents making a great play or displaying great effort.
"It was quite thrilling and enhancing for me," he said.
This spring, baseball fans were seemingly divided into two camps. One side embraced the WBC as a legitimate tournament. The other side saw it as a glorified exhibition.
Jose Mota has always been a member of the former group. He has seen firsthand the global impact this tournament has had for baseball.
"Go back to 2006," he said. "Go back to the personalities and the players that were known in their countries.Now those players are being known in the United States and have been impactful players in big league baseball. That's been a plus for everybody."
Players like Yuli Gurriel, whose name was spelled "G-O-U-R-R-I-E-L" at the time. Mota had the privilege of covering Gurriel in San Juan, Puerto Rico, in 2006. 
At the time, he was unknown to many in the American baseball community. Now, he's a two-time World Series champion with a batting title and a Gold Glove award.
The same can be said for dozens of players who have played in the WBC throughout the years – like Yu Darvish, Hyun-Jin Ryu, and Yoenis Cespedes, to name a few.
"I believe that we would not have seen so many players from, not just the Dominican, Puerto Rico, Venezuela," Mota said. "But now the Korean impact, the Japanese impact, all those things have to do with the World Baseball Classic."
Jose Mota will slide in with Pepe Yñiguez and Fernando Valenzuela providing play-by-play and analysis on the Dodgers' Spanish broadcast.
Despite the fame the WBC has provided players worldwide, at the end of the day it's about the country you represent. 
A countryman for life
Teams like the United States and the Dominican Republic fielded teams of MLB All-Stars. Countries not commonly associated with baseball fielded rosters with school teachers, neurologists, and sales representatives.
What did they all have in common? A pride in the countries they represented.
"At some point, you're going to be a former Dodger, a former Cardinal, a former Met," Mota said. "But you'll always be a countryman. That's why (the WBC) is so important and will continue to be so important."
It's why the world saw Shohei Ohtani risk $500 million to participate in this tournament. It's why players like Sandy Alcantara and Luis Robert were all in for their countries despite not having signed their big-money contracts yet.
You may be a Los Angeles Angel, Maimi Marlin or a Chicago White Sox player today, but you'll be Japanese, Dominicano, or Cubano forever. Or in Randy Arozarena's case, a beloved Cuban Mexican.

Get the Our Esquina Email Newsletter
By submitting your email, you are agreeing to receive additional communications and exclusive content from Our Esquina. You can unsubscribe at any time.