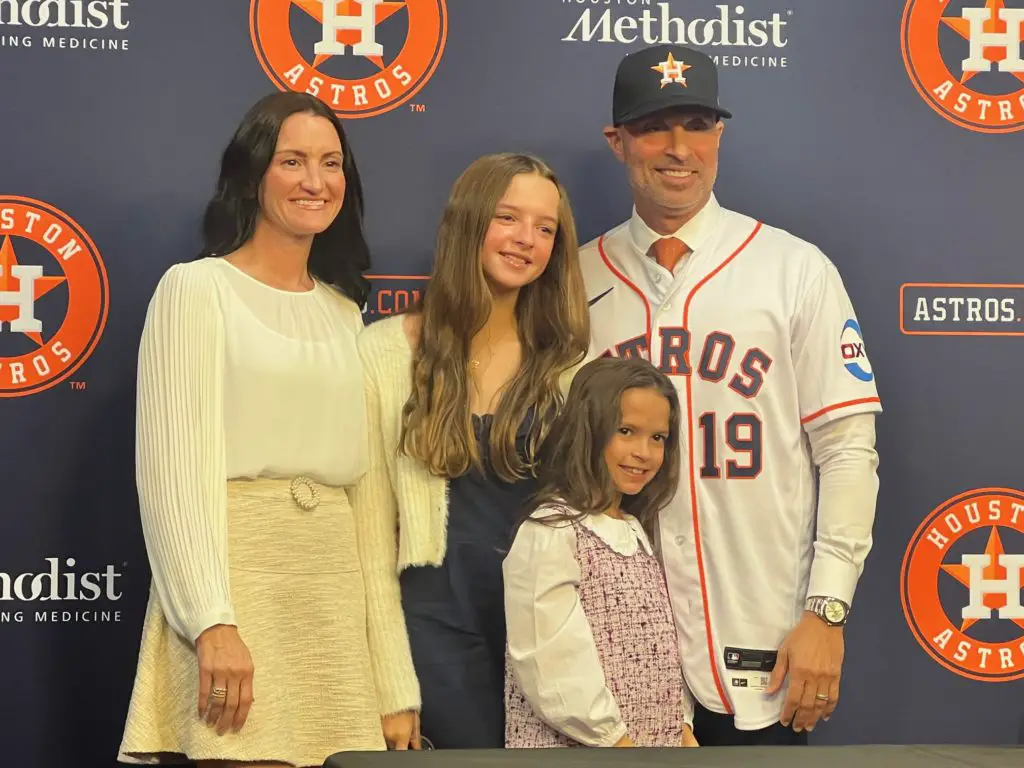 Joe Espada puts family first during Astros intro
Joe Espada introduced as Astros manager
HOUSTON – As Joe Espada was sitting down at the podium Monday morning, he offered a huge smile toward his family. His wife Pamela was in attendance with their two daughters, Viviana and Eliana, as they awaited the biggest news of his career.
They all smiled proudly as Astros general manager Dana Brown introduced Joe Espada as the franchise's next manager. 
As Espada was about to speak about the managerial job, he first thanked his wife for all her sacrifices. Then he turned his attention to his girls at the conference room at Minute Maid Park.
'Daddy's living his dream'
"I wanna share something with you," Joe Espada said to Viviana and Eliana. "You remember when we go to school and daddy tells you about doing your best? Working hard and following your dreams?
"Well, daddy's living his dream. You guys can do whatever you want. Whatever you put your mind to, you guys can accomplish that."
Espada started his coaching career in 2006 as a hitting coach and a minor league infield coordinator with the Florida Marlins. Four years later, he was promoted to the Marlins' third base coach as part of Ozzie Guillen's coaching staff.
MORE FROM OUR ESQUINA
Astros Bench Coach Joe Espada Buoyed by Mom
Benjamin Gil is ready to manage in big leagues
Top Latino prospects for MLB managerial jobs
In 2014, Espada joined the Yankees as a special assistant to the GM. The Yankees promoted Espada as their new infield and third base coach. The Mobile alum joined the Astros as their new bench coach after the departure of former Astros bench coach Alex Cora in 2018.
The Santurce, Puerto Rico, native interviewed for several vacant managerial positions during his first six seasons with the Astros. He interviewed for the Rangers' managerial job in 2019. The following year, Espada interviewed for the Cubs' job.
Espada interviewed with four more teams with vacant managerial positions, but he was never hired. Astros manager Dusty Baker retired after the 2023 season, leaving a managerial vacancy. 
'Special character'
"Joe was the leading candidate," Brown said of Espada. "I think Joe has a special character. He's a family man, has great leadership skills, and is a pretty good communicator, so we're looking to build this thing and continue the success."
Espada kept his faith, and he was rewarded. After serving as bench coach for six years under AJ Hinch and Baker, Espada became the 20th manager in Astros history.
"You know there's always a chance of that happening," Espada said of maybe not getting a chance to manage an MLB team. "But I'm a man of faith. I knew I was going to get an opportunity, and I'm happy it's here. 
"Those players in that room, this front office, the people that I come to work with every single day is special. This is a very special place. It's unique. There's no place like this anywhere in professional sports, and I'm just happy that I'm home."
Espada is one of six Latino managers in MLB heading into the 2024  season. He joins Oliver Marmol (Cardinals), Pedro Grifol (White Sox), Dave Martinez (Nationals), Alex Cora (Red Sox), and Mets new manager Carlos Mendoza.
Espada is the second Latino manager in Astros history. He follows Cuban Preston Gómez, who managed the Astros in 1975. After the press conference concluded, Espada embraced his wife and children with a hug and a kiss. He proceeded to take pictures in front of the media with his family.
Proud family
Pamela has watched the ups and downs of her husband's baseball journey, from being denied multiple managerial jobs to winning a World Series title in 2022. She was certain his time would come.
"We just kind of had to believe that we were going to be put in the right situation and everything happens for a reason," Pamela Espada said. "Multiple times it was him and someone else. Obviously it was disappointing, but we just kind of went with it because it was going to happen for a reason. So here we are."
Eliana, 12, knows her father is always busy during the baseball season. There were times when Joe Espada would miss his daughters' gymnastics and dance recitals. It was really tough for him to not be there.
However, she knew this meant a lot to him. She vows to have her father's back.
"I'm going to be there to support him," Eliana Espada said. "I'm just like super proud that I get to experience this with him."
Get the Our Esquina Email Newsletter
By submitting your email, you are agreeing to receive additional communications and exclusive content from Our Esquina. You can unsubscribe at any time.