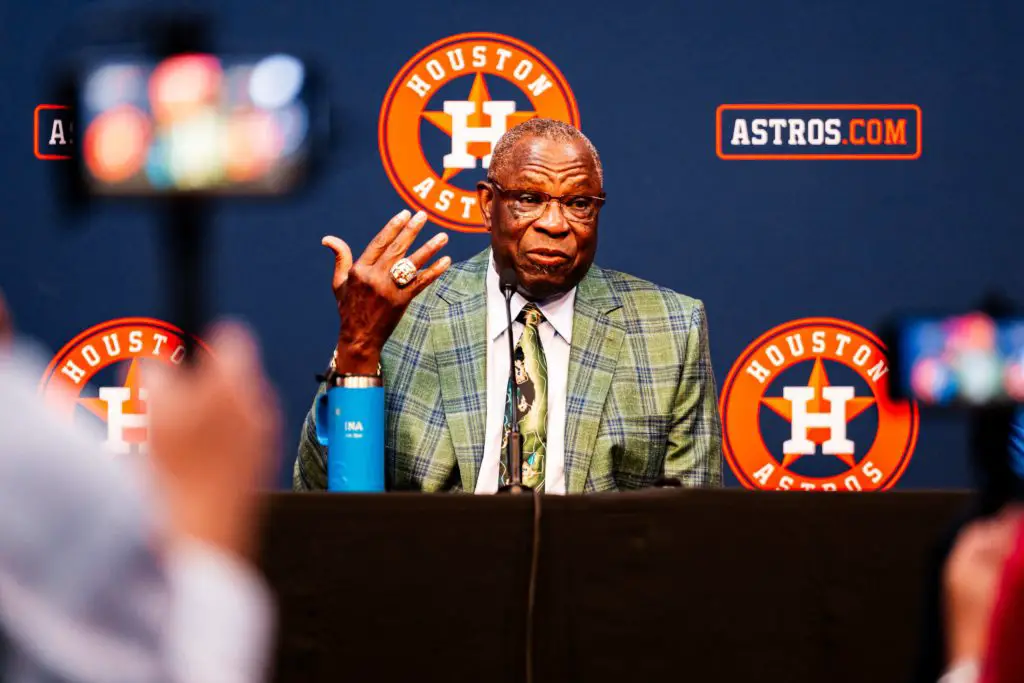 Delgado: Thanks for the memories Dusty Baker
Dusty Baker blessed Houston with a title, countless memories
HOUSTON – It felt as if the baseball gods were looking over downtown Houston on a rainy Thursday afternoon. We were watching one of baseball's most respected and genuinely great managers, Dusty Baker, announce his retirement to the sports world.
The Houston Astros held a press conference at Minute Maid Park where Astros owner Jim Crane and general manager Dana Brown joined Baker. For one last time they reminisced about Baker's career and his time in Houston.
"I want to really thank Jim Crane for you know having the faith in me," Baker said. "I'm retiring from the field here in Houston."
Dusty Baker healed Astros
Dusty Baker arrived in Houston during the worst time of the franchise's golden era. The last three months of 2019 were a rough period for Astros fans. The Nationals defeated the Astros in a Game 7 of the World Series. The Astros had home-field advantage that postseason and lost all four games at home.
Later in November, there were reports that the Astros stole signs illegally using a center field camera during the 2017 regular season and postseason.
Crane dismissed former manager AJ Hinch and general manager Jeff Luhnow after Major League Baseball suspended them for their part in the 2017 sign-stealing scandal.
Crane had to find a replacement for the vacant managerial job. He needed someone who was going to help resolve a difficult situation that was tarnishing the franchise's name.
In late January of 2020, Crane announced Baker as the 24th manager in Astros history.
'A great example'
"You are a great example for everyone," Crane told Dusty at the press conference Thursday afternoon. "You came in and helped us when we needed some help, and you did a great job. And I think you are the only guy that can do that in the business.
"You did a fantastic job, and the record speaks for itself."
Baker knew he was going to hear a loud ruckus of boos and venom toward the Astros at every venue they visited. Nonetheless, the three-time Manager of the Year did beyond a phenomenal job keeping the group together. They ignored the outside noise and focused on winning.
"This is what this organization's about," Baker said of the Astros. "They were winning when I got here. They were winning while I was here, and I wish them well after I leave."
MORE FROM OUR ESQUINA
Legendary Astros manager Dusty Baker retires
More than Pozole Power for Dusty Baker, Jose Urquidy
Russ Ortiz: 'I always knew Dusty Baker cared'
Dusty Baker is the best manager the Astros have had in franchise history. Baker took the 'Stros to the World Series two out of the four years he managed and won it in 2022. The Astros have a 320-226 record in the regular season under Baker.
His 34 postseason wins and .642 postseason winning percentage in Houston are the best of any manager in Astros history. He also picked up his first managerial All-Star Game win in Los Angeles. On that night at Dodger Stadium, the American League defeated the National League 3-2 in 2022.
Special memories in Houston
The two-time World Series champion also has some fond baseball memories in Houston. Baker recorded his first MLB hit with the Atlanta Braves on Sept. 17, 1968, in the Astrodome. In 1981 with the Los Angeles Dodgers, Baker hit a ground ball to third and was the 27th out of Nolan Ryan's fifth career no-hitter in the 8th Wonder of the World.
Dusty Baker, 74, has watched, played, coached and managed in baseball over 55 years. You can say he's seen and done it all.
Baker was on-deck when Hank Aaron hit his 715th career home run as he passed Babe Ruth's 714 home run record in Atlanta. Baker was also the co-creator of the high five. He slapped hands with Dodgers teammate Glenn Burke after hitting his 30th home run in 1977.
In his 26 years of managing, the Sacramento, Calif., native coached All-Stars and MVP players like Barry Bonds, Will Clark, Greg Maddux, Sammy Sosa, Joey Votto, Bryce Harper and Jose Altuve.
Historic feats
Baker won 2,183 games as a manager. He is seventh all-time in managerial wins and was 11 wins shy of Hall of Famer Sparky Anderson. Baker is also the only manager in history to lead five different franchises to division titles and to the postseason.
Lastly, Baker is the ninth manager and only African-American manager in MLB history to win a pennant in both the American and National Leagues.
All managers who have 2,000 career victories and are eligible have been inducted for the National Baseball Hall of Fame in Cooperstown, N.Y. Baker will find his way there soon. When he becomes eligible on the ballot in three years, he'll be the first African-American manager inducted into the Baseball Hall of Fame.
"One thing I try to do very conscious of is that the place I'm leaving from is in better saving conditions than when I got there," Baker said.
Baker may have chewed his last toothpick inside Minute Maid Park, but what a magnificent and delightful four years it was.
Get the Our Esquina Email Newsletter
By submitting your email, you are agreeing to receive additional communications and exclusive content from Our Esquina. You can unsubscribe at any time.