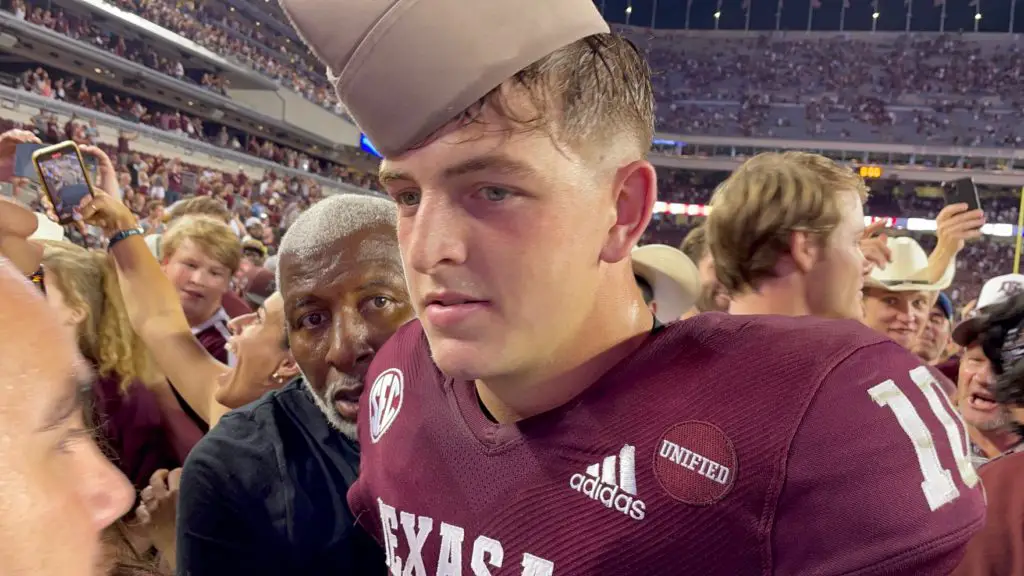 Former Texas A&M star Zach Calzada still slings it
Incarnate Word's Zach Calzada highlights recap of Latinos in College Football
It's been a little more than two years since Zach Calzada guided Texas A&M to one of the Aggies' biggest victories under Jimbo Fisher. The Cuban American from the Atlanta area has transferred twice since that upset over Alabama on Oct. 9, 2021.
The name Zach Calzada is etched in Texas A&M lore, though. He still keeps tabs on Texas A&M athletics because his sister Carolyn Calzada is a member of the Aggies' women's soccer team.
Zach Calzada can still sling it, as he showed this weekend for the University of Incarnate Word. He is Our Esquina's Latino College Football Player of the Week for Week 10.
Zach Calzada threw for 394 yards and four touchdowns with two interceptions against Nicholls. He hit 28 of 48 passes in the 45-32 loss. Zach Calzada has thrown for more than 300 yards in five games this season for the Cardinals, who entered the weekend ranked No. 4 in FCS.
Zach Calzada remains part of Texas A&M lore
The Cardinals (7-2, 4-1 Southland Conference) fell to second-place tie with Lamar in the conference after losing to Nicholls. Zach Calzada transferred to Auburn after the 2021 season.
He underwent surgery on his non-throwing shoulder in October 2022 and never saw action for the Tigers before transferring to Incarnate Word.
He showcased his toughness on Oct. 9, 2021, when he overcame vicious hits to lead the Aggies over Alabama at Kyle Field. Now, he's starring in San Antonio, a couple hours away from Kyle Field. Incarnate Word backup quarterback Richard Torres threw for 25 yards on 3 for 4 passing.  
MORE FROM OUR ESQUINA
'Cuban Missile' Zach Calzada Embodies American Dream
Andersson Garcia defines Texas A&M spirit
Gallegos, Woodyard, Sanchez highlight Latino High School All-America Football Team
Boston College quarterback Thomas Castellanos accounted for 245 total yards and two touchdowns against Syracuse. He threw for 165 yards and a touchdown on 20 for 37 passing. 
Castellanos also rushed for 87 yards on 22 carries in the 17-10 victory. Oregon State running back Damien Martinez rushed for 115 yards on 21 carries in a 26-19 victory over Colorado.
UCLA receiver Logan Loya had three catches for 42 yards in the 27-10 loss against Arizona. Cal quarterback Fernando Mendoza threw for 177 yards on 18 of 34 passing attempts. He also had an interception in the 63-19 loss against Oregon. 
Kansas State sophomore running back Anthony Frias had a tackle against Texas. South Alabama backup quarterback Gio Lopez connected 17 of 27 passing attempts for 155 yards and one interception in a 28-10 loss against Troy. He added 39 rushing yards on nine carries. Texas State's Beau Corrales had a 17-yard catch in a 45-24 victory over Georgia Southern. 
Joey Aguilar beats Marshall
Appalachian State quarterback Joey Aguilar threw for 226 yards and three touchdowns. He completed 19 of 26 pass attempts and rushed for 44 yards on 10 carries in the 31-9 victory over Marshall.
Aguilar has thrown 23 touchdown passes this season.
Washington State freshman receiver Carlos Hernandez had an 18-yard reception against Stanford. Notre Dame freshman receiver Rico Flores Jr. had a 35-yard catch in the loss to Clemson.
Miami's Xavier Restrepo made three catches for 35 yards in the 20-6 loss against N.C. State. He added two punt returns for 17 yards. Texas Tech running back Cam'Ron Valdez rushed for seven yards on three carries in a 35-28 victory over TCU. Nehemiah Martinez had a one-yard catch for the Red Raiders.
Idaho State's Aaron Blancas had a nine-yard catch in a 33-21 loss to Weber State. Kent State running back Gavin Garcia rushed for 33 yards on eight carries in a 31-27 loss against Akron.
North Carolina State freshman wide receiver Kevin Concepcion had five catches for 61 yards against Miami. UTSA's Oscar Cardenas had a 27-yard catch against North Texas. 
Cole Gonzales keeps slinging it
Quarterback Cole Gonzales guided Western Carolina to a 28-25 victory over Wofford. He completed 19 of 31 passes for 229 yards and two touchdowns with an interception. Gonzales also ran for 61 yards on eight carries. 
North Carolina receiver Kamari Morales had two catches for 13 yards in a 59-7 victory over Campbell. Aiden Valdez had a six-yard kickoff return for Campbell in the loss. 
Northern Arizona quarterback Angel Flores completed 12 of 18 passes for 97 yards with one interception. He also rushed for 21 yards and a touchdown on 16 carries in a 45-21 loss to Montana State.
New Mexico State quarterback Diego Pavia completed 16 of 31 passes for 220 yards and one interception. He added 67 yards on 15 carries in the 13-7 victory over Middle Tennessee. Southern Utah's Gabe Nunez had a six-yard punt return in a 35-6 victory over Lincoln (Calif.).
Syracuse quarterback Carlos Del Rio-Wilson had a tough day against Boston College. He threw four interceptions while completing seven of 17 passes for 37 yards. Del Rio-Wilson also rushed for 67 yards and a touchdown on 12 carries. 
Defensive Player of the Week: Jacob Rodriguez
Texas Tech junior linebacker Jacob Rodriguez is the Defensive Player of the Week. The 6-foot-1, 235-pounder from Wichita Falls, Texas, had six tackles against TCU. 
Senior linebacker Bryce Ramirez added two tackles for Texas Tech. Stanford freshman Jshawn Frausto-Ramos had three tackles against Washington State. Wilfredo Aybar added two tackles in the 10-7 victory over Washington State.
UCLA Kain Medrano had five tackles against Arizona. He had one punt return for three yards. Miami freshman Raul Aguirre Jr. had one tackle against N.C. State. 
Iowa's Sebastian Castro had five tackles in a 10-7 victory over Northwestern. Arizona's Gunner Maldonado had seven tackles against UCLA. Washington State's Ron Stone Jr. had five tackles against Stanford.
Colorado State senior linebacker Justin Sanchez had six tackles against Wyoming. Tulane linebacker Jesus Machado had a team-high eight tackles in a 13-10 victory over East Carolina. Syracuse defensive lineman Elijah Fuentes-Cundiff had one tackle against Boston College.
Nikai Martinez picks off Cincinnati
UCF sophomore defensive back Nikai Martinez had four tackles. He also returned an interception for 24 yards in a 28-26 victory over Cincinnati. 
Wisconsin's Gio Paez had one tackle against Indiana. New Mexico State's Gabriel Iniguez had one tackle against Middle Tennessee. New Mexico's Alec Marenco had four tackles in the 56-14 loss to UNLV, Gabriel Lopez added three tackles against UNLV. Bryce Santana had one tackle for the Lobos.
Notre Dame's defensive tackle Gabriel Rubio had three tackles against Clemson. Texas State's Devin Martinez had three tackles against Georgia Southern. Julian Ortega Jones added two tackles. 
Special Team Player of the Week
Texas Tech kicker Gino Garcia helped the Red Raiders beat TCU 35-28 in a Thursday night affair. The 6-foot-2, 215-pounder made a pair of field goals.
His first field goal was a routine 27-yarder to give Tech a 10-7 lead in the second quarter. Garcia added a 55-yarder late in the first half to give the Red Raiders a 20-7 lead. The redshirt senior from Richardson, Texas, added three PATs.
Iowa State kicker Chase Contreraz made two field goals and an extra point against Kansas. UNLV kicker Jose Pizano made seven PATs against New Mexico. Miami kicker Andres Borregales made two of three field goal attempts with a long of 48 yards. 
LSU kicker Damian Ramos made four PATs. He missed a 46-yard field goal attempt. Colorado kicker Alejandro Mata made a 32-yard field goal and two PATs against Oregon State.
Tulane kicker Valentino Ambrosio made two of three field goal attempts with a PAT against East Carolina. Wake Forest punter Ivan Mora averaged 39 yards on four punts in a 24-21 loss to Duke. 
Old Dominion kicker Ethan Sanchez hit a 38-yard field goal. South Alabama kicker Diego Guajardo made 1 of 2 field goal attempts with a 29-yarder. He added a PAT.
Idaho kicker Ricardo Chavez made two fields and three PATs in a 27-13 victory over 13. He hit a 48-yard field goal and averaged 54.5 yards over two punts. Bowling Green kicker Alan Anaya made one of two field goal attempts. He missed a 23-yard field goal and made a 22-yarder in a 24-21 victory over Ball State. 
New Mexico punter Aaron Rodriguez had two tackles in the loss to UNLV. He also averaged 45 yards over six punts with a long of 53 yards. Southern Utah's Alyas Vigil averaged 51.5 yards over his two punts. 
Get the Our Esquina Email Newsletter
By submitting your email, you are agreeing to receive additional communications and exclusive content from Our Esquina. You can unsubscribe at any time.