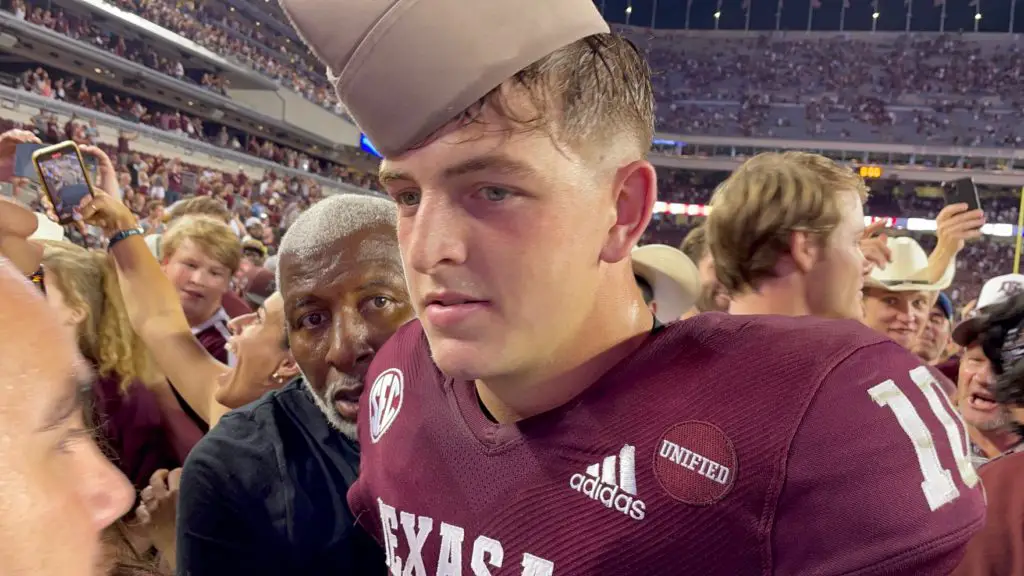 Texas A&M's Zach Calzada Rolls No. 1 Tide
Zach Calzada leads Aggies past No. 1 Alabama
COLLEGE STATION, Texas – Zach Calzada needed an escort just to exit Kyle Field through the mob late Saturday night. At each step, the Texas A&M quarterback was greeted by fans clamoring to pat him on the back or garner a selfie with him.
Actually, at one point several in the crowd carried Calzada on their shoulders. One member of Texas A&M's Corps of Cadets even slapped his garrison cap on Calzada's head. The grandson of Cuban refugees wore it proudly as the crowd serenaded him.
"Cal Zada! Cal Zada! Cal Zada!" the Kyle Field crowd chanted while breaking Calzada's last name into two syllables after he broke Alabama's hold on the top spot in college football.
After enduring vicious vitriol on social media from way too many Texas A&M fans the previous two weeks, Calzada didn't just silence his critics. He won many of them over and enticed them to literally sing his praises after the 41-38 victory over Alabama before a raucous crowd of 106,815.
The Zach Calzada chant
"Cal Zada! Cal Zada! Cal Zada!"
The Calzada chants rang out first in the third quarter from the student section. By the fourth quarter the defending national champions had erased the lead the unranked Aggies held most of the evening.
Although he was playing behind an inexperienced line and with a depleted wide receiver corps, Calzada received much of the blame for the Aggies' losses to Arkansas and Mississippi State the previous two weeks. 
Calzada's teammates came to his defense on social media. He rewarded their faith Saturday. Calzada led the Aggies to a 54-yard drive to open the game. Seth Small capped that rally with a 38-yard field to go ahead 3-0. Alabama countered with a touchdown to go ahead 7-3 on the next drive. 
Then Calzada led the Aggies on a pair of touchdown drives to go ahead 17-10. He capped the first drive with a 27-yard touchdown pass to tight end Jalen Wydermeyer. Then he hit Ainias Smith for a six-yard touchdown pass to help the Aggies take a 17-10 lead with 33 seconds left in the first quarter.
"But very proud of Zach," Texas A&M coach Jimbo Fisher said. "He's a high‑character young man. Man, it matters to him. It means something to him. And he's gotten better each week he's played. Each week he's done something. And he's preparing. He's learning how to play the position of quarterback."
Three Touchdowns
The junior quarterback completed 21 of his 31 pass attempts with one interception and three touchdowns. He also rushed for 12 yards on two attempts.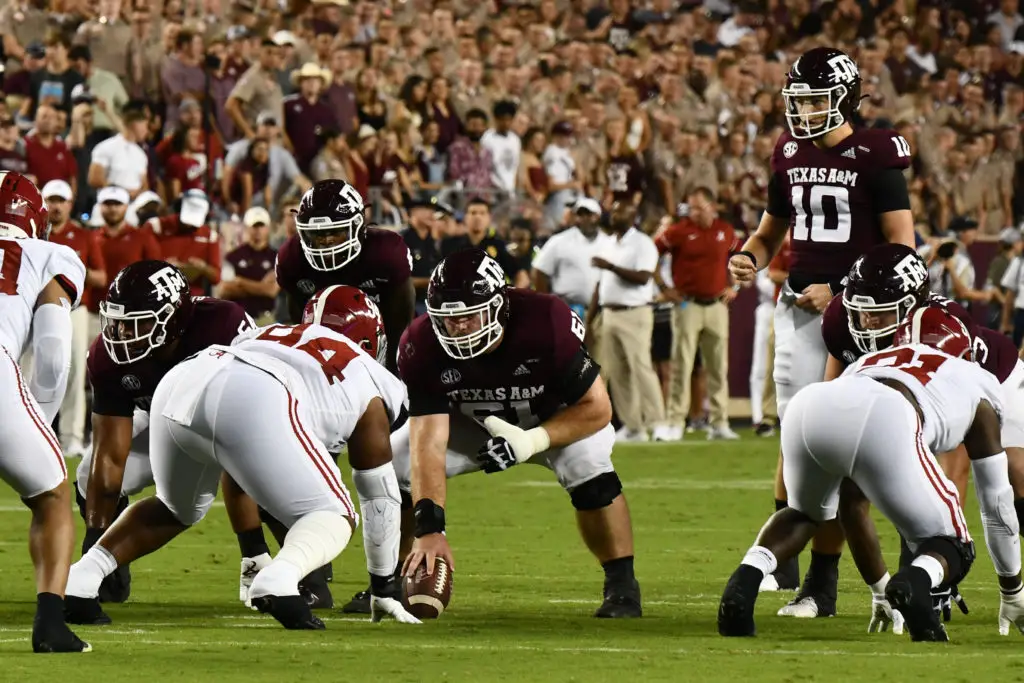 The Aggies took a 24-10 lead into halftime. As expected from a defending champion, Alabama charged back. The Crimson Tide blocked a punt and recovered in Texas A&M's defense to get within seven points with 8:18 left in the third quarter. Devon Achane countered with an electrifying 96-yard kickoff return.
Alabama then countered with 21 unanswered points to go ahead 38-31 with five minutes to play. That merely set the stage for Calzada. He marched the Aggies 65 yards on six plays in only two minutes to tie the score at 38 with three minutes to play. The Aggie defense then forced a three-and-out. 
Texas A&M got started at their own 35-yard line. They lost five yards on their first play of the drive. But Calzada followed with a 17-yard pass to Isaiah Spiller for a first down. Then Calzada rushed 11 yards for another first down. One incomplete later, he threw a 12-yard pass for another first down.
Spiller added a three-yard run. Calzada's next pass attempt was incomplete, but that was partly because Alabama committed pass interference on Wydermeyer. The 15-yard penalty put A&M on Alabama's 12-yard line. Spiller added a one-yard run.
Small took care of the rest with a 28-yard field as time expired, unleashing many of the 106,000 fans onto the field .
Special bond between Zach Calzada and Seth Small
"Zach's [Calzada] first day on campus looks much different than how he looks now," said Small, whose locker is next to Calzada's. "To see how he's matured as a person, as a football player, as a leader on this team has been incredible. 
"I hope that he says that I played a role in that as an older guy trying to influence him a little bit, but that's all Zach. He's worked his tail off."
Fans rarely see the work and preparation the players put in. They also don't see the hurt they cause when they rip players on social media or message boards. 
Calzada surely expects more of himself than he showed against Arkansas and Mississippi State. But he didn't deserve the abuse he received. Whatever the case, nobody can deny he won the crowd over and secured cult-like status after beating No. 1 Alabama.
"That's really sweet was my first thought," Small said of hearing the Calzada chants. "And Zach [Calzada] is a guy who's going to get up off the mat and keep fighting. He knows that he didn't play to the best of his ability the past couple of weeks. 
"But he was determined, and each week got better and continued to lead this team the way that he did. Just really impressed with him. His character showed tonight. I'm thankful that the 12th Man is always behind their team like they were tonight."
12th Man support
The 12th Man was more than behind the Aggies on Saturday night. They were loud on defense and outwardly supportive of Calzada when the team was offense. Then they stormed the field to celebrate with Calzada.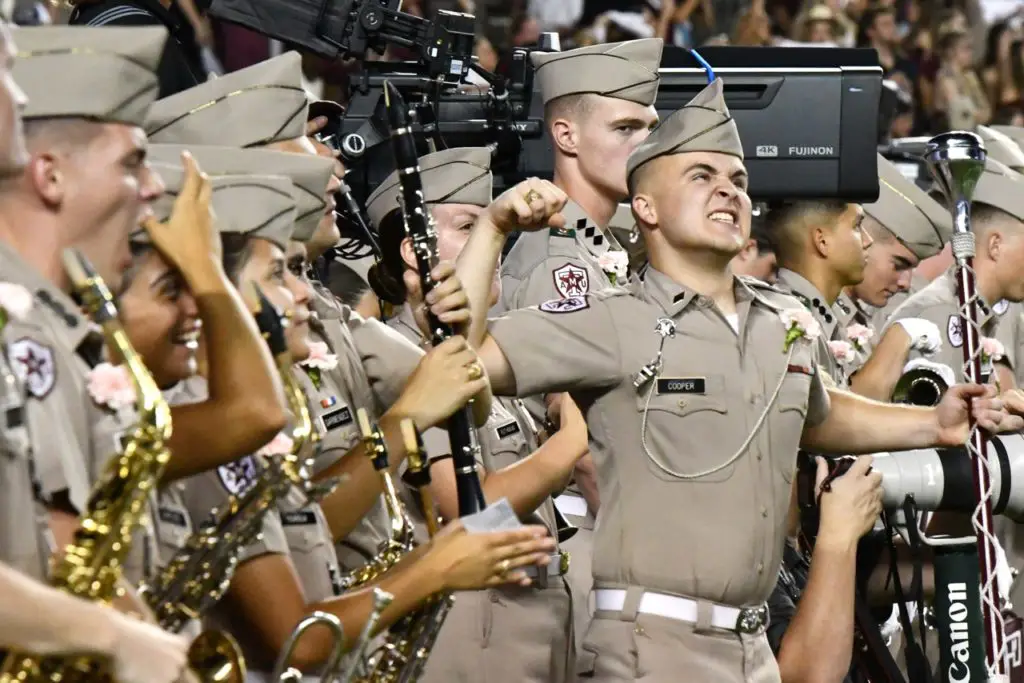 They even offered one last "Calzada! Calzada!" chant as he left the field and headed to the locker room. Few Aggies will forget the Saturday night when their classmates and fans stormed Kyle Field to celebrate the upset with them.
"You've got to live in the moment and understand what it is," Fisher said. "The social media is the damnation of this world right now. I don't believe in it. I don't buy it, and I don't think it's good, bad, or indifferent. I really do. 
"I understand it's … here to stay. But as an athlete, it's hard. You've got to block it out. And he can't embrace it all now by blocking it out. He's got to do the same thing he did next week. I'm happy for him as a person because he's a very high‑character, quality young man."
Calzada! Calzada! Calzada!
.
Get the Our Esquina Email Newsletter
By submitting your email, you are agreeing to receive additional communications and exclusive content from Our Esquina. You can unsubscribe at any time.