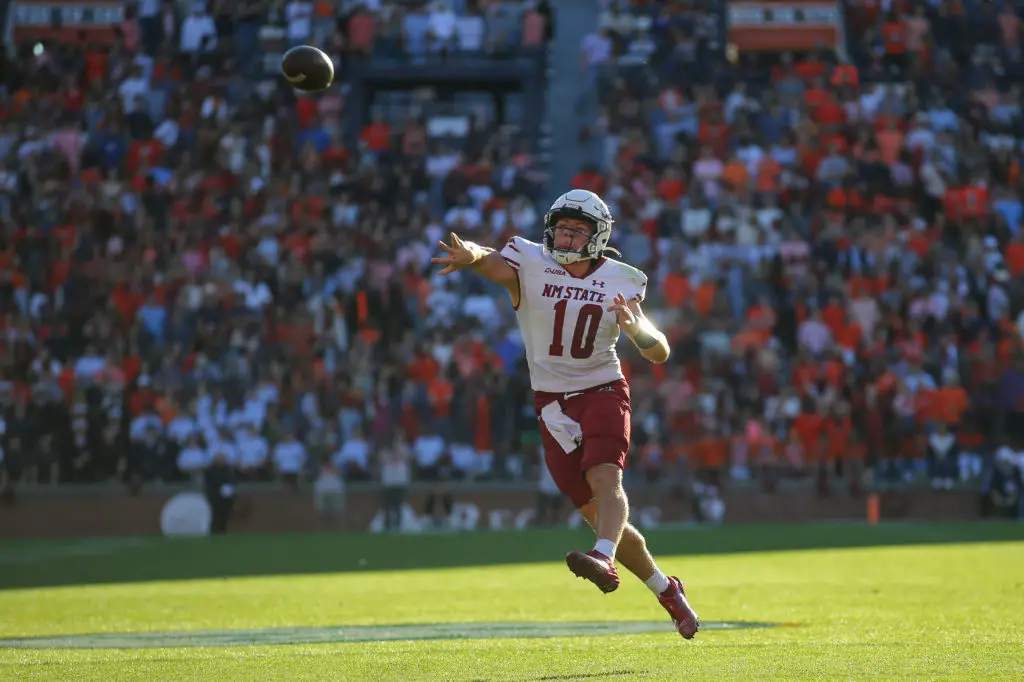 Diego Pavia highlights big week for Latinos in College Football
Latino quarterbacks shone throughout college football
New Mexico State quarterback Diego Pavia pulled off the biggest upset of Week 12, which was arguably the most impressive yet for Latinos in college football. Because there were so many stellar performance, it was difficult to pick only one Player of the Week.
Pavia, Miami's Xavier Restrepo, Oregon State's Damien Martinez, Notre Dame freshman Rico Flores Jr. , Cal's Fernando Mendoza, Incarnate Word's Zach Calzada, App State's Joey Aguilar, Weber State's Richie Munoz and N.C. State's Kevin Concepcion all deserved to be Our Esquina's Player of the Week.
Diego Pavia led the Aggies to one of the biggest upsets of the week. He threw for 201 yards and three touchdowns on the road to beat Auburn 31-10. 
Pavia added 35 rushing yards on eight carries in the victory. Perhaps more impressively, the 6-foot, 200-pounder body slammed an Auburn defensive back making a tackle. After throwing an interception that was ultimately nullified by an offsides penalty, Pavia tackled Auburn's Nehemiah Pritchett.
Diego Pavia had plenty of company among Latino quarterbacks who starred in Week 12.
Fernando Mendoza shines
Fernando Mendoza led Cal to a 27-15 victory over rival Stanford. The freshman from Miami threw for 294 yards, three touchdowns and one interception. He completed 24 of 36 pass attempts. He also rushed for -8 yards on six carries. 
Richie Munoz led Weber State to a 48-21 victory over Cal Poly. He threw for 329 yards and five touchdowns while completing 21 of 27 passing attempts. He added 17 rushing yards on six carries. 
Damien Martinez rushed for 123 yards and two touchdowns in a 22-20 loss against Washington. Martinez has scored six touchdowns over the last two games and a single-season career high nine overall. He added 44 receiving yards on two receptions against Washington. 
Boston College quarterback Thomas Castellanos completed 13 of 25 passes for 171 yards. He had a touchdown and two interceptions in the 24-16 loss against Pitt. Castellanos also ran for 21 yards on 17 carries. 
UCLA receiver Logan Loya led the Bruins with a team-high 60 yards on nine catches in the 38-20 upset over USC.
Joey Aguilar upsets James Madison
Joey Aguilar guided Appalachian State to an upset over previously unbeaten James Madison. The junior from Antioch, Calif., threw for 318 yards, three touchdowns and one interception.
Aguilar completed 28 of 46 pass attempts in the 26-23 victory over JMU (10-1, 6-1 Sun Belt Conference). App State improved to 7-4, 5-2 in the Sun Belt Conference.
Junior backup quarterback Jayden De Laura was perfect on his two pass attempts for Arizona. He threw for 51 yards and a touchdown in the 42-18 victory over No. 22 Utah. Sophomore tight end Roberto Miranda had one catch for the Wildcats. True freshman Raymond Pulido helped open holes and protect the quarterback.
MORE FROM OUR ESQUINA
Class of 2023 loaded with Latino football recruits
Gallegos, Woodyard, Sanchez highlight Latino High School All-America Football Team
Iowa's Sebastian Castro learned patience, love early
Wyoming's Ryan Marquez had a 44-yard catch in a 42-9 victory over Hawaii. David Cordero rushed for 32 yards on 13 carries for Hawaii in the loss. He added three catches for 19 yards. 
Incarnate Word quarterback Zach Calzada torched Houston Christian for 407 yards and four touchdowns. He completed 29 of 38 pass attempts in the 45-24 victory. The former Texas A&M quarterback added two rushing yards on one carry. 
Rico Flores Jr. sparks Irish
Notre Dame freshman receiver Rico Flores Jr. led the Fighting Irish with eight receptions for 102 yards in the 45-7 win against Wake Forest. Miami's Xavier Restrepo led the Hurricanes with eight receptions for 193 yards against Louisville. Texas Tech running back Cam'Ron Valdez.
Washington State freshman receiver Carlos Hernandez had two receptions for 77 yards in the 56-14 win against Colorado.
Idaho State's Ian Duarte had two catches in a 63-21 loss against rival Idaho. Toledo tight end Anthony Torres had three catches for 71 yards in a 32-31 victory over Bowling Green. Kent State running back Gavin Garcia rushed for 29 yards on seven carries. 
North Carolina State freshman wide receiver Kevin Concepcion put on an offensive clinic against Virginia Tech. He had seven catches for 63 yards and two touchdowns. He also had nine carries for 44 yards. Concepcion also threw a 17-yard touchdown in the 35-28 victory. 
Angel H. Flores lights up Eastern Washington
Northern Arizona quarterback Angel H. Flores won a 49-42 shootout against Eastern Washington. He completed 14 of 20 passes for 262 yards, two touchdowns and one interception. Flores also rushed for 114 yards and three touchdowns on 24 carries. 
Quarterback Cole Gonzales of Western Carolina suffered an upper-body injury against VMI. He completed 2 of 4 pass attempts for 22 yards and rushed for eight yards on two carries in a 27-24 upset loss. De'Andre Tamarez had a 21-yard touchdown catch in the loss. 
Southern Utah's Gabe Nunez had three catches for 34 yards in a 24-16 victory over Utah Tech. UC Davis' Matteo Perez had five carries for nine yards in a 31-21 victory over Sacramento State.
David Amador had a 23-yard carry for UTSA in a 49-21 victory over South Florida. The freshman from Houston also had three catches for 44 yards.
Defensive Players of the Week: Jacob Rodriguez, Ron Stone Jr.
Texas Tech junior linebacker Jacob Rodriguez led the Texas Tech Raiders defense in tackles with a career high 12. The redshirt sophomore from Wichita Falls, Texas, had 12 tackles for the season going into the 24-23 victory over UCF.
Rodriguez added a pass deflection in a 24-23 win over UCF. The 6-foot-1, 235-pounder has blossomed in November after missing all of October. Miami freshman Raul Aguirre Jr. had one solo tackle against Louisville. UCF sophomore defensive back Nikai Martinez had one interception and six tackles against Texas Tech.
Stanford's Wilfredo Aybar had six tackles against Cal. Freshman Jshawn Frausto-Ramos added four tackles. Penn State freshman linebacker Tony Rojas had four tackles, including 1/2 tackles for a loss, against Rutgers. UCLA Kain Medrano had three tackles against USC. 
Iowa's Sebastian Castro had three tackles and two pass deflections against Illinois. Arizona's Gunner Maldonado had eight tackles. He also added one pass deflection in Arizona's 42-18 win against No. 22 Utah.
Colorado State senior linebacker Justin Sanchez had three tackles including a sack in Colorado State's 30-20 victory over Nevada. Tulane linebacker Jesus Machado had five tackles, including one tackle for loss, in the 24-8 win against Florida Atlantic.
Senior night to remember
Washington State's Ron Stone Jr. had himself a defensive clinic on senior night. The senior defensive lineman feasted on Colorado. He tied for the team lead with nine tackles. Stone added two sacks and three tackles for loss overall in the 56-14 victory.
Wisconsin's Gio Paez had one tackle and half a sack against Nebraska. Fresno State sophomore Dupre Mendoza had two tackles, including a sack, in a 25-17 loss against New Mexico. New Mexico State's Gabriel Iniguez and Tyler Martinez each had one tackle against Auburn.
New Mexico's Alec Marenco had two tackles against Fresno State. Gabriel Lopez and Bryce Santana added one tackle apiece against Fresno State. Marshall defensive lineman Jalil Rivera-Harvey had a tackle in a 28-0 loss against South Alabama. Texas State's Devin Martinez had one tackle against Arkansas State.
Special Team Player of the Week: Gino Garcia
Texas Tech kicker Gino Garcia showed off his powerful leg to give the Red Raiders a 24-23 victory over UCF. Garcia nailed a 51-yard field goal with four minutes to play to give Tech a 24-17 lead. He also added three PATs.
LSU kicker Damian Ramos made eighth PATs in the rout over Georgia State. Colorado kicker Alejandro Mata made two PATs against Washington State. Iowa State kicker Chase Contreraz made a 45-yard field goal against Texas. He was 1 for 2 on field goals and PATs. 
UNLV kicker Jose Pizano made four PATs and kicked a 39 yard field goal against Air Force. Texas A&M kicker Blair Zepeda had one tackle against Abilene Christian on a kickoff.
San Diego State kicker Gabriel Plascencia made two field goals with a long of 46 yards against San Jose State. He added a PAT and a tackle in the 24-13 loss. Miami kicker Andres Borregales made four PATs and kicked a 39-yard field goal. Louisville kicker Nick Lopez made one PAT and knocked down a 40-yard field goal against Miami.
Tulane kicker Valentino Ambrosio made three PATs and knocked down one of two field goal attempts with a long of 20 yards. Wake Forest punter Ivan Mora averaged 45.8 yards on four punts in a 45-7 loss to Notre Dame. 
Old Dominion kicker Ethan Sanchez made two PATs and knocked down two of three field goal attempts with a long of 47 yards in the 20-17 win against Georgia Southern. South Alabama kicker Diego Guajardo made two field goals with a long of 48 yards. He added two PATs in the victory over Marshall.
Chavez was busy on PATs
Idaho kicker Ricardo Chavez made nine PATs in the 63-21 win against Idaho State. Bowling Green kicker Alan Anaya made a 40-yard field goal and four PATs against Toledo. 
Eastern Michigan kicker Jesus Gomez made a 32-yard field goal. He also added three PATs against Akron. New Mexico punter Aaron Rodriguez averaged 36.7 yards per punt over three punts.
Toledo's punter Emilio Duran averaged 43.3 yards per punt over four punts against Bowling Green. Southern Utah's Alyas Vigil averaged 30.5 yards on two punts with a long of 39 yards against Utah Tech.
Get the Our Esquina Email Newsletter
By submitting your email, you are agreeing to receive additional communications and exclusive content from Our Esquina. You can unsubscribe at any time.