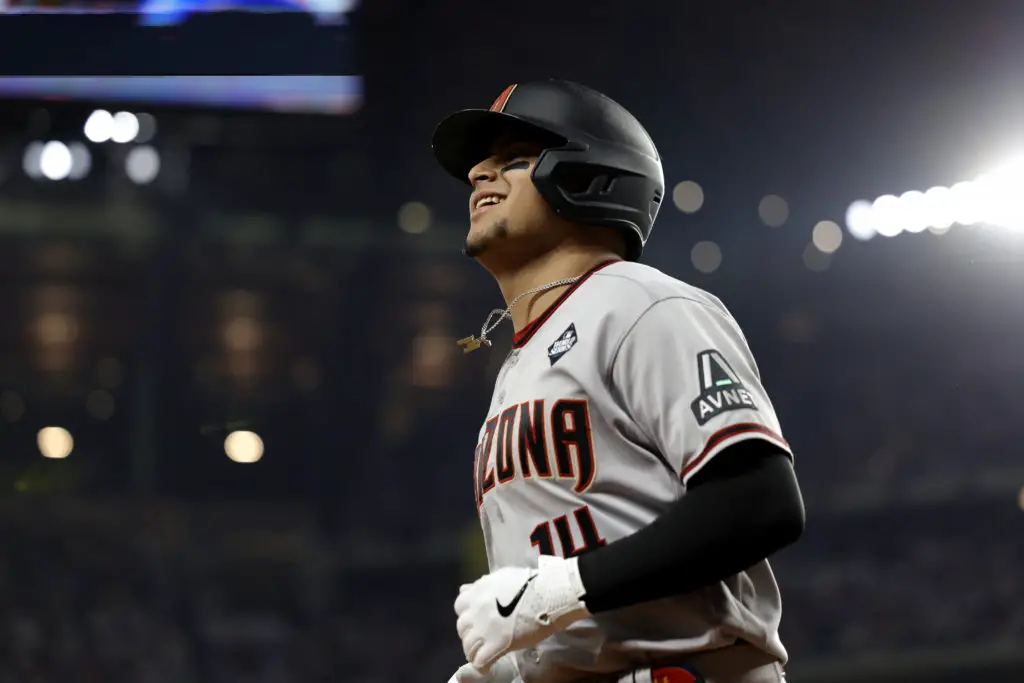 Dbacks catcher Gabriel Moreno ascends to greatness
Gabriel Moreno delivers another homer and brilliant defensive display
ARLINGTON – Gabriel Moreno was only four years old when 20-year-old Miguel Cabrera helped the Florida Marlins beat the Yankees to win the 2003 World Series. Like most young ballplayers growing up in Venezuela, Moreno followed Cabrera religiously.
Moreno was always an exceptional hitter. The Arizona Diamondbacks' catcher was also a decent second baseman growing up in the humble. But as he prepared to sign with the Toronto Blue Jays as a teenager, he was moved to behind the plate.
Now, Moreno is leaving his mark as one of the most successful young catchers in World Series history. After a stellar National League Championship Series, the pride of the Macuto barrio in Barquisimeto helped the Diamondbacks even the 2023 World Series at one game apiece.
Moreno, 23, got the Diamondbacks' 9-1 victory started in Game 2 with a home run to left-center field in the fourth inning at Globe Life Field.
Moreno sets tone
"I was truly happy," Moreno said in Spanish. "I ran the bases with joy. The top thing is that I got the first run of the game and tried to maintain the lead. That was paramount."
Moreno has such a potent bat, he is hitting third in the Fall Classic. He is only the third catcher 23 years old or younger to bat third in a World Series game. The other two are San Francisco Giants legend Buster Posey and baseball icon and Hall of Famer Yogi Berra.
"Gabby is 23, but I feel like he's 33," ace Zac Gallen said of Moreno. "Just the way he's super cool, super calm, collected. The moment doesn't seem to phase him. And the talent is just off the charts."
Moreno is the first catcher 23 years or younger to hit at least three home runs in a single postseason. He added his fourth of the postseason and first in the World Series to give the Diamondbacks a 1-0 lead in the fourth inning.
MORE FROM OUR ESQUINA
Lourdes Gurriel Jr. puts another Gurriel in World Series
Miguel Cabrera should have his numbers retired
Willson Contreras inspires MLB's top elite prospects
Moreno is only the seventh catcher to have four home runs in a single postseason. He joins fellow Venezuelan Salvador Perez, Hall of Famer Mike Piazza, Mike Zunino, Jason Varitek, Gene Tenace and Sandy Alomar Jr. 
Alomar, who had five homers while helping the Cleveland Indians reach the 1997 World Series, is the only catcher with more homers in a single postseason than Moreno's four so far. Moreno still has at least three games in the Fall Classic to try to match and surpass Alomar's mark.
Guiding masterpiece
Equally important if not more, Moreno guided Merrill Kelly through another brilliant outing. Kelly held the Rangers' potent lineup to one run on three hits with nine strikeouts over seven innings.
"I'm proud of what Gabby did tonight as well," Kelly said. "The strides I've seen Gabby have from the beginning of the season to where we are now is incredible. I've said it multiple times in the last couple of weeks and the last couple of days that I can't wait until I'm 50 years old and I'm watching Gabby Moreno still playing in the big leagues. 
"I think he's that type of talent, that type of mentality. For as young as he is he's not scared of the moment. He's not scared of anything that I've really seen. I've got to give a lot of credit for tonight. I've got to give a lot of credit to Gabby, he called the right pitches at the right time."
Defensively, he's also quite exceptional. Moreno is a finalist for the Rawlings Gold Glove. He already won a Fielding Bible Award for his defense this year. The young Venezuelan led the majors this season in the metric that quantifies runs saved nabbing attempted base stealers. He saved seven runs in that measure.
Moreno, who is in his first full season in the majors, also saved five runs on pitch blocking, which was second most in the majors. 
Excellent game caller
Arizona pitchers love throwing to him. The Diamondbacks posted a 3.94 ERA when Moreno was behind the plate this season. They had a ghastly 5.25 ERA when he didn't catch. 
"I've kind of had a first-hand seat to see Gabby grow," Gallen said. "I think what I saw in the beginning of the year, there was a lot of talent, for sure. 
"And then for Gabby to kind of get over here and get a lot more comfortable, understanding how to handle a pitching staff, calling games and certain things like that has been. I can't really describe it. It's been fascinating to watch."
Moreno's ascension is even more impressive if you consider he didn't start playing behind the plate until about 2015. A scout recommended the move from second to behind the plate. The Blue Jays then signed him as a 16-year-old in 2017. 
Moreno started learning how to play the position in earnest in 2017 as a 17-year-old at the Dominican Summer League.
Gabriel Moreno capitalized on Blue Jays' opportunity
"Thank God I've always hit," Moreno said. "I had that ability. To catch, that was a quick change. When I went to sign Toronto moved me to catcher. I accepted that challenge. I wanted to be in organized baseball. Toronto gave me that opportunity, and I was able to develop."
Moreno made steady progress up the Blue Jays' farm system before finally making his big league debut on June 11, 2022. With 2022 All-Star catcher Alejandro Kirk, 24, already in place, Toronto sent Moreno and Lourdes Gurriel Jr. to Arizona for outfielder Daulton Varsho last December.
Early indications are that the Blue Jays got the best out of that trade. Gurriel was an All-Star for the first time this season. Moreno looks like a future perennial All-Star and Gold Glove winner.
The kid who dreamed of being the next Miguel Cabrera now aspires to follow the footsteps of Yadier Molina and Salvador Perez. Moreno is now trying to win a title in his childhood hero's final season.
"When I was an infielder I saw a lot of video of infielders," he said. "But then in 2015-2016 when they changed my position, that's when I started to like catching. Yadier Molina, Perez, Willson Contreras, I've always liked them."
Get the Our Esquina Email Newsletter
By submitting your email, you are agreeing to receive additional communications and exclusive content from Our Esquina. You can unsubscribe at any time.