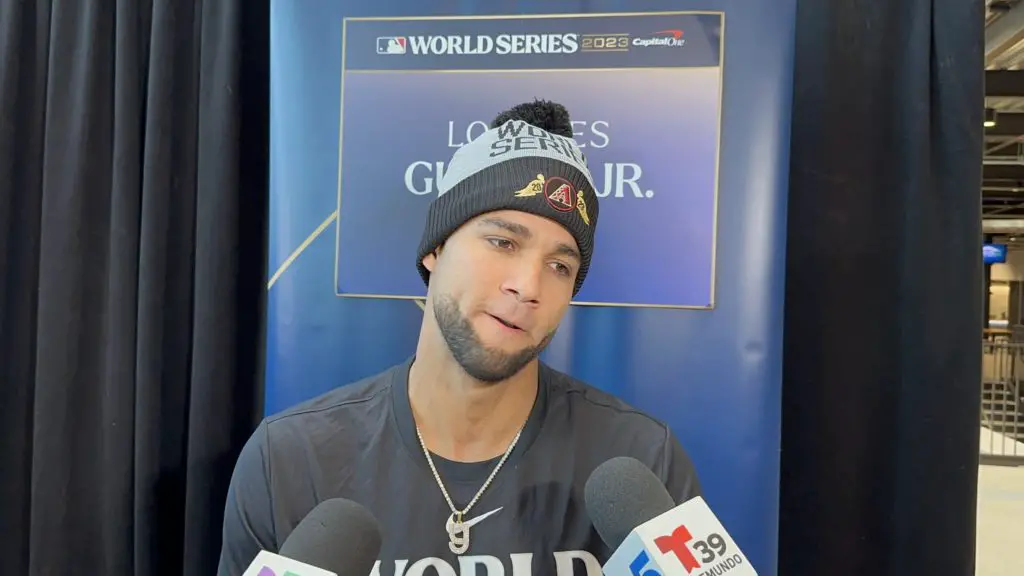 Lourdes Gurriel Jr. puts another Gurriel in World Series
Lourdes Gurriel Jr. makes own name on way to Fall Classic
ARLINGTON, Texas – It has not been easy for Lourdes Gurriel Jr. to live in the shadow of his famous family members. His father Lourdes Sr. is one of the legendary figures in Cuban baseball, a true icon on an island where baseball remains king.
As if being the son of an Olympic gold medalist weren't enough pressure, Lourdes Gurriel Jr. is also the younger brother of Yuli Gurriel, a Cuban Serie Nacional great and World Series winner.
Few people understand the burden Lourdes Gurriel Jr. has felt quite like Texas Rangers star Adolis Garcia. Gurriel Jr. and Garcia were youth baseball teammates growing up in Cuba. They proudly cheered for Yuli Gurriel when he won World Series titles in 2017 and 2022. 
Now Gurriel Jr. and Garcia are meeting in the 2023 World Series, which starts Friday night at Globe Life Field between Lourdes' Arizona Diamondbacks and Garcia's Texas Rangers.
Lourdes Gurriel Jr. faces longtime pal
"I played in Little League with Lourdes Gurriel, with Yunito," Garcia says. "Yes, they have a great name in Cuba. They've been very good at baseball. They're very good baseball players, and they're worthy of admiration on the baseball level."
Gurriel Jr., 30, was 22 when he and his brother Yuli Gurriel defected from Cuba in 2016. Their defection was a tremendous blow to Fidel Castro's communist regime because the Gurriels were considered royalty on a team Castro proudly used as a propaganda tool for decades.
Gurriel Sr. was a fixture of the Cuban national team throughout the 1980s and early 1990s. He helped Cuba win a gold medal at the 1992 Olympics in Barcelona. Yuli Gurriel, 39, also was a national team fixture, helping Cuba win the 2004 Olympic gold medal in Athens.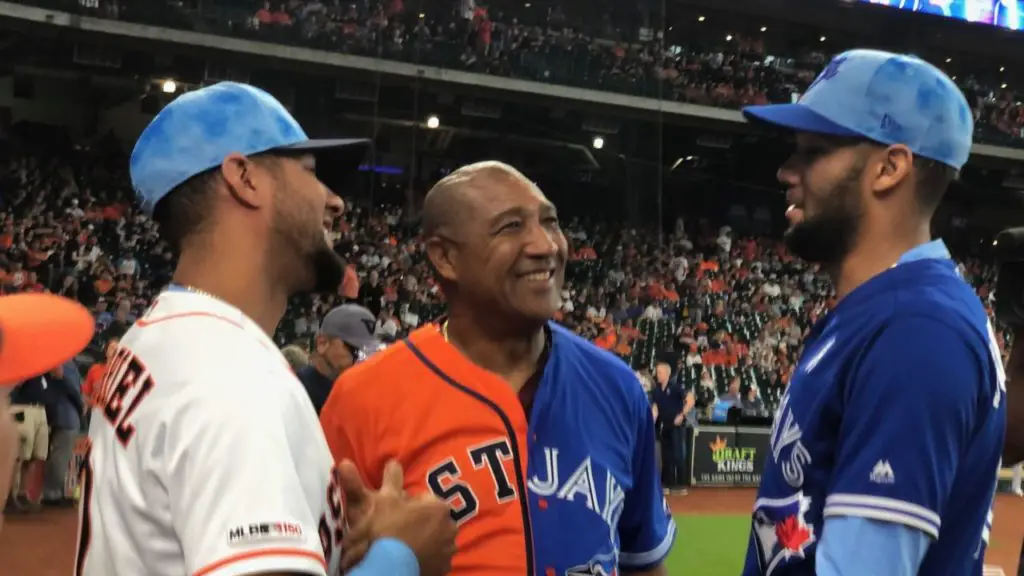 Lourdes Jr. was only 10 years old when his brother won a gold medal in Athens. He eventually represented the national team and won gold medals at the 2014 Central American and Caribbean Games and the 2015 World Port Games in the Netherlands. But he was only 14 when baseball was dropped from the Olympics for the 2008 games.
Although Lourdes Gurriel Jr. proudly carries his famous surname, he has definitely felt the weight of that name.
"It's something that's been difficult to battle," Lourdes Gurriel Jr. says. "Since I was little I've had the shadow of my father and my two brothers. It's been difficult always living with the comparisons.
"But at the same time the work of my family is what has kept me strong. It's also what has kept us successful, thank God."
Lourdes Jr. is having the best season of his career. After playing the first five years of his career with the Toronto Blue Jays, he has blossomed with the Diamondbacks. He was an All-Star for the first time this season.
Career year for Lourdes Gurriel Jr.
He hit .261 with career highs in home runs (24), doubles (35), total bases (255) and extra-base hits (61). The 6-foot-4, 215-pound Lourdes finished second on the Diamondbacks in doubles and RBIs this season.
He has added two home runs and five RBIs this postseason while helping the Wild Card Diamondbacks reach the World Series for the first time since 2001.
MORE FROM OUR ESQUINA
Astros' Yuli Gurriel embraces weight of Gurriel surname
Astros' Yuli Gurriel gives back to next generation
Adolis Garcia powers Rangers to World Series
Although his older brother Yuli played in the 2017, 2019, 2021 and 2022 World Series with the Astros, Lourdes Jr. is attending the World Series for only the second time. He attended the 2017 World Series when his brother won the first of two titles, but Lourdes Jr. didn't attend the other World Series.
Garcia is also playing in the World Series for the first time. He was the biggest storyline of the 2023 American League Championship Series, powering the Rangers past the 2022 champion Houston Astros.
Like Yuli Gurriel before them, Garcia and Lourdes are proud to represent their island on baseball's biggest stage.
Representing Cuba
"It's very important," Garcia said of representing Cuba. "Everybody feels proud because this is the best baseball in the world. To have titles here, it's a huge blessing. I think every Cuban feels proud about that."
Although they were Cuban icons, Lourdes Sr. could never win a Serie Nacional title managing his sons in Cuba. Lourdes Sr. proudly noted in 2017 and every World Series since then that his son found the championship in the United States that they couldn't secure in Cuba.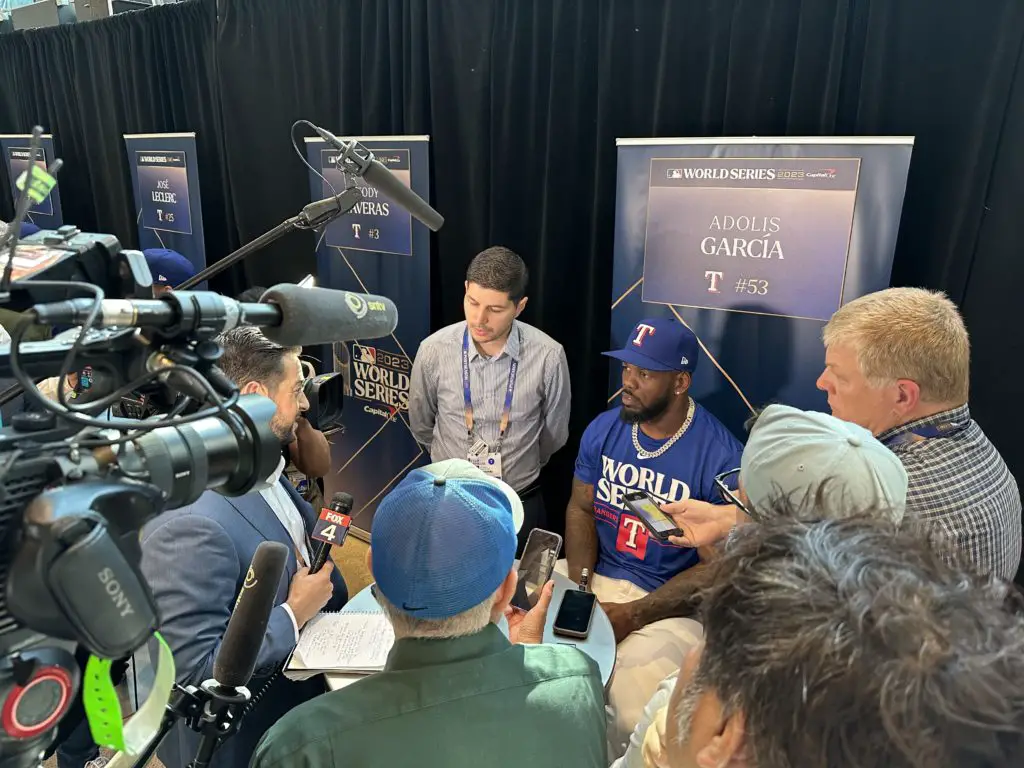 Now, it's Lourdes Gurriel Jr.'s turn to play in the World Series.
"I'm very proud to represent my family in the World Series," Lourdes Jr. says. "We could never get that title in Cuba, my brother and I. He accomplished it here.
"I hope to do it here too. It means a lot. The following we've had from our Cuban people has been incredible, and we hope to make them proud again."
Get the Our Esquina Email Newsletter
By submitting your email, you are agreeing to receive additional communications and exclusive content from Our Esquina. You can unsubscribe at any time.