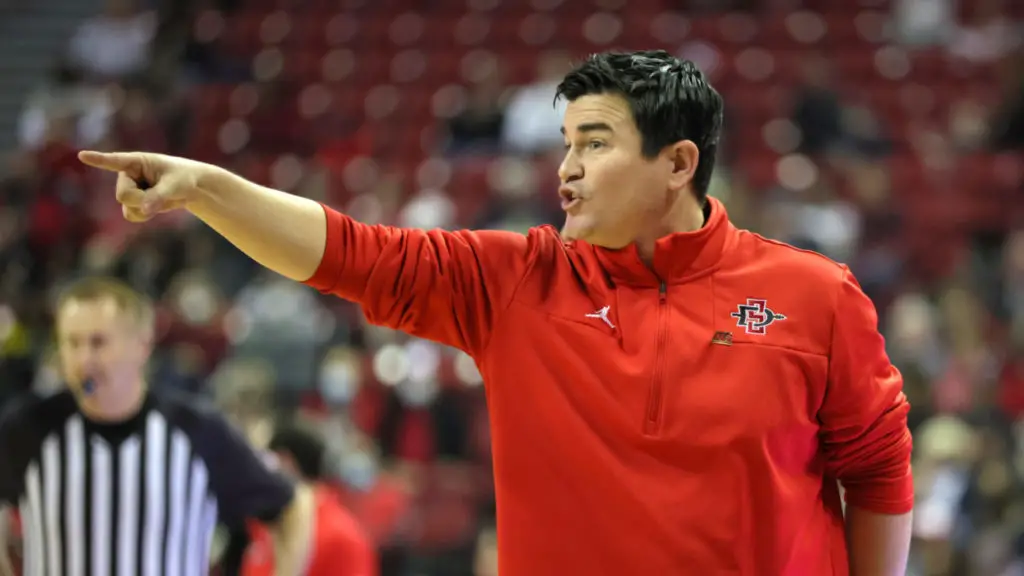 D at San Diego State stands for Dave Velasquez
Aztecs assistant coach Dave Velasquez has made a home at San Diego State
HOUSTON – Only a few months after ending his career as a Division I athlete, Dave Velasquez found himself in a storage closet at the University of Pacific. He had just received his degree from San Diego State, where he rose from being a team manager and scout team player to a scholarship athlete.
Now he was following his dreams of becoming a college coach. For the first time as a young adult, he was no longer in San Diego. He was up north a few hours in Stockton as a graduate assistant. His first assignment was to clean a rat-infested storage closet.
"It was disgusting," he said. "When I would call home, I was reminded that it was my job. That's what I was told I had to do, so I had to do it. There was no other question. That's what I was going to do. 
"So I think that comes from my family. My dad worked two or three jobs. He was a basketball coach and a probation officer. He'd pick up other side jobs. It was a mentality I was raised around."
Now, Velasquez is set to cap his 10th year as a San Diego State assistant coach in the national championship game. The four months he spent at Pacific account for the only time Velasquez hasn't been part of the Aztecs' basketball program over the last 21 years. 
Like father, like son
Some might say he was destined to be here. Velasquez spent much of his childhood following his father Rick around many Northern California high schools, colleges and even professional basketball courts.
Rick Velazquez often had at least two jobs while Dave was growing up. He was a full-time probation officer in the juvenile division and a part-time basketball coach on many levels.
Rick was the assistant of player personnel for the San Jose Jammers of the now-defunct Continental Basketball Association. He helped make trades and sign contracts. Then he went to the University of San Francisco as a part-time, restricted-earnings coach. Meanwhile, Dave's mother Maureen was a teacher who was renowned for spending most of her vacation time on books preparing for her students. 
"It was a wonderful experience," Rick Velasquez says. "And also our three sons got to sit on benches for both junior college and professional basketball as boys. David was a ballboy for the San Jose Jammers of the CBA."
Somewhat naturally, Dave Velasquez followed his father's path. He hoped to walk on to the Aztecs' basketball program as a freshman, but he settled for a spot as a team manager for Steve Fisher. He made enough of an impression on Fisher to earn a scholarship as a redshirt senior.
Right where he belongs
Dave exchanged phone numbers with his mother Maureen after graduating from college, so he almost missed the call that got him back to San Diego.
Rick Velasquez was in Reno on vacation when Fisher called him. Not recognizing Rick's voice, Fisher apologized for calling the wrong number. After Rick explained that Dave changed his number, Fisher told him he was calling to offer his son a job as director of player development.
"Thank you for bringing him back," Rick told Fisher. 
Fisher, who coached the Aztecs from 1999 to 2017, replied with a line Rick will never forget.
"David is right where he belongs," Fisher told Rick Velasquez.
Dave Velasquez has had one of the best seats in the house for the greatest season in San Diego State basketball history. He has helped recruit, coach, and develop the roster's skills while also focusing on their academics.
His main emphasis, though, is the defensive side of the ball for head coach Brian Dutcher. Dave Velasquez has helped the Aztecs have the top-ranked defense in the Mountain West Conference for the last four years. 
A culture of defense
Smothering defense is a major reason the No. 5-seeded Aztecs have pulled off a series of upsets to reach Monday night's championship game against UConn at NRG Stadium. San Diego State's defense was crucial in the 71-64 upset over No. 1 seed Alabama in the Sweet 16.
"This culture was started by Steve Fisher and it's now carried by Brian Dutcher," senior forward Keshad Johnson said. "So it's not a place from the ground up. Here's a structure set. They had to make sacrifices. The coaches are honest and they let recruits know that."
Velasquez bought into the Fisher way long ago. He was with the program for five years between his time as a manager and player. Then he spent six seasons as director of player development before spending the next 10 as an assistant coach.
The bond between Fisher and Velasquez is so tight, the former coach spoke at Velasquez's wedding.  He considers Fisher his No. 1 mentor. The ties to Dutcher are just as close if not more.
For love and basketball
Former Stanford coach Mike Montgomery, a Hall of Fame coach, was also a mentor since Dave was a child. Montgomery's son and Dave Velasquez were best friends growing up.  
"He's as much family to me as anybody," Velasquez says of Fisher. "Coach Dutcher and I have been together for 21 years now, every single day. I make the joke all the time that I've spent more Thanksgivings at coach Dutcher's house than I have with my mom. I've been here so long."
Velasquez is also quick to note the support he has received along the way from his entire family. His mom is actually back home in San Diego babysitting Dave's two young children – Marcus, 4, and Harper, 2 – so that Dave's wife Lindsay can be in Houston with him. 
Together, they've all helped the Aztecs reach the Final Four for the first time in school history. Velasquez's paternal great-grandfather Alfonso came to the United States from Nicaragua. His grandmother Virginia Velasquez was from Arizona with Latino roots that Rick assumes were Mexican. She and her husband Alphonse both spoke Spanish to each other, but they didn't speak the language to Rick.
Dave's maternal grandparents Jerry and Patricia Sweeney have Irish roots, prompting Rick to say his son can proudly celebrate St. Patrick's Day and Cinco de Mayo. Tonight, he hopes to celebrate a national title.
"Basketball has always been my first love," Dave Velasquez says. "Again, you don't see the last name Velazquez very often in these types of situations. We take a lot of pride in our last name, and I know my grandparents couldn't be happier up there in heaven."
Get the Our Esquina Email Newsletter
By submitting your email, you are agreeing to receive additional communications and exclusive content from Our Esquina. You can unsubscribe at any time.