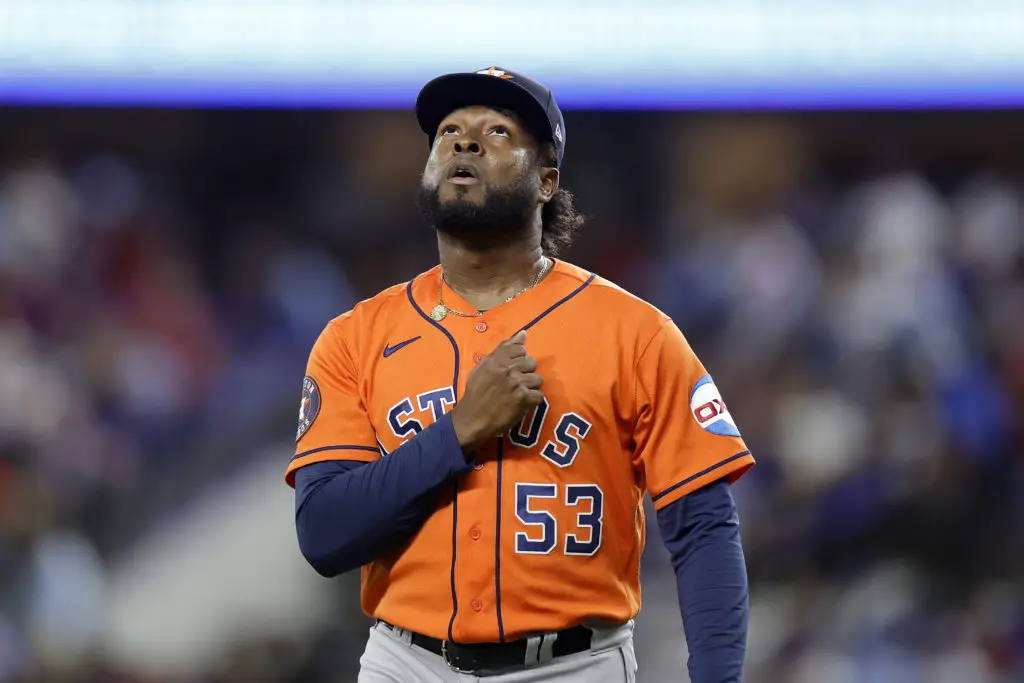 Cristian Javier continues postseason magic
Cristian Javier leads Astros over Rangers in Game 3 of the ALCS
ARLINGTON – Yordan Alvarez, the hottest hitter this postseason, arrived at Globe Life Field with extra confidence for Game 3 of the American League Championship Series. Cristian Javier was on the mound for the Astros, and he's as sure in October as aisles full of candy at your local grocery store. 
Javier, the so-called Reptile, was cold-blooded and dominant once again while handing the rival Texas Rangers their first loss of the 2023 postseason. 
"Incredible," Alvarez said of Javier after the Dominican righthander led the Astros to an 8-5 victory at Globe Life Field. "I've said it before, when it's time to put your pants on, as we say, the guy (Javier) is there. I think it's something that the numbers speak for themselves, the numbers he has in the playoffs."
Javier held the Rangers' potent offense to three hits and two runs with one walk and three strikeouts over over 5 ⅔ strong innings. With the victory, Javier improved to 4-0 with a 0.82 ERA over his four career postseason starts.
The man who led the Astros to a combined no-hitter in Game 4 of the 2022 World Series, held the Rangers without a hit for the first 4 ⅔ innings. 
'Unreal' Cristian Javier
"I felt very good," Javier said in Spanish. "I was very happy with everything that the pitches were doing. They were doing exactly what I wanted them to do. I was able to control the strike zone, so I was very happy about that."
With the victory, the Astros cut the Rangers' lead in the best-of-seven Lone Star ALCS to 2-1. 
Nathaniel Lowe singled through the left side with two outs in the fifth inning for the Rangers' first hit. Rookie third baseman Josh Jung followed with the first of a pair of two-run home runs to cut the Astros' lead to 5-2 before the sellout crowd of 42,368.
MORE FROM OUR ESQUINA
Astros Reptile Cristian Javier is Big Game hunter
Cristian Javier leads Astros World Series no-hitter
Cristian Javier gets 5-year, $64 million deal with Astros
Jung's first homer was Javier's only blemish in Game 3.
"He's unreal," Mauricio Dubon, who had his first three-hit postseason game, said of Javier. "Coming in and doing what he does in the postseason, it's for grown-ups over there, and he's coming in, and it's pretty special. We're not surprised, but what he does is pretty amazing."
After losing the first two games at home, the Astros made themselves at home on the road yet again. They jumped on three-time Cy Young Award winner Max Scherzer early and often.
Cristian Javier outduels Max Scherzer
Scherzer actually retired the side in order in the first even though Jose Altuve led off with a rocket to center. Scherzer hit Alvarez in the left foot to lead off the second inning. One out later, Kyle Tucker walked. Then Dubon singled to left to load the bases.
Jeremy Peña popped out to second for the second out. Alvarez then scored when Scherzer uncorked a wild pitch to Martin Maldonado. Then Maldonado gave the Astros a 3-0 lead with a two-run single through the left side. 
Altuve made it 4-0 with a solo blast to left for the 25th postseason home run of his career. Only Manny Ramirez (29) has had more postseason homers in baseball history.
Jose Abreu led off the fourth with a double to center. One out later, Dubon made it 5-0 with an RBI single to center. Javier was pulled after Evan Carter hit a two-out double to right field in the sixth inning.
Gold Glove winner Kyle Tucker appeared to misread the line drive. Tucker, who was named a finalist Wednesday for the 2023 Gold Glove, took a couple steps in initially before realizing the ball would go over his head. Fortunately for the Astros, veteran left fielder Michael Brantley made a sensational running grab in left-center field to end the inning and rob Adolis Garcia of an RBI double. 
"He was good, good breaking ball," Dusty Baker said of Javier. "Good changeup. Good location. I think he only walked one guy or two guys. And that's the secret, if you can stop from walking guys because you know they're going to hit the ball out of the ballpark at some point in time."
Brantley web gem
Brantley's catch capped off an inning of brilliant defensive thefts. Rangers rookie center fielder Leody Taveras made a leaping catch a foot above the center field wall to rob Alvarez of a leadoff homer in the sixth.
"When I hit it I thought the ball would carry more," Alvarez said. "But it didn't happen. It was a home run, but he took it away."
Fortunately for the Astros, Brantley countered to end the bottom of the sixth.
"That was huge," Baker said of Brantley's catch. "Because that would have been another run. That would have been a runner on second base. And the big thing was that was the last out of the inning. 
"So there were some good plays made out there on their end, and Taveras made a great play on Alvarez. And then Michael returned the favor and made a great play himself."
Javier has held opponents to a .071 batting average over his first four career postseason starts. According to OptaSTATS, that .071 batting average against is the lowest in history among any pitchers over their first four postseason starts.
Both teams jumped on the relievers in Game 3. Javier's start was the difference. 
Get the Our Esquina Email Newsletter
By submitting your email, you are agreeing to receive additional communications and exclusive content from Our Esquina. You can unsubscribe at any time.