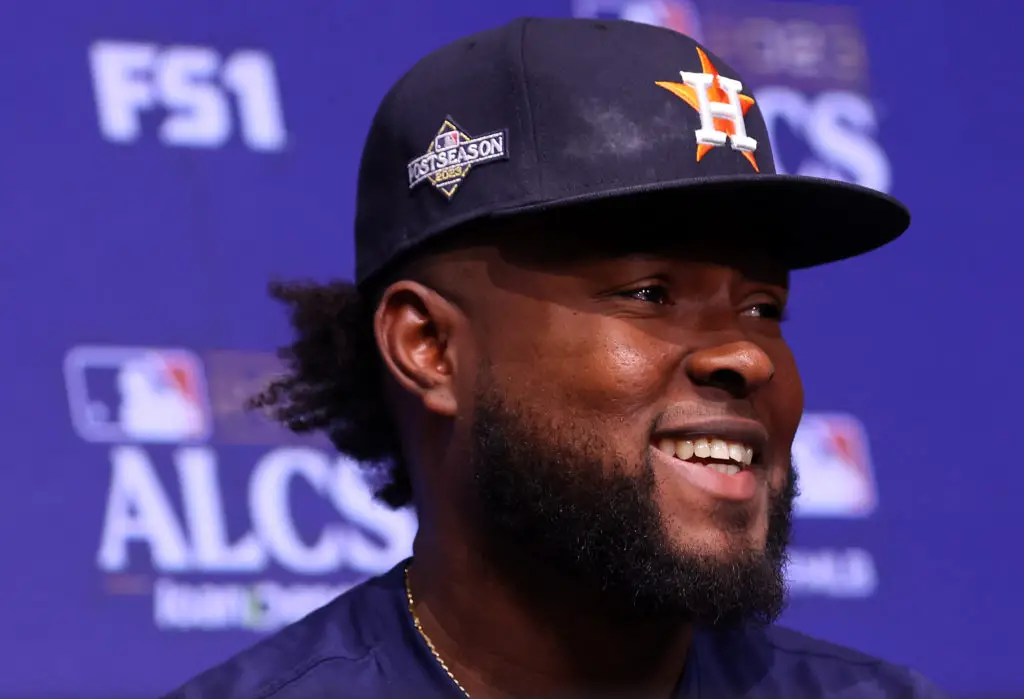 Astros Reptile Cristian Javier is Big Game hunter
Cristian Javier takes the mound in Game 3 of the ALCS
No one appears more relaxed and calm than Astros righthander Cristian Javier on the mound in the postseason lately. El Reptil from Santo Domingo, Dominican Republic, has seemed at ease in these moments.
The Astros hope that remains the case in Game 3 of the American League Championship Series on Wednesday night at Globe Life Field.
"There's no moment too big for him," Astros catcher Martin Maldonado said of Javier. "I think that's why I think we're going to be really good (Wednesday)." 
The Eyes of Texas will be tuned back in to watch the Astros and Rangers at Globe Life Field on Wednesday night. With the defending World Series champions down 2-0 in the best-of-seven-series, Astros manager Dusty Baker announced Cristian Javier as his Game 3 starter for the American League Championship Series. 
Cristian Javier on scoreless streak
The right-hander has pitched in thunderous postseason environments such as Truist Park, Yankee Stadium, Citizens Bank Park and Target Field. In Game 3 of the American League Division Series, Javier tallied nine strikeouts in five scoreless innings allowing three hits against the Minnesota Twins.
Javier's last start placed him within one scoreless outing from MLB Postseason history. 
The 26-year-old is tied with legendary New York Giants pitcher Christy Mathewson (1905) and Detroit Tigers pitcher Kenny Rogers (2006) with three consecutive postseason starts with at least five innings pitched and no runs allowed.
Only the late Hall of Famer Whitey Ford (1960-1961) had more postseason starts with at least five scoreless innings. Ford had four for the Yankees. Javier can possibly tie the record in Game 3.
More from Our Esquina
Cristian Javier leads Astros World Series no-hitter
Cristian Javier gets 5-year, $64 million deal with Astros
Neno's Stylo has Hector Neris, Astros feeling, looking good
"Like always I just try and go out there and give the best — do my best of my ability," Javier said. "I always put it in God's hand and let him be the one to guide us. And if he decides we get tomorrow's win, so be it. 
"But for me, I'm going to always go out there, try to go out there, compete, and hopefully get that win."
Javier's nickname, "El Reptil," translates to "The Reptile" in Spanish. Reptiles are cold-blooded. Their blood changes temperature in the environment where they live. Fans and players in the clubhouse continuously talk about how loose and relaxed Javier is on the mound. 
"I feel like (with) that guy you don't see any blood going through his veins," Maldonaldo said.
Proud 'Reptil'
Javier loves the nickname El Reptil. He has laser sharp focus on the task ahead of him, just like a predator looks at its prey in the far distance.
The Astros were down two games to one in the 2022 World Series against the Philadelphia Phillies when Javier delivered a historic outing. Javier made the start for Game 4, and did not disappoint. 
He threw six scoreless innings while allowing two walks, no hits and tallying nine strikeouts in the first combined no-hitter in postseason and World Series history. Houston defeated Philadelphia 5-0 that night, tying the series, and later winning their second World Series title in franchise history.
Javier was asked about his favorite reptile at Tuesday's press conference. He responded with Crocodile.
"Crocodiles seem like they're calm," Javier said. "But when they get in the water they can get aggressive."
Javier will need to be aggressive and attack the Rangers' lineup early in Game 3.  His poise and pitches will determine the duration of his outing. El Reptil heads back to the mound.
Get the Our Esquina Email Newsletter
By submitting your email, you are agreeing to receive additional communications and exclusive content from Our Esquina. You can unsubscribe at any time.