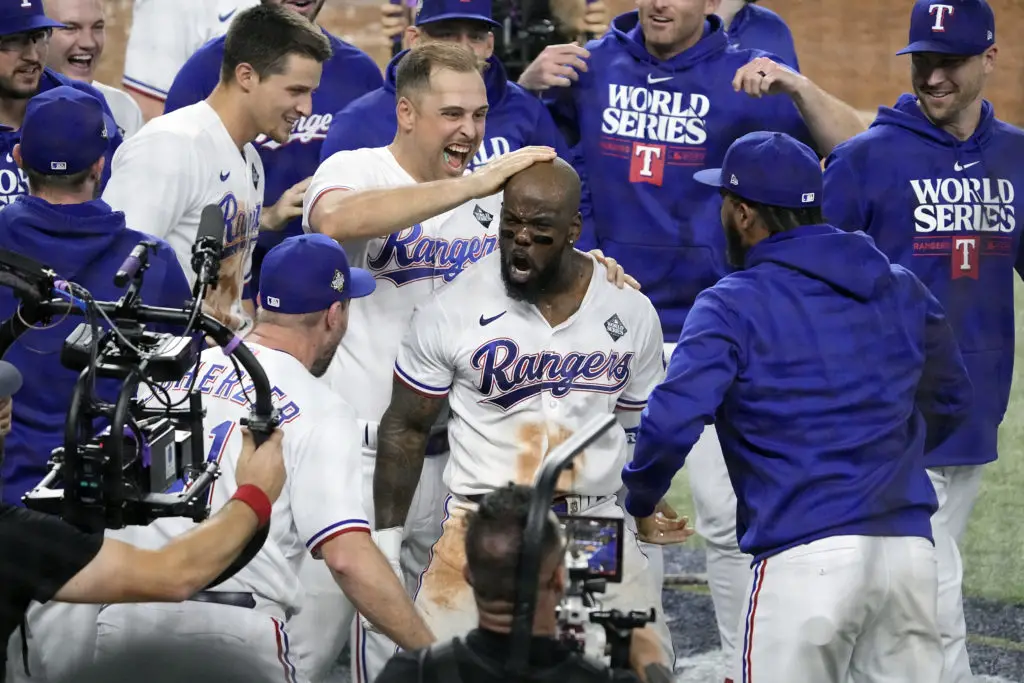 Adolis Garcia adds walk-off homer to October highlights
Adolis Garcia homers to win Game 1 of the World Series
ARLINGTON – Adolis Garcia was so locked in on Diamondbacks reliever Miguel Castro on Friday night, he couldn't hear his Rangers teammates yelling his nickname in the home dugout at Globe Life Field.   
As the largest crowd in Globe Life Field's brief history stirred with anticipation in the bottom of the 11th inning, several Rangers yelled encouragement for the Cuban slugger they call Bombi.
"Vamos, Bombi! Vamos, Bombi!" they yelled. Let's go, Bombi! Let's go, Bombi! 
Bombi delivered. Garcia hit a walk-off home run to right field, giving the Rangers a 6-5 victory in Game 1 of the World Series. 
Another Bombi blast for Adolis Garcia
"We were all saying,  Vamos, Bombi! Vamos Bombi!," said Rangers righty Jose Leclerc, who threw two perfect innings of relief for the victory. "We all believe in him."
There's plenty of reason to believe in Garcia. He is having one of the best postseasons in Major League Baseball history.
Adolis Garcia showcased the form that helped him win the American League Championship Series MVP while eliminating the 2022 champion Houston Astros. 
MORE FROM OUR ESQUINA
Adolis Garcia powers Rangers to World Series
Lourdes Gurriel Jr. puts another Gurriel in World Series
Jose Altuve adds to his resume as the greatest Astro
Garcia hit the second postseason walk-off home run in Rangers history. It was also the first walk-off homer in the franchise's brief World Series history. 
Adolis Garcia surpasses Freese
Garcia was 3-for-4 with a homer, two RBIs, a walk, hit by pitch and a stolen base. He had his first RBI of the night and 21st of the postseason with a single during the Rangers' two-run first inning. With that RBI, he tied former Cardinals star David Freese for the most RBIs in a single postseason.
Freese set the record with the Cardinals during the 2011 postseason. Garcia's second RBI sent the record sellout crowd of 42,472 and the Rangers into a frenzy. It also set a new RBI record for a single postseason with 22.
"I'm very happy and grateful," Garcia said. "It's just something where God has given me the opportunity to have a little piece of history in the MLB postseason. I think it's great. I'm very excited."
Garcia has homered in five consecutive postseason games, one game shy of the longest home run streak in postseason history.
The National League champion Diamondbacks appeared on the verge of winning Game 1. They had one out and one on in the bottom of the ninth when Corey Seager tied it at 5 with a monstrous two-run homer to right.
Seager blast ties it
Seager hit his 418-foot blast to right off Paul Sewald. Garcia credited Seager after Game 7 of the ALCS for setting the tone and inspiring the Rangers to that victory. He praised Seager again Friday night for lighting the spark and, obviously, sending the game into extra innings.
Seager was equally complimentary of Garcia for delivering the winning blast.
"Special players step out in moments like this," Seager said. "And (Garcia has) done it all season for us. It's been extremely fun to watch and extremely fun to be a part of."
Leclerc then held the Diamondbacks scoreless in the 10th and 11th to set up Garcia's heroics against Castro.
"Castro, we talked about that for a couple of days, that being a favorable matchup for us if it came down to that, that he would be able to make pitches on him and try and prevent a little extension," Arizona manager Torey Lovullo. "It was just a middle-middle pitch, and he did his job."
After losing all three games at home during the ALCS, the Rangers will now try to take a 2-0 lead in the best-of-seven Fall Classic on Saturday night in Game 2 before the series shifts to Phoenix on Monday.
Considering how many impressive moments he has had already this postseason, Garcia was asked how the walk-off rated among his postseason highlights.
"We're in the World Series," Garcia said. "I think, honestly, it's the top moment."
Get the Our Esquina Email Newsletter
By submitting your email, you are agreeing to receive additional communications and exclusive content from Our Esquina. You can unsubscribe at any time.