Abuelo's touch pushes 5-Star Peyton Woodyard
Alabama commit Peyton Woodyard showcased his abuelo's competitiveness early
Jesus Flores was hitting fly balls to his grandson Peyton Woodyard and his team of eight-year-olds when Peyton misread the line drive. He caught it with his nose, prompting the abuelo to rush to center field. 
Blood streamed down Peyton's nose. Flores and his son in-law Gerald Woodyard tried to get Peyton off the field, but the future 5-star safety refused.
"His nose was bleeding, but he just wanted to play," Flores says a decade later. "Peyton was always so competitive."
The competitiveness Peyton Woodyard showed at the La Mirada, Calif., Pony fields with the Little League Astros is still evident today. That burning desire to win has helped the Bellflower, Calif., St. John Bosco High star become one of the top high school football players in America.
The 6-foot-2, 197-pound Peyton played baseball and football growing up. He also loves to golf, play basketball and snowboard. He was around 4 years old when his grandfather realized that he was a special athlete. His exceptional speed was evident early.
One moment sticks out from his time in Pop Warner Football. Peyton returned a kickoff for a touchdown, but they called the play back because the referees weren't ready when the ball was kicked. Peyton returned the subsequent kickoff for a touchdown as well.
Peyton Woodyard often played older kids
More impressively, he was only seven years old playing against 10-year-old boys in that game. Because he was so talented, Peyton was always registered for teams at least one year older. 
"He was always the youngest," Gerald Woodyard says of Peyton. "Whether with his older brother or older cousins, he would always have to fight for little things. 
"Inevitably, he was really competitive. He didn't realize he was young. If there was a race to be had, he would try to win. I just knew he had the mentality to do something great."
Gerald played football at Long Beach State under Hall of Fame coach George Allen. He met his wife Nora while her sister was the softball team's ace at Long Beach State, where she threw a perfect game and a no-hitter.
Because Nora and Gerald both played college sports, they wanted to make sure that their children loved whatever sport they chose.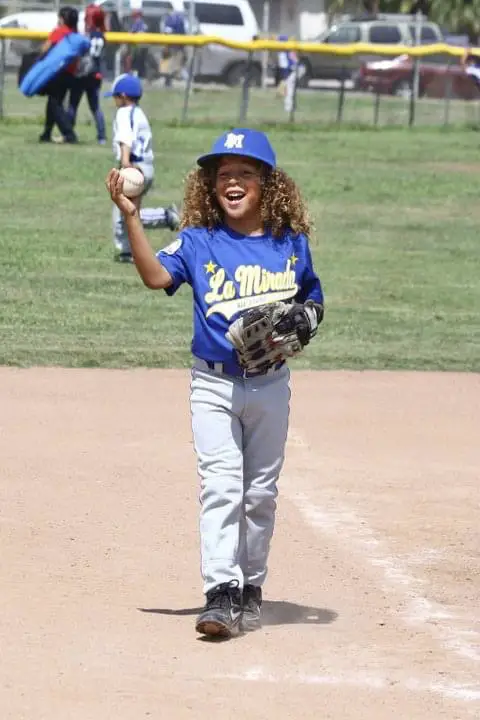 "We know if you love something and are willing to put that work in that's when the greatness happens," Gerald says.
The Woodyards dragged Peyton everywhere to watch his older sister's soccer games and his older brother's baseball games. Unlike most kids, he never watched cartoons growing up. He preferred to watch ESPN in the morning.
Before long, he was playing baseball for a team coached by his grandpa and father.
Athletic genes
Woodyard, who is committed to play at the University of Alabama, inherited superior athletic genes from both sides of his family. His father Gerald played football at Long Beach State, and his mother Nora played softball at United States International University. 
Maternal aunt Ruby Flores, the top ranking Latina in the Los Angeles Police Department, was a star pitcher at Long Beach State in the late 1980s and early 1990s.
MORE FROM OUR ESQUINA
Loyalty pays off for Caleb Sanchez
Gallegos, Woodyard, Sanchez highlight Latino High School All-America Football Team
Pac-12 POY Alberto Rios leaves mark at Stanford
Peyton's two oldest siblings – Lauren and A.J. – also played sports collegiately. Lauren, 26, played soccer at the University of Nevada Reno. A.J. Woodyard, 23, played baseball at Hope International University.
From his father's side, Peyton's cousin Kyle Hamilton was a first-round pick of the Baltimore Ravens out of Notre Dame in 2022. Hamilton has mentored Peyton and helped him during the recruiting process.
Peyton Woodyard thanks his beloved Flaco 
In a family full of talented athletes, Peyton appears to be the best of the Woodyard Flores crew. He has benefited from his grandfather Jesus Flores, the man they all call Flaco, the Spanish word for slim. 
Flores is quick to say Gerald Woodyard deserves all the credit for developing Peyton into a four-year starter for the No. 1 ranked high school team in America.
"I don't know too much about football," Flores says. "That's probably because I didn't play. But I was always trying to stay busy with the kids. Peyton was like a pain in the butt (saying), 'Grandpa, let's play catch. Grandpa, let's play catch.'"
Gerald and Nora Woodyard have been married 30 years. They've spent much of their marriage shuttling their children around sporting events. Flores has never lived farther than 15 miles away from his daughter and son-in-law Gerald since they've been married. 
He has been more than a supportive grandpa. The man who made his daughters bring their gloves to every vacation growing up naturally volunteered to coach his grandkids.
"My dad was always with us," Nora Woodyard says. "Of course when we had kids, he was Peyton's first coach. He was my daughter's first coach and my older son's first coach for baseball."
From Juarez, Mexico, to Los Angeles
Jesus Flores, 77, is a taskmaster with a work ethic to match. He emigrated to El Paso from Juarez, Mexico, in the 1960s. Then he and his wife Dora moved to the Los Angeles area in 1969 after his oldest daughter Nora was born. 
Flores passed his competitive nature down to his two daughters and son. If you're keeping score, Flores is fighting for every edge for his team.
"He hates to lose," Peyton says of his grandfather. "He's always trying to win in whatever it is. Yeah, he's not the best loser. He's going to try to win at everything."
The family still laughs at the memory of Flores forcing his daughters to throw bullpens in the snow on one particular vacation. Baseball and basketball were Flores' sports when he lived in Juarez and after he settled in the Los Angeles area. Peyton Woodyard can attest that his 6-foot-3 abuelo knows how to develop college athletes. 
You cannot tell the story of how Woodyard developed into one of Alabama's prized recruits without starting with his grandfather. Let's start with Flaco's journey from Chihuahua to El Paso and then Los Angeles.
"As far as work ethic, he's it," Gerald Woodyard says of his father-in-law. "This guy came here speaking very little English and has worked his butt off. He went back to school and then raised three kids."
Flores is technically retired now. He keeps busy with shifts as a greeter at Angel Stadium during Angels home games, and at Honda Center during Anaheim Ducks games.
Balancing act
After moving from El Paso to the Los Angeles area, Flores settled in the Mexican enclave of Huntington Park in 1969. He began working at a dog food company's canning and distribution areas. While working full-time, he attended a local junior college at night. He earned his Associate of Arts degree and also became a certified electrician. 
When he wasn't working, Flores could usually be found at softball or baseball fields with his daughters and then later with his grandkids. 
"I was so crazy for sports," he says. "I was always trying to keep them on track and trying to keep them competitive with other kids. That's one of the reasons I always spent time with them. Peyton was one of those kids that could play any sport."
Having fun was important, but instilling a winning mentality was perhaps paramount.
Peyton Woodyard learned to compete early
"When I say he coached our kids, he didn't coach just to be coaching," Nora said. "He's coaching to win. He's super, super competitive, taking our gloves (to pitch) in the snow. 
"It rubbed off completely on us, especially with Peyton, he being the youngest. The kid would wake up watching sports."
Peyton is one of only four players to be four-year starters at St. John Bosco since coach Jason Negro took over in 2010 and built the Braves into a national power.
It hasn't always been easy, though. 
Peyton faced his biggest obstacle as a player when he was with the 14U OG Ducks youth football team. That team's roster included some of the best players in Orange County, Los Angeles County, the Inland Empire and even Arizona. They were loaded.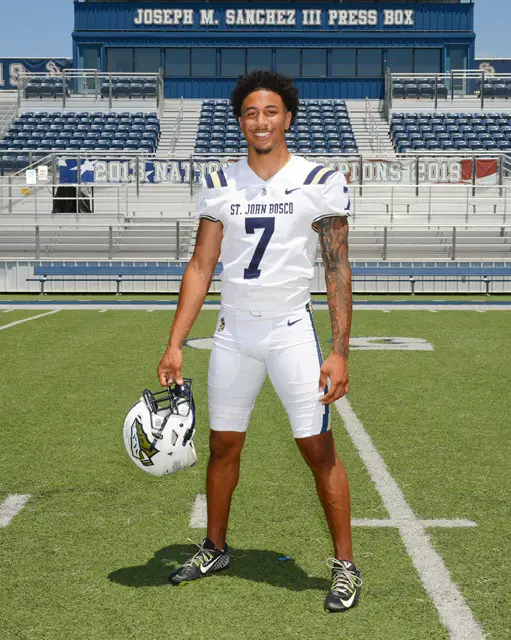 All of the OG Ducks were accustomed to being the top dogs in their youth teams. They had started throughout their entire sports lives. Peyton couldn't crack the starting lineup for the first five or six games, his father remembers.
Peyton would get in the car after each game and vent to his father. He was adamant that he was better than some of the boys starting ahead of him. Few would have blamed Gerald if he had asked the coach why his son wasn't starting. He didn't say anything, though.
Preparing for Alabama
"The response from us was, 'When your time comes make it very hard for them not to keep you on the field. Keep working, keep working,'" Gerald recalls. "He was doing everything he could. A person got injured. Peyton ended up leading the team in interceptions. 
"He was upset and angry. He was not starting, but that's what gets you ready for Bosco."
That's also the mindset necessary to commit to perennial power Alabama, which routinely recruits the top players in the country.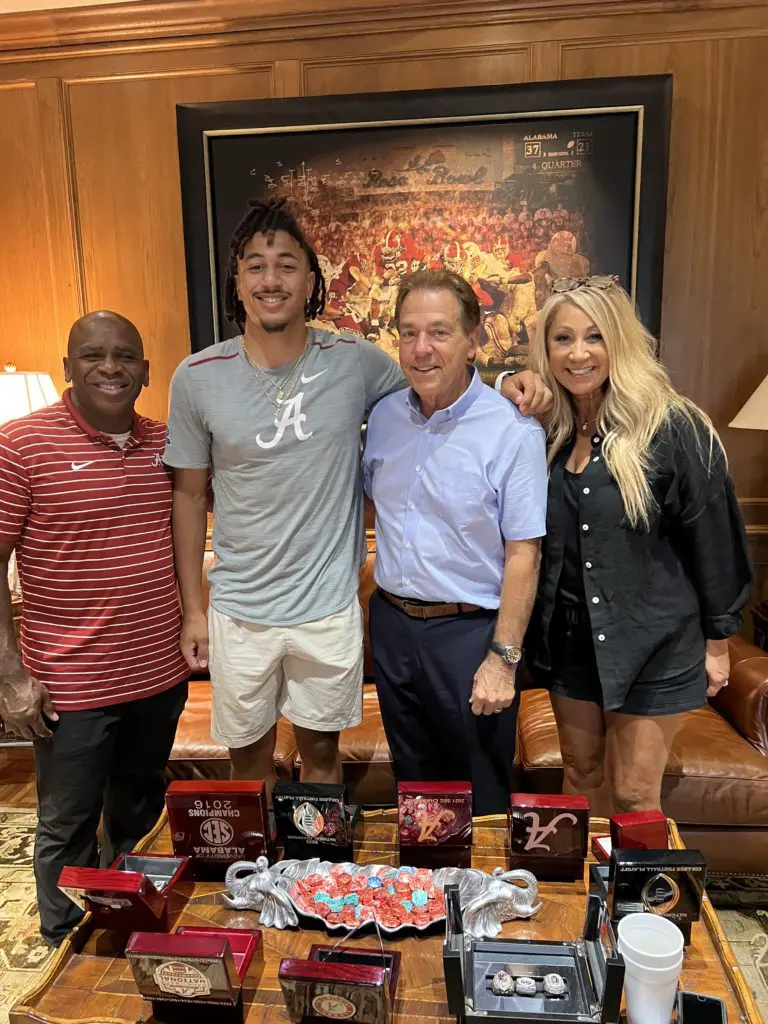 "They do a great job of developing players and getting them in the next level," Peyton says of Alabama. "They develop people not just the (defensive back) position but the safety position too. I have family out there, and it's my dream school.
"It's just perfect. It's a perfect fit. I felt like I'd do myself a disservice if I didn't go there."
His abuelo, after all, taught him to take on challenges and compete.
Get the Our Esquina Email Newsletter
By submitting your email, you are agreeing to receive additional communications and exclusive content from Our Esquina. You can unsubscribe at any time.