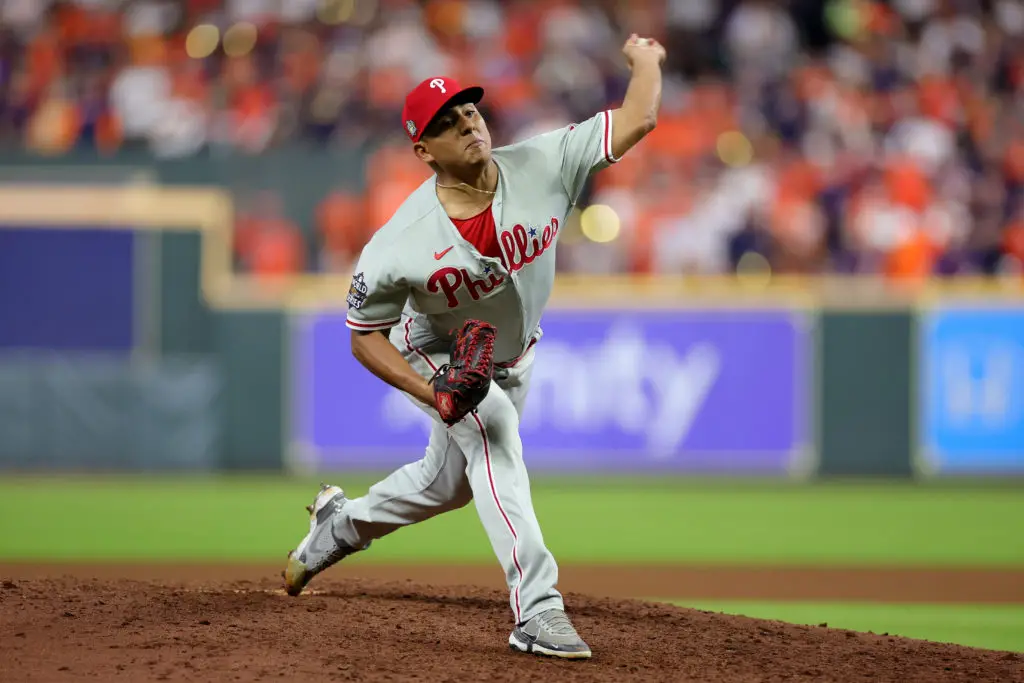 Ranger Suárez 'locked in' for World Series start
Ranger Suárez will start Game 3 of the World Series for the Philadelphia Phillies.
PHILADELPHIA – As a kid in Venezuela, Ranger Suárez dreamed of playing in the World Series. You wouldn't know that by his cool and calm demeanor.
Take Game 1 for example. Called upon in relief in the eighth inning with the score tied, Suárez nonchalantly snagged an Alex Bregman comebacker. Then, as if playing catch, he tosses the ball from glove hand to pitching hand and delivers a strike to first base to record the out.
"I've always been like that. Ever since I was a kid I've been like that," Suárez said. "I just try to go out there and have fun. That's really what I try to do when I go play baseball."
Suárez ready for Astros
Now, the 27-year-old lefty is set to start in the Fall Classic. He was originally slated to start Game 4. But after Game 3 was postponed, Phillies manager Rob Thomson moved Suárez up one game.
This decision was easy for Thomson. Anytime Suárez has been called upon — as a starter, middle reliever, and closer — he has delivered.
"I think just some guys are like that," Thomson said. "Some guys get sped up, some guys get a little excited, and some guys their heartbeat stays the same, and Ranger is one of those guys. Nothing seems to affect him, situation, game. Nothing really bothers him."
Slaying the beast
It's not lost on Ranger Suárez who his opponent is. The Houston Astros hand him his worst beating of the year in his last start of the season. He lasted just three innings and gave up three home runs and six earned runs, both season-worst for Suárez.
"It was definitely a bad start for me. I really think that I wasn't prepared at all for that start," he said. "You know, like, we're human beings too. I had a bad day. Anyone can have a bad day."
That start taught the Piedecuesta, Venezuela, native a lesson in preparation. It might be reason why preparedness has been a theme of Suárez in every press conference he has done this Postseason.
It's the reason why he has been able to adapt to the many different roles he has played throughout the postseason. Ranger Suárez is no longer looking back as he tries to give the Phillies a 2-1 series lead.
"But I'm looking forward, he said. "I'm going to try to be more focused."
He also vows to attack the strike zone more and be locked in. A win tonight, will line him up to start in a potential Game 7. Would you want anyone else taking the ball in such a game?
Get the Our Esquina Email Newsletter
By submitting your email, you are agreeing to receive additional communications and exclusive content from Our Esquina. You can unsubscribe at any time.