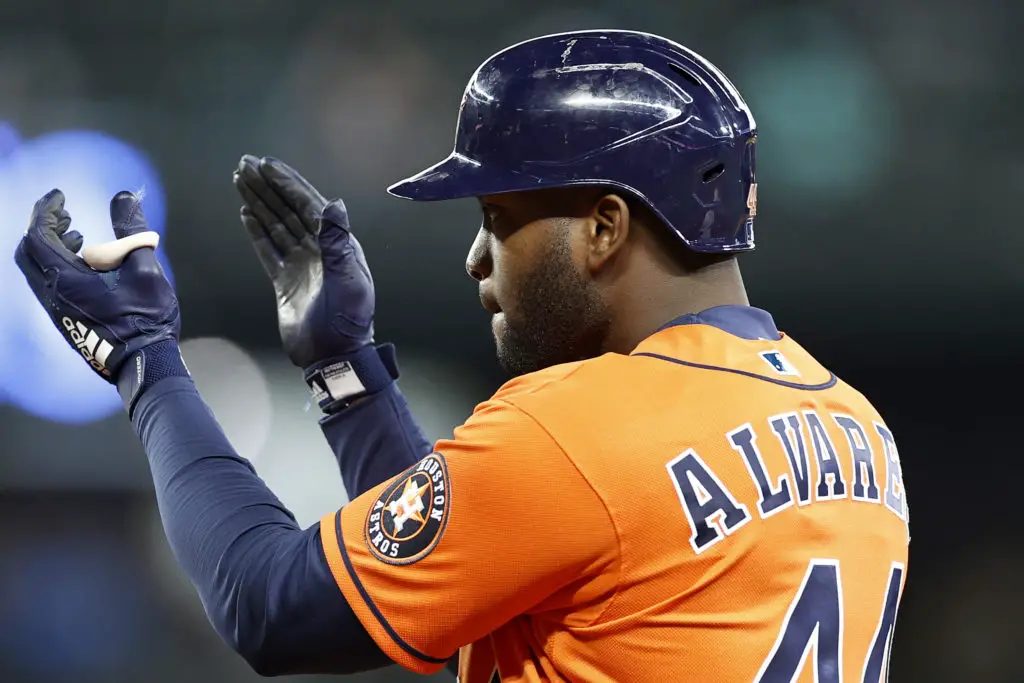 Jeff Bagwell can see Yordan Alvarez as AL MVP
Jeff Bagwell can see Astros slugger Yordan Alvarez become franchise's third MVP.
HOUSTON – Jeff Bagwell has seen the greatest players of the Astros' two greatest generations from up close. He and fellow Hall of Famer Craig Biggio led the franchise's first team to win a league pennant. He has also been an adviser for the generation that won the franchise's first World Series title. 
Moreover, Bagwell and Jose Altuve are the only two players in franchise history to win a league MVP Award. Old No. 5 won the National League MVP in 1994. Altuve won the American League MVP Award in 2017.
Which begs the question, can Alvarez become the Astros franchise's third league MVP?
'I don't see why he couldn't," said Bagwell, who will be on the Astros' broadcast for this weekend's series. "Yordan is literally must-see TV. When he's coming to the batter's box, you don't get up to go get something to eat.
"When No. 44 comes out of the dugout and steps into the batter's box it just makes a difference. Whether or not he gets a hit he just makes a difference when he steps into the batter's box. That's part of the value. I'm a firm believer that he can get better."
Good and Getting Better
In only 284 games in the majors, Alvarez, 24, already has 78 home runs and 224 RBIs. He's yet to reach his peak. 
Astros manager Dusty Baker agrees that Alvarez can still get better. More importantly, Alvarez believes that he can still get better.
Sign up for Our Esquina's weekly newsletter.
"In the game there are always things to improve," Alvarez said. "I think you always have to make adjustments to what you're doing if you want to maintain the results."
The Best Astros Hitter Ever?
Bagwell wasn't surprised to hear seven-time All-Star Altuve say that Alvarez was the best hitter he's ever played with. 
Altuve has played with fellow All-Stars George Springer, Carlos Correa and Alex Bregman over the last decade in Houston. Springer and Correa were among the top free agents in their respective classes.
Altuve's comments didn't come off as hyperbole, though.
It is quite telling that Bagwell and Altuve both view Yordan Alvarez with the same awe. Altuve calls Alvarez perhaps the best hitter he's ever played with, and Bagwell can see why Altuve can make that claim.
"Jose is pretty much saying the same stamp I'm putting on (Alvarez)," Bagwell said.
Alvarez, who officially signed a six-year, $115 million contract extension on Monday, is one of the most complete hitters in baseball. He's second in the majors with 17 home runs, but the 6-foot-5 slugger from Cuba is more than just a power hitter. 
"The thing about Yordan, which I'm surprised how we got him, is if you look at his natural swing his natural swing is to left-center," Bagwell said. "He can hit to all fields. Being left handed to do that, you're more than a power hitter. You're a hitter with power. 
"Yordan happens to have a bunch of power, and he can freaking hit. And he can get better. … To be as big as he is and as strong as he is and how far he hits the ball, when you get a hitter like that, you have something special." 
Can Yordan Alverez Win AL MVP Award?
If Yordan Alvarez becomes the Astros' third league MVP this year, it might be fair to say his campaign picked up in June. On Monday, he was announced as the AL Player of the Week for the week ending on Sunday.
He has now reached base in 10 consecutive games. After going 3-for-4 with 2 RBIs on Wednesday against the Mariners, he improved his batting average to .500 during his streak of 10 consecutive games reaching base safely.
He is 19-for-38 with 2 doubles, five home runs, 13 RBIs, a triple, .568 OBP, 1.000 SLG, and 1.568 OPS during his 10-game, on-base streak. He has a trio of 3-hit games this month matching the total of three-hit games he had over the first two months of the season.
Less than two years after undergoing surgeries on both knees, Alvarez also draws raves as an outfielder and base runner. 
"And by the way, his defense is pretty good," Bagwell said of Alvarez. "And he's one of our best runners. He takes good angles. He's an intelligent base runner, and he's got surprisingly good speed, great speed for as big as he is. He makes good turns."
Get the Our Esquina Email Newsletter
By submitting your email, you are agreeing to receive additional communications and exclusive content from Our Esquina. You can unsubscribe at any time.