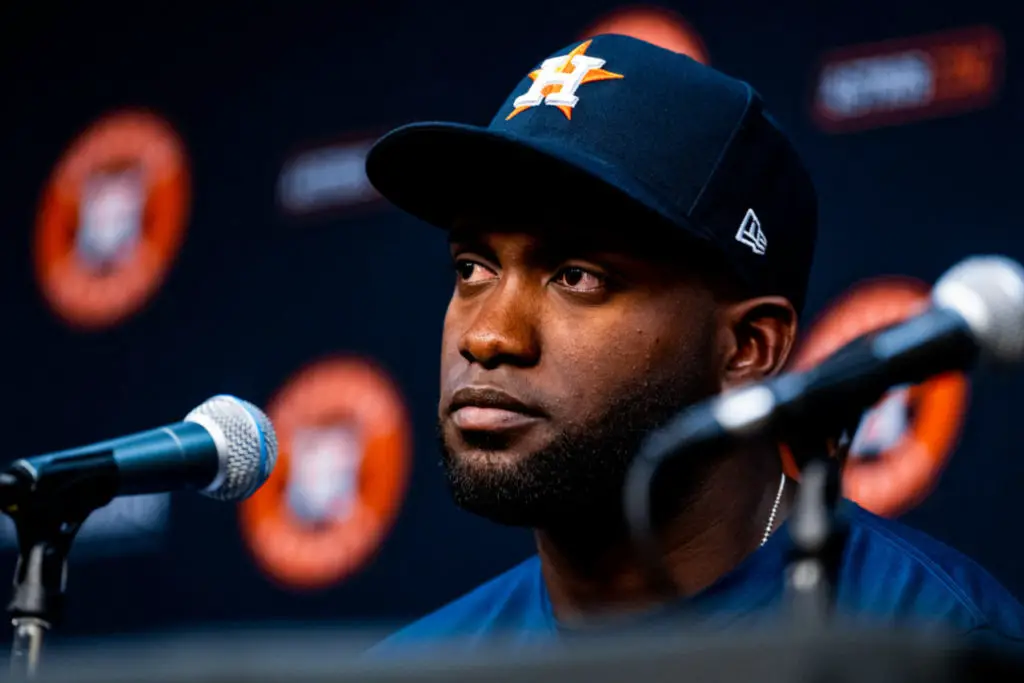 Yordan Alvarez wipes away tears, doubts
Yordan Alvarez signs extension two years after surgeries on both knees.
HOUSTON – Yordan Alvarez recalled the tears and the loneliness he felt almost two years ago. He looked past the rows of reporters and toward the men sitting on the platform where television cameramen captured his every word Monday.
At 24, the Cuban slugger had just secured generational wealth with a six-year, $115 million contract extension. Some have wondered if he's leaving money on the table. If he lives up to his tremendous potential, he surely will in this deal after trading lifetime security of three years of free agency.
Alvarez, however, has fresh painful memories of how quickly a career can be in peril. He mentioned the "Lagrimas" (tears) he felt almost two years ago when the debilitating pain in his left and right knees prompted him to undergo surgery on both knees on Aug. 19, 2019. After becoming the Astros franchise's third Rookie of the Year in 2018, he played only two games in 2019 before undergoing season-ending surgery.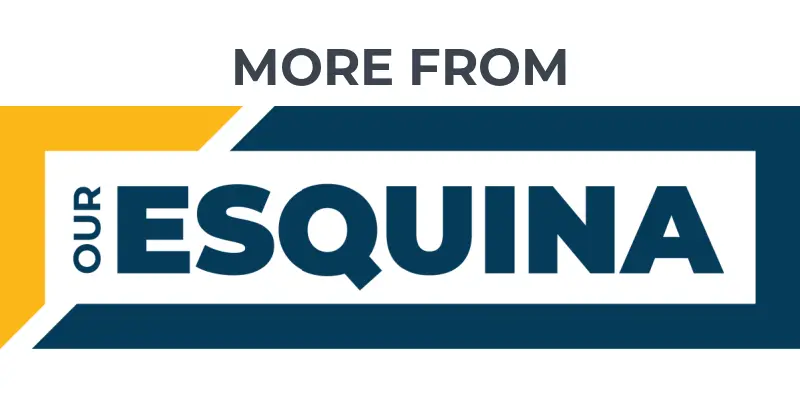 He spent most of the COVID-shortened 2020 season away from his teammates, watching the playoffs away from the team at his home in Florida.
Yordan Alvarez missed 2020 playoffs
"I had the surgery. I had to wait and recover," he said. "That year I could see the guys get to the playoffs. I got to see it from my house, but with God's grace the next year I recovered and we're here."
Alvarez credits his teammates with helping him through that difficult time. He leaned on fellow Cubans Yuli Gurriel and Aledmys Diaz, two All-Stars who helped usher him into the majors in 2019 and then through the lows of 2020. 
Sign up for Our Esquina's weekly newsletter.
Gurriel and Diaz attended Alvarez's press conference on Monday afternoon. They were joined by Michael Brantley and Jose Altuve, pitcher Jake Odorizzi and hitting coach Alex Cintron.
Alvarez made the most of his return last season while helping the Astros reach the World Series after earning the American League Championship Series MVP award. 
He was addressing the media Monday when Major League Baseball announced he was named the AL Player of the Week after hitting four home runs, 13 hits and scoring eight runs with eight RBIs last week with a slash line of .391/.481/1.217.
"I think he's the best hitter I've ever played with," Altuve, the 2017 AL MVP, said of Alvarez. "He's amazing. What he can do, he can hit the ball the other way. He can get hits, triples, homers, he walks. He's a really good hitter. Like I said before, I'm for this deal."
That's a tremendous compliment, considering the seven-time All-Star Altuve has played with George Springer, 2015 AL Rookie of the Year Carlos Correa and All-Star Alex Bregman.
Security for both sides
Alvarez is hitting .288 with 16 home runs and 34 RBIs over 49 games this season. At this pace, he'll surely make a run at the AL MVP Award and his first All-Star berth.
The 6-foot-5 slugger is still quite young, though. He likely hasn't hit his peak. He'll likely anchor the Astros for the next six years in the same way Altuve has anchored the club during the greatest run in franchise history.
"To be able to have a player like that on our team for the foreseeable future, it's a cornerstone player," Astros general manager James Click said. "It allows us to build a roster around him, build a lineup around him. 
"That's sort of security both for him and for us as we continue to try to compete for World Series championships. It's huge that we're going to have a player of that caliber anchoring our lineup for the foreseeable future."
Alvarez wiped away the tears long ago, but the memories remain.
Yordan Alvarez deal 'great for city'
His manager Dusty Baker declared Alvarez's deal a great thing for the Cuban slugger, the Astros and the city of Houston. 
Alvarez's $115 million contract is a sign of the Astros' commitment to win, Altuve says.
"It says a lot. They like to win," Altuve said of Astros owner Jim Crane and the organization. "A guy like Yordan is going to help this team win. Obviously he can really hit.
"He can play some defense. Happy for him, happy for the organization, happy for the city of Houston. This is a great deal for everybody."
Yordan Alvarez secured his future, and the Astros secured their anchor. The doubts from August 2020 are gone.
"Those are negative things that go through your head when you go through a thing like that," Alvarez said of the knee surgeries. "I thought about it. Before making the decision I don't know how many times I asked the doctor what the probability was that I wouldn't suffer at that point. 
"I think he told me that he assured me that at least 90 percent or 95 percent I would be fine. I said, 'With that I'll be fine.'"
Alvarez is more than fine. He's been well enough to prove that he's more than a designated hitter. Now he finds motivation in those who doubted that he could be a quality outfielder.
Get the Our Esquina Email Newsletter
By submitting your email, you are agreeing to receive additional communications and exclusive content from Our Esquina. You can unsubscribe at any time.