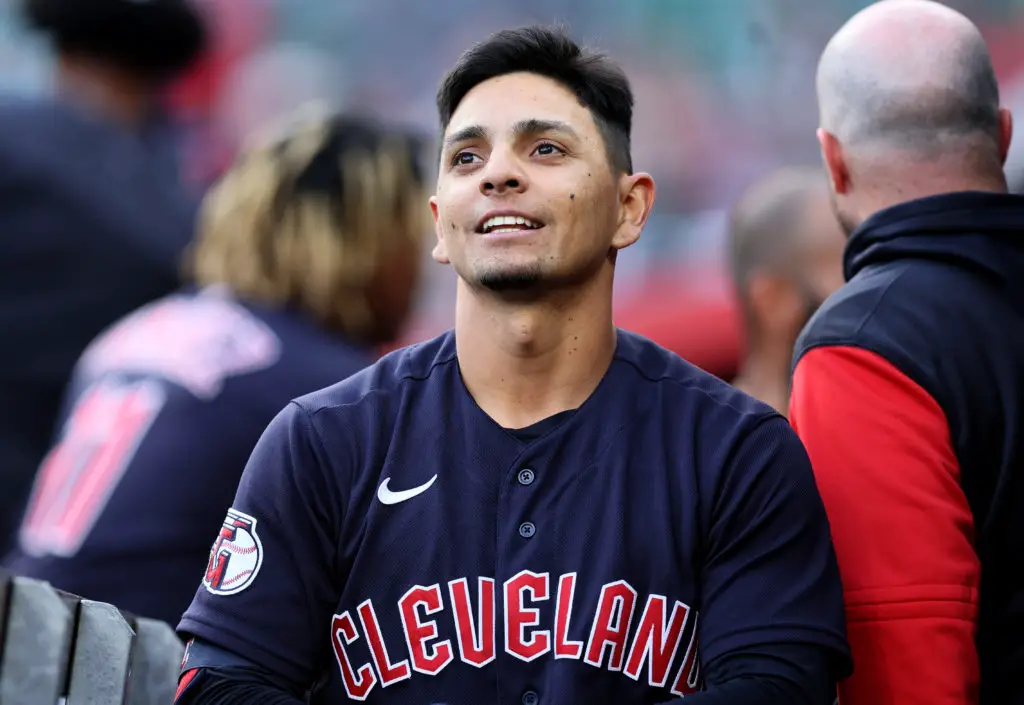 Guardians' Andres Gimenez blossoms into star
Guardians infielder Andres Gimenez fulfills his dream.
HOUSTON – Andres Gimenez was only 14 in Venezuela when he first believed that Major League Baseball was in his future. That's the age in which the Cleveland Guardians' young second baseman stopped playing recreational baseball and entered a baseball academy to begin the process of becoming a professional athlete.
By the time he was 15 years old, Gimenez began leaving his native Venezuela to play baseball in front of big league scouts in the Dominican Republic. He would leave his parents behind in Venezuela for a week or two at a time to chase his dreams in the Dominican Republic.
He remembers attending tryouts in the Dominican Republic with some of today's biggest young stars, Vladimir Guerrero Jr. and Juan Soto.
"I went alone for those opportunities," the Guardians' second baseman says. "Those are the sacrifices you make. You put the family to the side to try to put them in a better place."
The sacrifices paid off rather quickly, considering the New York Mets gave him a $1.2 million signing bonus when he was a 16-year-old amateur free agent in 2015. His march toward stardom continues.
Sign up for Our Esquina's weekly newsletter.
Guerrero and Soto are now among the biggest stars in baseball. Now Gimenez is starting to ascend to prominence this season while showcasing the potential that had international scouts drooling when he was 15 and 16. 
Andres Gimenez gets the call
At 23, Gimenez is already in his third season in the majors and second with the Guardians. He jumped from Class AA to the majors to debut with the Mets during the COVID-shortened 2020 season. 
Gimenez finished seventh in the National League Rookie of the Year race in 2020. Then the Mets sent him to Cleveland in a package for superstar shortstop Francisco Lindor and Carlos Carrasco before the 2021 season. 
Cleveland manager Terry Francona initially used Gimenez at Lindor's old shortstop spot to start, but they shipped him down to Class AAA a month into last season. He finished the season with a .218 batting average and five home runs and 16 RBIs over 68 games last season.
"He's so young," Francona said. "Last year being with a new organization, there was a lot coming at him last year. This year he seems to be more grounded. I don't think he feels like he has to get a hit every game he plays.
"We moved him from second to short back and forth a little bit. He handles both of them really well, got plenty of arm, plenty of speed. He's still really young. There's just so much to like. He's a great kid. He wants to do the right thing." 
A dream come true
Andres Gimenez and perennial American League MVP candidate Jose Ramirez have been two of the Guardians' best hitters lately.
Gimenez homered in consecutive games for the first time in his career this weekend in Baltimore. The slight 5-foot-1, 161-pounder from Barquisimeto, Venezuela, showed off his power with a majestic homer that reached Baltimore's Eutaw Street.
His power display in Baltimore was part of a career-high, nine-game hitting streak that was snapped Tuesday afternoon in the second game of a doubleheader against the Rangers.
"I always had the dream," Gimenez said. "I always had the dream of being a big leaguer, but I knew I could do it when I was 14."
Seven years later, he was in the majors in 2020. But now at 23, he's showing the potential to be a star in the majors as well.
Get the Our Esquina Email Newsletter
By submitting your email, you are agreeing to receive additional communications and exclusive content from Our Esquina. You can unsubscribe at any time.