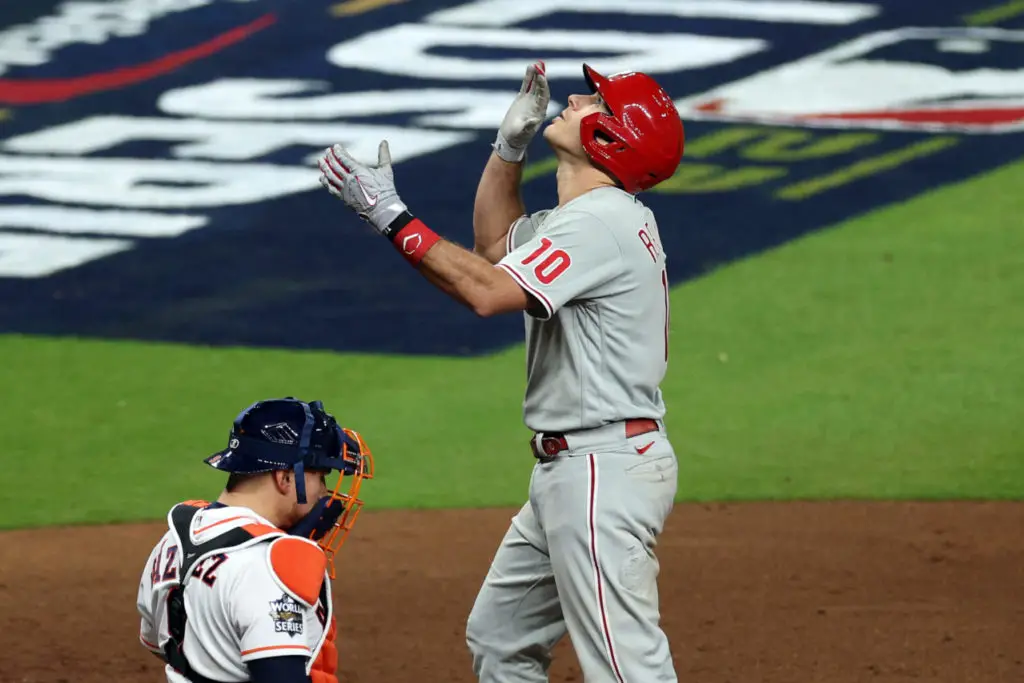 J.T. Realmuto sparks Phillies Game 1 comeback
J.T. Realmuto paces Phillies in Game 1 of the World Series
HOUSTON – Officially, J.T. Realmuto made his World Series debut Friday night at Minute Maid Park. But the Philadelphia Phillies' star catcher had performed in countless imaginary Fall Classics leading up to his heroics in Game 1. 
The Philadelphia Phillies' All-Star catcher had "played" through similar situations countless times in his mind growing up in Oklahoma. 
By the time he strolled to the plate with the bases loaded and two outs in the fifth inning, J.T. Realmuto was prepared. Neither the moment nor Astros ace Justin Verlander could deny him. He capitalized in the same way he did many times as a child in Midwest City, Okla.
"I mean Wiffle ball games in the backyard, the whole 3-2 bases loaded two-out situation, I probably had 7,000 at-bats in that situation growing up," Realmuto said after his 10th inning home run capped the Phillies' stunning come-from-behind 6-5 victory over the Houston Astros.
Rare company
When asked if he always did well in those clutch situations, the former high school state champion in football and baseball cracked a smile and laughed.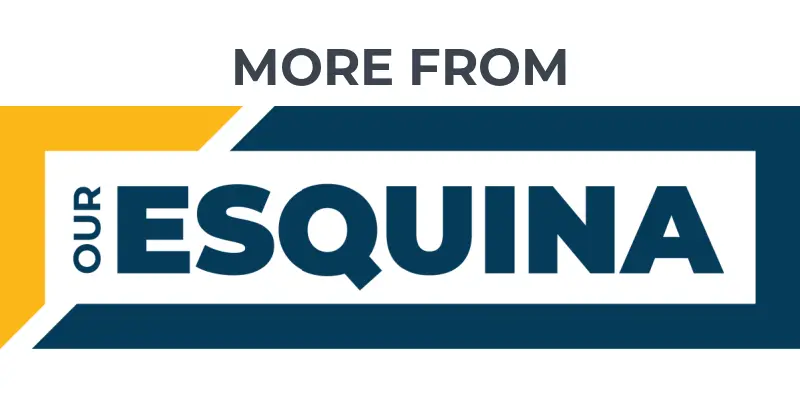 Framber Valdez recalls last World Series failures
Houston Astros Do it for Dusty Baker
Marco Regalado plays sweet tune at Rice
"Every time, yes," said Realmuto, who has three home runs this postseason.
The 6-foot-1, 212-pounder from Del City, Okla., capped the Phillies' comeback from an early 5-0 deficit. Then he delivered the winning run with a home run to right field off Luis Garcia in the 10th to stun the rowdy, orange-clad sellout crowd.
The Phillies had never won an extra-inning World Series game prior to Game 1. Moreover, Realmuto became only the fourth catcher in major league history to hit an extra-inning home run since Hall of Famer Carlton Fisk hit his famous one in 1975 against the Cincinnati Reds. 
Until Realmato tied the score at 5 in the fifth, the night belonged to Astros right fielder Kyle Tucker. He opened the scoring with a leadoff home run in the second inning. Then Tucker hit a three-run blast in the third to give the American League champions a 5-0 lead.  
J.T. Realmuto denies Kyle Tucker spotlight
Verlander gave it all back over the next two innings. History will show that Astros manager Dusty Baker stuck with his veteran ace one inning too long. Conversely, Phillies manager Rob Thomson directed his bullpen through Game 1 masterfully.
Thomson employed five relievers after Aaron Nolan gave him only 4 ⅓ innings. Thomson even used his likely Game 3 starter, lefthander Ranger Suarez, for crucial outs in the seventh and eighth.
Realmuto guided those relievers through 5 ⅔ scoreless innings. His job behind the plate was just as important as his performance at the plate. 
"Yeah, I'm sure he's feeling ecstatic right now," Thomson said of Realmuto. "I thought he caught a great game, he called a great game, he did a great job with our bullpen, and he had a couple of big hits. He's playing really well right now."
Realmuto definitely played very well. Despite so much success, Realmuto dreaded that Tucker would make a sensational leaping cap in the 10th to deny him the homer at the wall.
Tucker had made a similar catch at home to deny Aaron Judge in the American League Championship Series. 
J.T. Realmuto wouldn't be denied
"I thought I got enough of it, but I kind of had flashbacks of the play that Tucker made on Judge's ball that last series," he said. "And once I saw him running back to the wall, I was thinking in my head, 'Oh, please just don't catch it, just don't catch it.'
"I knew it was going to be close. I thought originally I had enough, but once I saw him running back to the wall, I wasn't so sure."
Backyard Wiffle ball dreams rarely end with an opponent making a leaping catch. Kids dream about shots like Fisk's and Realmuto's.
"Yeah, honestly, just ecstatic to put a good swing on that pitch, be able to give our team the lead," he said. "We did such a good job fighting back there. We had the momentum on our side after that fourth, fifth inning, and it was just a big win for us tonight to be able to cap that off after being down 5-0."
Get the Our Esquina Email Newsletter
By submitting your email, you are agreeing to receive additional communications and exclusive content from Our Esquina. You can unsubscribe at any time.