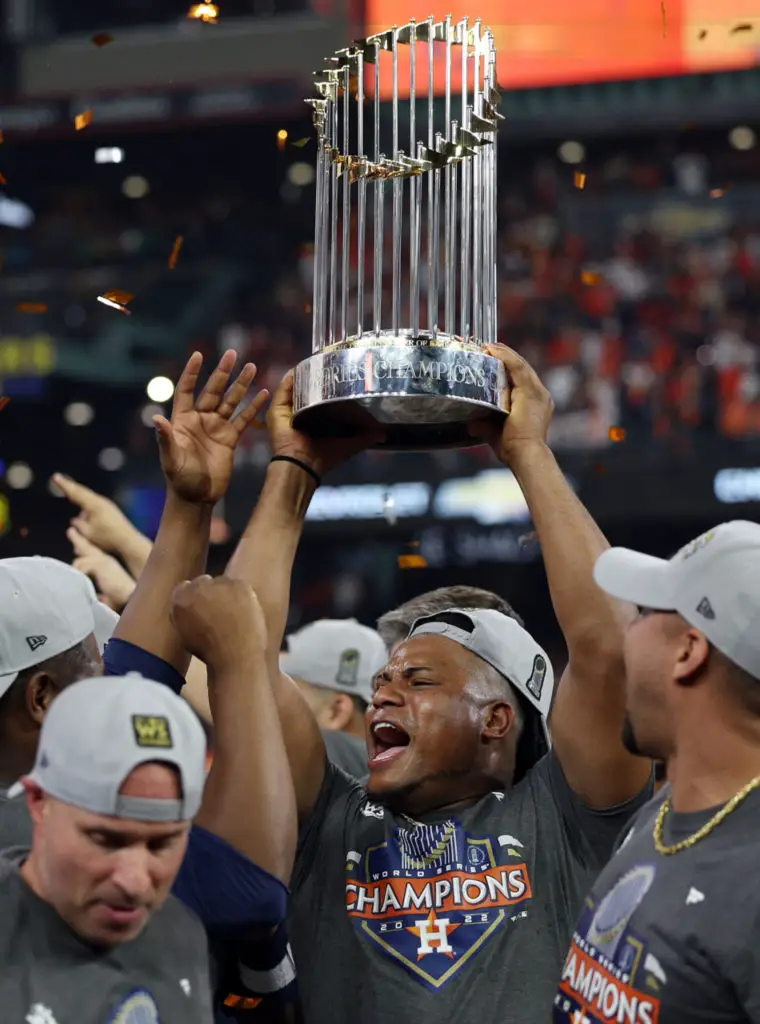 Framber Valdez shares Astros title with family
Framber Valdez dominates Phillies to clinch World Series title
HOUSTON – Jose Altuve was taking pictures of his wife and daughters with the Commissioner's Trophy late Saturday night when he saw Astros lefty Framber Valdez waiting behind them in the Minute Maid Park outfield. 
Altuve then carried the trophy over to Valdez and began trying to shoot pictures of the Valdezes. As Altuve knelt to shoot pictures, Valdez's two-year-old son Franmy put his miniature Dominican Republic flag on the ground and tugged at the top of the Commissioner's Trophy before scampering away.
Valdez held his one-year-old son Frayker's hand for about 10 seconds before Frayker escaped behind his paternal grandmother Santa Delfina Pinales, who also held a Dominican flag.  Framber Valdez's wife Isamar Teresa de Valdez hoped to pose with her island's flag, but she ended up using it to wipe sweat from her husband's forehead in the few seconds both of their boys knelt at the side of the trophy.
Shooting a portrait with two toddlers proved to be more difficult for Framber Valdez on Saturday night than his work on the mound against the Philadelphia Phillies. 
"It's an honor to have my family here present with me," Valdez said after beating the Phillies 4-1 in Game 6 before a rowdy sellout crowd of 42,958 to win the best-of-seven Series, 4-2.
Framber Valdez dominated Phillies
A good case could be made that Valdez deserved to be the World Series MVP, but the Willie Mays trophy went to rookie shortstop Jeremy Peña. Valdez was 2-0 with an impressive 1.46 ERA in the Fall Classic while holding the Phillies to two runs on six hits with five walks and 18 strikeouts over 12 ⅓ innings. 
Kyle Schwarber's leadoff home run in the sixth gave the Phillies a temporary lead in the Saturday night. But Yordan Alvarez put the Astros up for good with a three-run, 450-foot blast to straightaway center field in the bottom of the sixth. Christian Vazquez drove in another run to cap that four-run rally.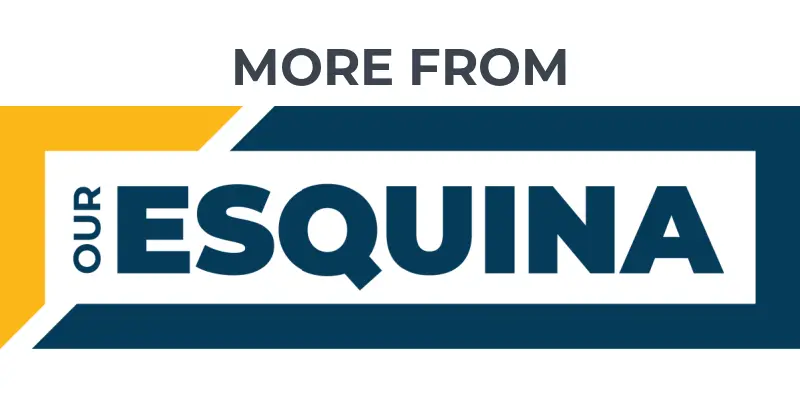 Yordan Alvarez seals Astros' World Series title
World Series MVP Jeremy Peña makes history
Framber Valdez welcomes dad to World Series
Ramon Urias is Mexico's first Gold Glover since '86
Valdez tied the Astros' record for strikeouts in a World Series game twice. He had nine strikeouts over 6 ⅓ innings in Game 2. He then had nine strikeouts again while giving up one run, two hits and two walks over six strong innings to win Game 6.  
"I'm very happy and very proud," Valdez's wife said. "But first all I thank God, because without him none of this is possible. This is a promise that He made and kept, the Man from above. We're proud Dominicans! Arriba!"
A season to remember
Valdez, 28, capped the best season of his career by winning the decisive game of the World Series. He was the only pitcher to earn two victories in this Fall Classic. 
The World Series gave Valdez an opportunity for redemption after struggling mightily in the last Fall Classic. A year ago, he was 0-1 with a 19.29 ERA over two disastrous starts against the Atlanta Braves in the World Series. 
Framber Valdez took a major step forward with the help of a sports psychologist this season. He garnered his first All-Star berth. His mother joined him as he earned the decision as the American League beat the National League at Dodger Stadium in July.
Valdez finished the season with a 17-6 record and a 2.82 ERA over 31 starts. Valdez threw a career-high 201 ⅓ innings to easily surpass the previous career high he set in 2021 with 134 ⅔ innings. 
He was 3-0 with a 1.44 ERA over four postseason starts, holding the Mariners, Yankees and Phillies to four earned runs over 25 innings.
Dad's visit a major triumph
Even better, he finally persuaded his father Jose Antonio to overcome a fear of flying to travel from their native Dominican Republic to Houston to see him pitch in the majors. His father watched him pitch in the majors in person for the first time the previous Saturday as he beat the Phillies in Game 2 at Minute Maid Park. 
Jose Antonio was back at Minute Maid Park for Game 6.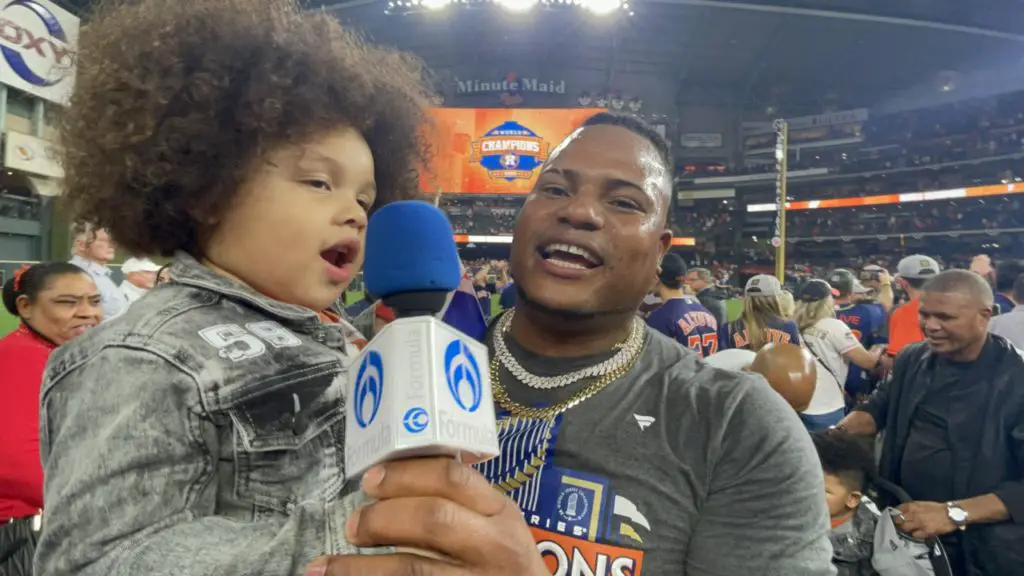 "I'm proud and happy," Jose Antonio said as he waved the Dominican flag. "My heart is beating hard, but I'm very happy. I'm happy, happy, Dominican 100 percent. I don't have the words to express how proud I am of my son."
Jose Antonio separated from Framber's mom when he was a child, leaving her to raise their four children in poverty. At times Framber slept on the floor of a local church as a child. Now he's the pillar of his family, supporting both parents. 
Framber Valdez carried by faith
Jose Antonio credits Pinales with making Framber Valdez the man he is today. She in turn credits God. 
"This is the ring I came for," said Pinales, an evangelical preacher. "And we took it. All the Glory to God."
A few minutes later, they tried to pose for a family picture with the World Series trophy. Jose Antonio stood patiently behind his son's powerful left shoulder. Pinales stood on the opposite side while their son and daughter in-law stood in the middle with the toddlers kneeling on both sides of the trophy. 
They never got the family to pose quite right for the photo because the boys were much more difficult to handle than the National League champs. But the Valdezes were happy to be together as a united family full of pride for their lefthanded starter and their beloved Caribbean island.
"I'm proud that we put the Dominican Republic up high," Framber Valdez said. "That's because of our hard work, thank God."
Get the Our Esquina Email Newsletter
By submitting your email, you are agreeing to receive additional communications and exclusive content from Our Esquina. You can unsubscribe at any time.