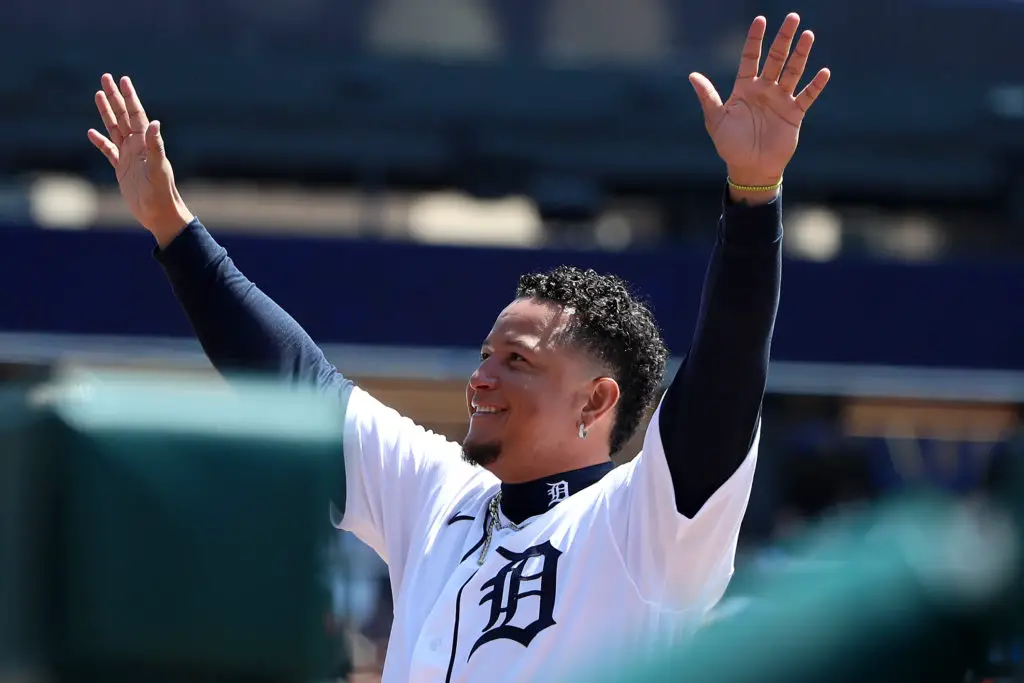 Cabrera, Soto highlight MLB feats in April
Latino MLB players highlighted in the first month of play.
If the first month of the 2022 MLB season is an indication, it's that the future is bright for America's Pastime.
Of the five major accomplishments in April, three are from players who are really just starting to make their presence felt. Today, we look back at five significant feats by Latino ballplayers in the first month of play.
---
Vladdy's Three Home Run Game
In only his fourth season, Vladimir Guerrero Jr. already has two career three-home run games. The first was against three-time Cy Young award winner Max Scherzer in 2021.
The second occurred on April 13 when the New York Yankees played the Toronto Blue Jays at Yankee Stadium. Two of Vladdy's shots were against another perennial Cy Young award candidate Gerrit Cole, and the other against elite reliever Jonathan Loáisiga.
"El niño está encendido," tweeted his father, Hall of Famer Vladimir Guerrero Sr., during his son's home run barrage. "The kid is on fire."

Guerrero Sr. was never able to accomplish this great feat during his career. Now, his son can brag about how he has done it twice, and counting.
---
Nestor Cortes' Immaculate MLB Inning
On April 17 "Nasty" Nestor Cortes was the latest MLB pitcher to toss an immaculate inning. That's three up and three down on three strikeouts and just nine pitches. He is only the 15th pitcher of Latino descent to accomplish this feat. Cortes is first Latino to do it since Germán Márquez did it in 2018.
Only 104 pitchers have ever tossed an immaculate inning in MLB history, making this more uncommon than a batter hitting three home runs in a game (642), hitting for the cycle (333), or a pitcher tossing a no-hitter (315), among other major accomplishments.
500 to 3,000 MLB hits
Juan Soto's 500th Career Hit
At the start of the season, I declared the 2022 MLB season "The Year of Juan Soto." On April 22, the 23-year-old from Santo Domingo, Dominican Republic, provided us with one more reason why.
Stepping in against San Francisco Giants pitcher Jakob Junis, Soto slapped a double off the right-field wall in Nationals Park in the third inning. It was the 500th hit of his career.
Soto is the sixth-fastest to reach the 500-hit mark in MLB history. The only five fastest to 500 hits were Bryce Harper, Mike Trout, Miguel Cabrera, Manny Machado, and Albert Pujols. Only six other players have reached that mark before the age of 24.
---
Miguel Cabrera's 3,000th hit
Soto is a long way from 3,000 hits, but on April 24, no. 24, the aforementioned Miguel Cabrera did just that. In front of a packed house in Comerica Park, Miggy slapped a right-field single for hit number 3,000 in his career.
Cabrera is only the third player in MLB history to tally 500 home runs, 3,000 hits and have a career batting average above .300. His Triple Crown in 2012 is the last one since 1967.
Miggy is truly one-of-a-kind and a sure-fire Hall of Famer.
---
Giancarlo Stanton's 350th Home Run
We conclude this list of major MLB accomplishments in April with New York Yankees slugger Giancarlo Stanton. On April 27, the Boricua from Panorama City, Calif., hit his 350th career home run.
Stanton became the seventh-fastest player to reach this accomplishment.
Stanton's home run came in his 1,341 career game. He joins a list that includes Mark McGwire (1,280 games), Juan Gonzalez (1,298 games), Alex Rodriguez (1,301 games), Harmon Killebrew (1,319 games), Albert Pujols (1,320 games), and Babe Ruth (1,329 games).

That's pretty good company.
Get the Our Esquina Email Newsletter
By submitting your email, you are agreeing to receive additional communications and exclusive content from Our Esquina. You can unsubscribe at any time.