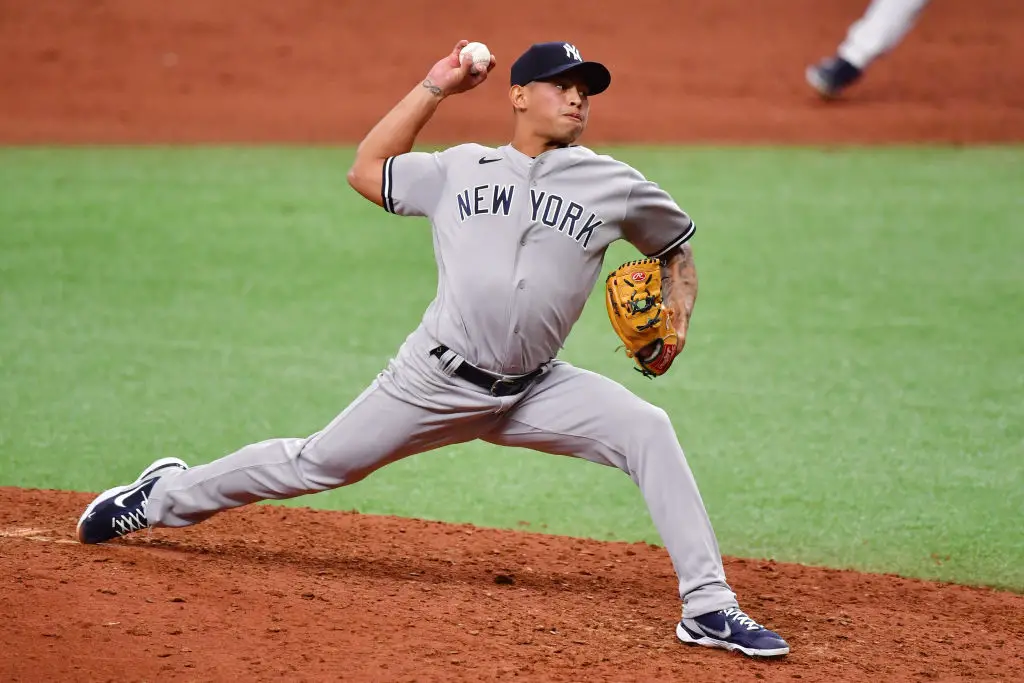 It's time to know Yankees' Jonathan Loaisiga's name
With a ramped up arsenal, Yankees reliever Jonathan Loaisiga - the only MLB player from Nicaragua - is ready for you to know his name.
When Jonathan Loaisiga was first called up to pitch for the New York Yankees, people couldn't get past his unique name. Numerous news outlets, broadcasts, and even his teammates took to calling him "Jonny Lasagna."
At the time, Loaisiga didn't mind the nickname so much. "It's grown on me," he said through the team's translator back in 2018.
With the way Loaisiga is pitching this season, perhaps it's time you get used to saying his name correctly. Go ahead, give it a shot.
Jonathan Loaisiga (lo-AYE-sig-ah)
This season, the Yankees have been abysmal. They hold an AL East worst 7-11 record, are collectively hitting just .211, and own baseball's worst slugging percentage (.338).
On the other hand, the team continues to dominate out of the bullpen. Despite logging the third-most innings by relievers, they own baseball's best fWAR (1.8) and the lowest ERA (2.19). And one of the main reasons for this level of success is Loaisiga, the 26-year-old flamethrower.
So, how has he become such an integral part of New York's success?
Jonathatn Loaisiga Sinks Hitters
As mentioned before, Loaisiga has gotten used to being the odd man out. Not only is his name quite uncommon in baseball, he is also the only current player in MLB to be born in Nicaragua.
Throughout his brief career, he has gotten numerous chances on the big stage as a spot starter and as a relief pitcher. Until this season, however, he hasn't been considered a mainstay on the Yankees' pitching staff.
In fact, this season already, Loaisiga has appeared in eight games. Prior to this, the most games he has ever appeared in a single season is 15. He accomplished this way back in 2019.
All throughout, he has demonstrated the ability to get MLB players out here and there. However, for some reason, he was never very consistent. until this season.
A deep dive into his pitching profile tells us how he is finally staking his claim on an MLB pitching staff.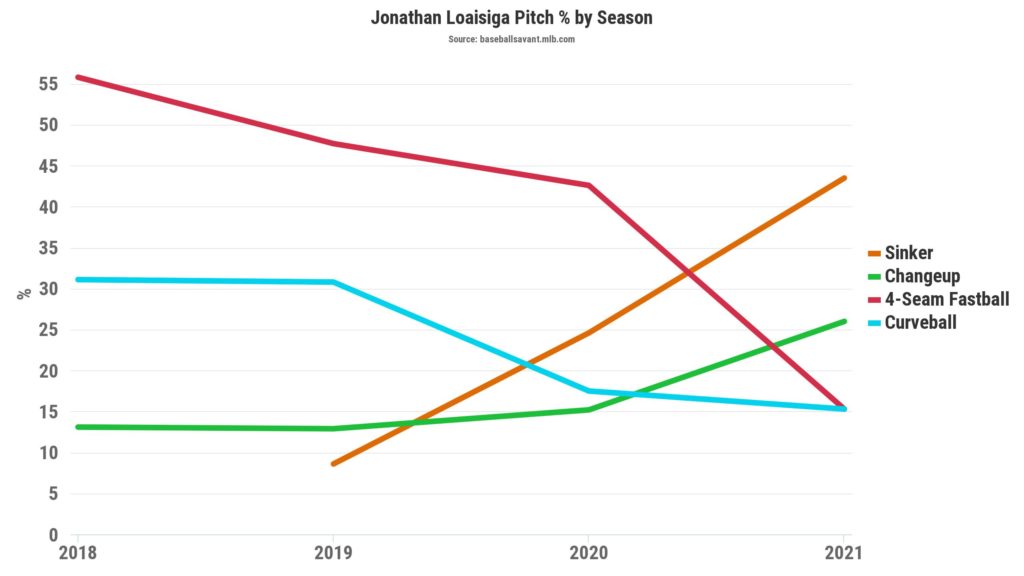 Since his debut in 2018, Loaisiga has developed a sinkerball and has steadily relied on it more and more. So much so, that he has moved away from his 4-seam fastball, using it only 15.3% of the time this season compared to 42.6% of the time in 2020.
This has resulted in an increased groundball rate, which is up 20% since 2019, the year he developed the pitch. It has also resulted in fewer barrels as players tend to make weak contact on sinking pitches.
In an era where launch angle is everything, Loaisiga has reworked his repertoire to keep the ball on the ground. Since 2018, he has reduced the launch angle of batters from 13.7 to 1.5. This has resulted in weak contact, like this inning-ending grounder by Bo Bichette.
Because of these adjustments, Loaisiga has helped the Yankees keep the ball in play. This season, Yankee relievers have a 0.81 HR/9 rate. That's fifth best in MLB and third best in the American League.
Increased Confidence
At 5-foot-11 and 165 pounds, Jonathan Loaisiga may not be as imposing as teammates Aaron Judge and Giancarlo Stanton. However, the way he has improved his arsenal allows him to stand tall against opposing hitters.
Not only has his sinkerball been extremely effective at getting hitters to top the ball, but he has also increased his swing-and-miss rate.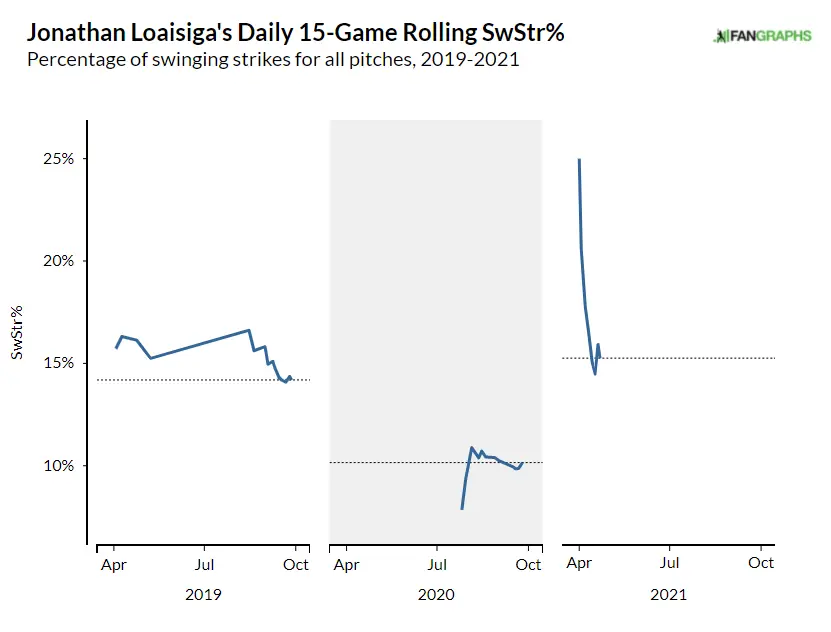 Loaisiga has accomplished this by demonstrating increased confidence in his stuff.
"Confidence is key," Loaisiga said about his ability to stay consistent this season. "Staying aggressive; staying away from walks and trying to attack hitters as good as possible."
Even though his velocity has increased, he is also throwing more strikes than ever. Since 2018, he has increased his strike percentage by more than 2%.
As a result, he is walking fewer hitters than he ever has and is leaving runners on base at a 93.8% clip, which is precisely what you want from a relief pitcher.
There's no question that Loaisiga has put in the work to get to enjoy this level of success. If he can continue to pitch at this level, the Yankees may have yet another shut-down arm in the bullpen, which takes a load off the rest of the team.
Feature image by Julio Aguilar/Getty Images
Get the Our Esquina Email Newsletter
By submitting your email, you are agreeing to receive additional communications and exclusive content from Our Esquina. You can unsubscribe at any time.