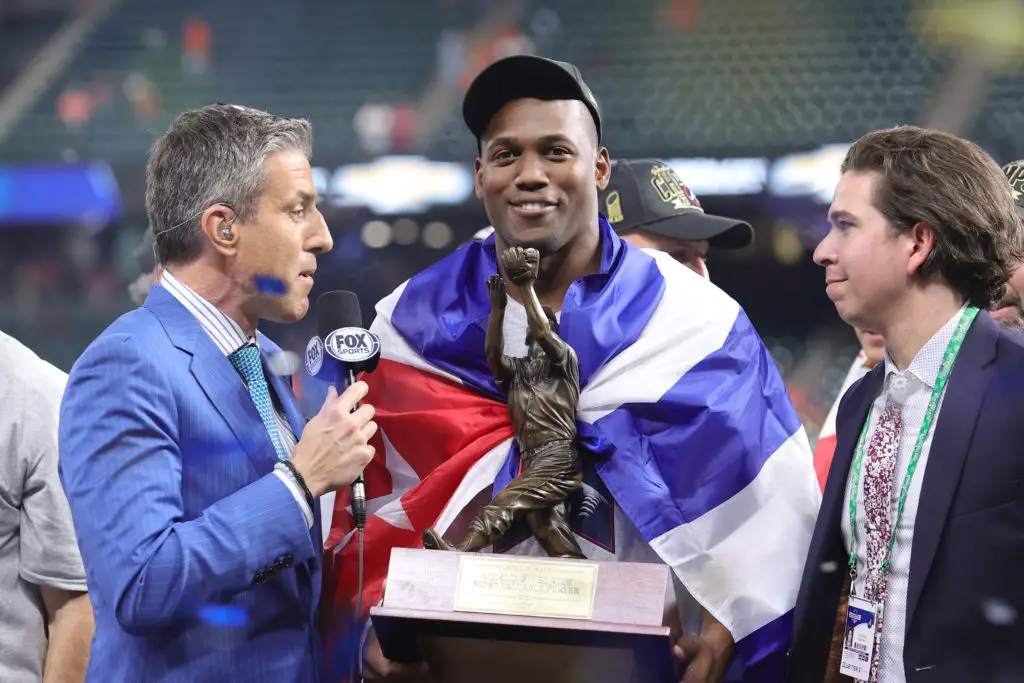 World Series MVP Jorge Soler makes presence felt
Jorge Soler puts Braves ahead for good with monstrous home run
HOUSTON – Jorge Soler didn't even bother tracking his monstrous shot as it sailed over the Minute Maid Park railroad tracks and toward Crawford St. The Atlanta Braves' slugger took a brief look at the ball as soon as he teed off. Then he turned toward his teammates.
Soler tapped his chest twice with his right hand, pointed toward the visiting dugout and declared, "Estoy aqui!"
"I'm here."
It was only the third inning Tuesday night in Game 6 of the World Series, but the 2021 season was essentially over. Nobody knew it at that time, but that's all the offense the Braves needed in Game 6 to clinch their first title since 1995.
Braves 7, Astros 0.
More World Series and Jorge Soler
Astros' Machete Martin Maldonado chops Atlanta
Jorge Soler pushes Braves closer to title
Mexican umpire Alfonso Marquez blazes trail
Jorge Soler drills historic leadoff shot for Braves
Soler didn't need to tell anybody that he was here. His bat did all of the talking, especially in Games 1, 4 and 6.
The Cuban slugger made his presence felt throughout the entire Fall Classic, earning the World Series MVP Award.
Never a doubt for Jorge Soler
"I knew I hit it well," Soler said. "But to be honest, immediately after I hit it, I turned around just to look at our dugout and start celebrating. So I didn't really see it go all the way out."
The 6-foot-3, 235-pound native of Havana, Cuba, made his mark from start to finish during the 2021 World Series.
Soler led off Game 1 at Minute Maid Park on Oct. 26 with a home run to left field, becoming the first player to lead off a Fall Classic with a home run. It was the 12th leadoff homer in World Series history, but no other player had led off the top of the first inning with a home run in the Fall Classic.
He joined another elite club in Game 4 on Saturday at Atlanta's Truist Park, when he hit a pinch home run to help the Braves pull away. That blast was only the fourth pinch, go-ahead home run in World Series history.
"We had one go out a couple days ago, and just all I was thinking about was now we've got to hold this lead because we couldn't a couple days ago," Braves manager Brian Snitker said. "But he's been swinging the bat so good. This whole World Series, he's had some — even just the walks he was taking were really big."
Nov. 2 good for Jorge Soler
Soler was one of the Braves' big acquisitions at the trade deadline. He wasn't having a very good season with the Kansas City Royals, but he proved to be a major piece in the postseason with Alanta.
He has now helped two organizations break long postseason droughts. On Nov. 2, 2016, he helped the Cubs snap their 108-World Series title drought.
Exactly five years later, Soler helped the Braves snap their 26-year title drought.
"I was traded over here, and it was challenging at first," Soler said. "I felt a little out of my comfort zone. I didn't really know people. It was kind of tough to go to a new place and start making those acquaintances and everything.
"Within a week, I felt right at home. Everyone in that clubhouse welcomed me in, and it felt instantly, after a little while, just like a family. It's top to bottom, from the entire organization since I joined, I always felt extremely welcome here."
The Braves were definitely happy that he was here with them this postseason.
Featured photo by Photo by Carmen Mandato/Getty Images
Get the Our Esquina Email Newsletter
By submitting your email, you are agreeing to receive additional communications and exclusive content from Our Esquina. You can unsubscribe at any time.