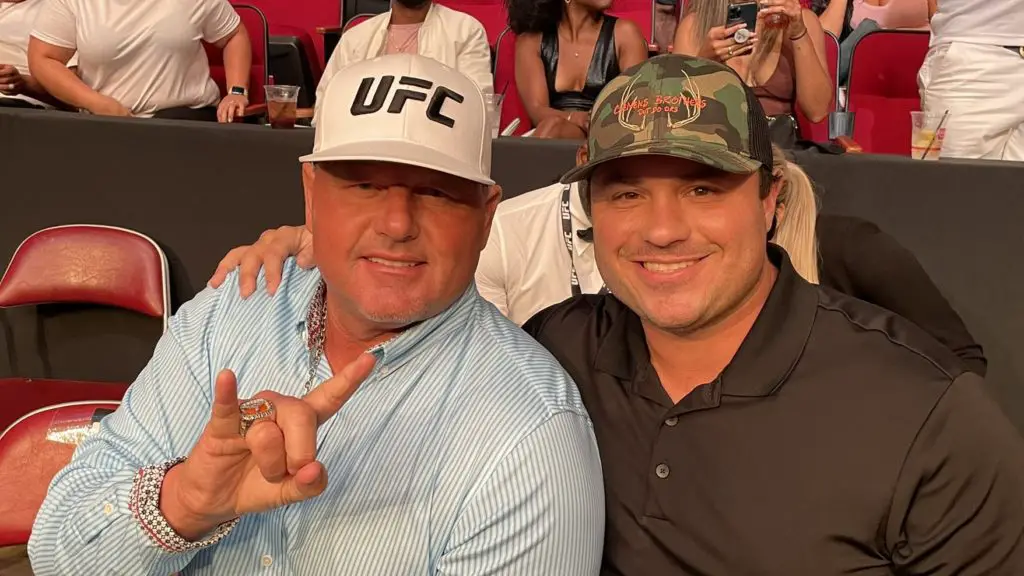 Roger Clemens, Barry Bonds get Ortiz's Hall of Fame vote
PED questions litter 2022 ballot
It's never easy to fill out the National Baseball Hall of Fame ballot. Some years are easier than others. But in the 16 times I've voted, this is the first I don't vote for two players who received my vote the previous year.
The character clause was tested yet again, and it's almost impossible to explain how some PED users get votes while others don't. First, let's share what the Hall sends us as part of the "BBWAA Rules for Election to the National Baseball Hall of Fame."
Under Rule 5. Voting – "Voting shall be based upon the player's record, playing ability, integrity, sportsmanship, character, and contributions the team (s) on which the player played."
One of the men who lost my vote this year lost it because of the character question. I have voted for Omar Vizquel in the past. Since I last voted for the defensive wizard, he has been accused of domestic abuse by his former wife and of sexually harassing a Birmingham Barons batboy.
When asked to consider character, it's impossible to overlook the accusations against Vizquel.
Curt Schilling loses vote
Former Red Sox and Phillies ace Curt Schilling has enough character questions to last a lifetime. Nonetheless, I voted for him the previous two years. This year I will not, per his request. Schilling asked the Hall of Fame to remove him from this year's ballot so that he could be judged by "men whose opinions actually matter. …"
"I wanted to reiterate this final point," Schilling wrote on Facebook last Jan. 26. "I will not participate in the final year of voting. I am requesting to be removed from the ballot. I'll defer to the veterans committee and men whose opinions actually matter and who are in a position to actually judge a player. I don't think I'm a hall of famer as I've often stated but if former players think I am then I'll accept that with honor."
With that in mind, we'll let a future veterans committee determine his Hall fate.
Greatest belong
Roger Clemens was the greatest pitcher of his generation. He's the only seven-time Cy Young Award winner. He fought to clear his name all the way to federal court, and he was acquitted. He won 354 games, posted a 139.2 WAR, won the 1986 AL MVP Award and was selected to 11 All-Star Games in his 24-year career.
The Baseball Hall of Fame is not complete without the pride of the University of Texas by way of Dayton, Ohio, and Houston. He's the most intense competitor I've ever covered. Clemens is also one of the greatest pitchers in baseball history, and the Hall if not complete without him.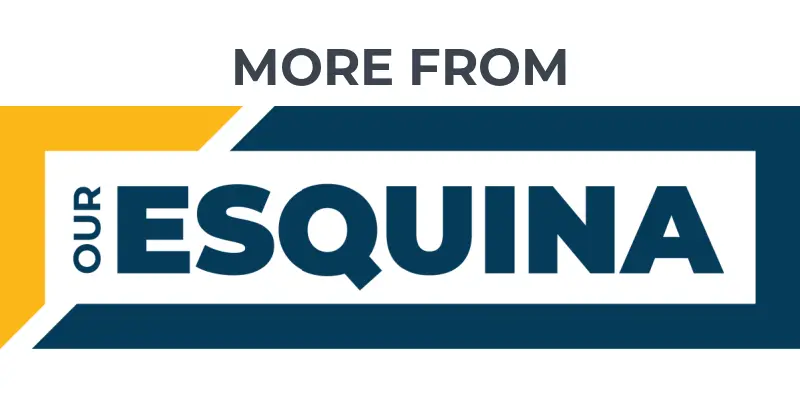 Tony Oliva and Minnie Miñoso finally land in Cooperstown
Alex Rodriguez not worthy of Baseball Hall Fame
Negro Leagues' Elevation Improves Minnie Miñoso's Hall Resume
All-time home run king Barry Bonds was linked to PEDs through the BALCO investigation. There's no denying he benefitted from PEDs. Still, in an era when many players were using PEDs while baseball owners looked the other way, let's not pretend he was the only Hall of Fame-caliber player who was using steroids or human growth hormone.
Once MLB began testing for steroids, Bonds never failed his test. Thus, I will vote for him for the ninth time in his 10 years on the ballot. Clemens and Bonds will both drop from the ballot if they're not elected this year. Ultimately, I bet a veterans committee will have to determine if they get into the Hall of Fame.
Underrated Bobby Abreu
Let's begin with former Phillies great Bobby Abreu's 60.2 Wins Above Replacement, which is higher than 11 of the 26 right fielders in the Hall of Fame. Look past Abreu's 288 home runs, 2,470 hits and career .291 batting average. 
"Bobby was a star player who by and large flew under the radar," said former Phillies and Astros general manager Ed Wade, who was an assistant GM when the Phillies acquired Abreu. "His raw numbers speak for themselves: 13 seasons of 150 or more games, 400 stolen bases, 922 extra-base hits, eight years with 100 or more RBI and eight years with 100 or more runs scored. 
"Bobby showed up ready to play every day, and that started on Day 1 of the 1998 season. He came over in the 1997 Expansion Draft trade with Tampa Bay and played 151 games."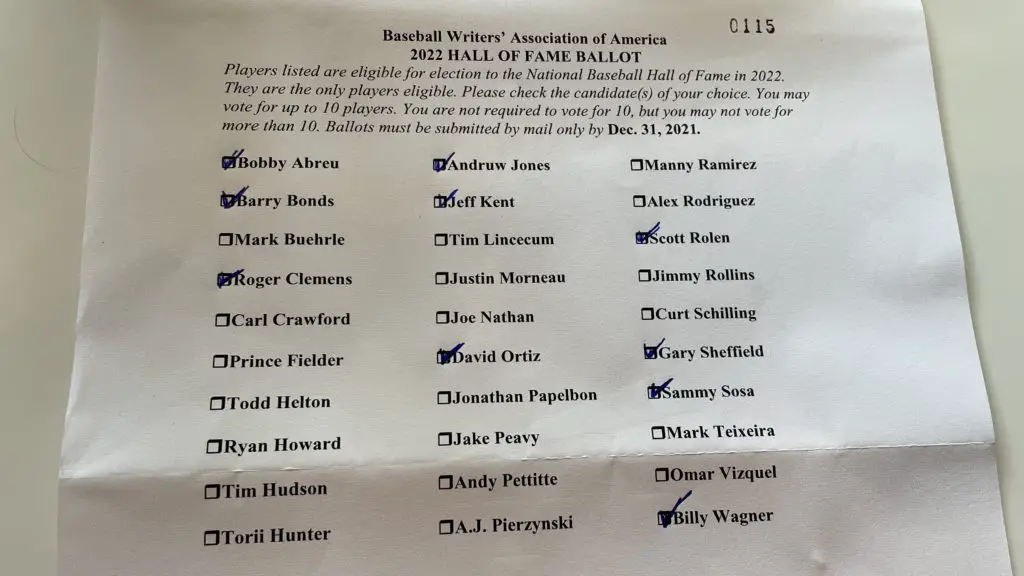 Billy Wagner
If Billy Wagner started his career with the New York Mets instead of the Houston Astros, he would already be in the Hall of Fame. Only the Yankees' Mariano Rivera was a better closer than the hard-throwing lefthander during their era.
Wagner played only 16 seasons, retiring when he still could have easily stuck around to accumulate more saves. If you put him on the list with current closers in the Hall of Fame, he would have the second-best career ERA (2.31) and the third best save percentage (85.9). Moreover, he would be fourth in career saves with 422.
It's a shame that Lee Smith had to wait until a veterans committee voted him into the Hall of Fame. Wagner will eventually land in Cooperstown. We hope he gets in on the BBWAA ballot. He received 186 votes last year for 46.4 percent in his sixth year on the ballot. He's trending in the right direction toward the 75 percent threshold necessary for induction.
Rivera is the only Hall of Famer in history to be a unanimous selection on the BBWAA ballot. On a list with Hall of Fame relievers, Wagner has the lowest opponents' batting average (.187), just ahead of Rivera. Wagner is second behind Rivera in WHIP, ERA (2.31) and ERA+ (187).
Wagner's 11.92 strikeouts per nine innings are more than any reliever in the Hall of Fame, far ahead of current leaders Trevor Hoffman (9.36) and Dennis Eckersley (8.83).
Moreover, I firmly believe Wagner was clean in the dirtiest era in baseball history. It's a shame some cheats have beat him into the Hall of Fame.
Defensive excellence: Rolen, Jones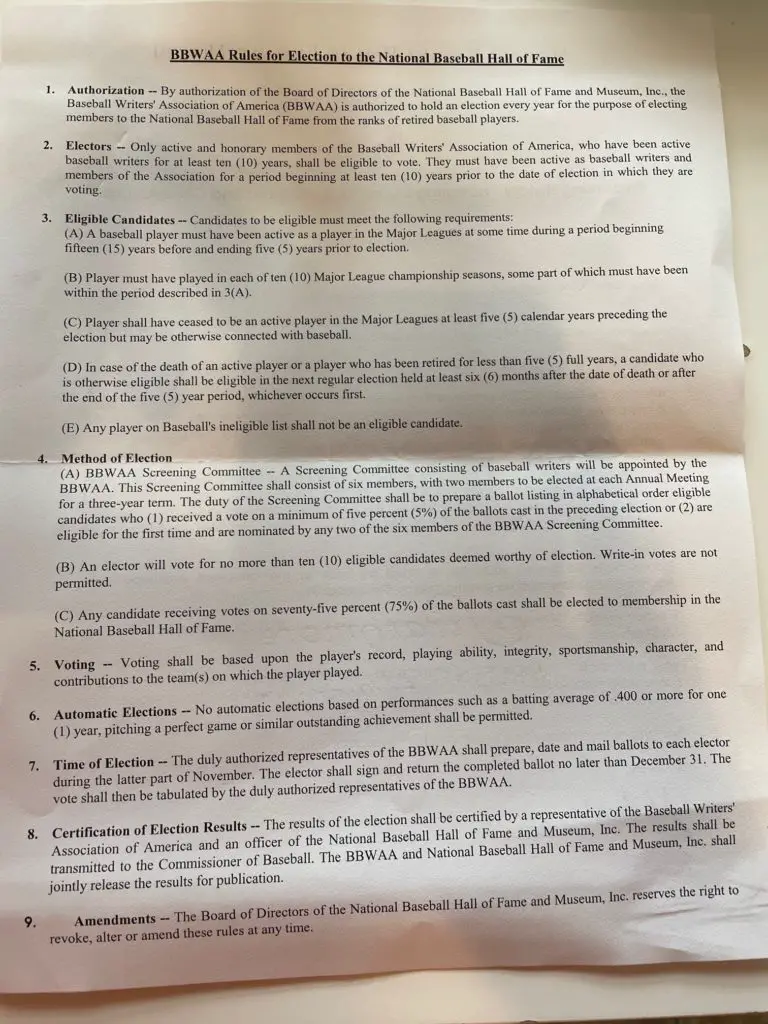 There's no doubt you would have taken first-ballot Hall of Famer Chipper Jones over Scott Rolen at third base during their era. Jones, however, was the only third baseman who was clearly better than Rolen during their era.
Rolen had the best combination of offensive and defensive excellence among the third basemen of his era. He has steadily increased his support over the last four years, jumping to 52.9 percent last year in his fourth year of eligibility.
I assume he'll make another good jump this year and then cruise to Cooperstown in the 2023 class. If not for crowded ballots in the past, he would have received my vote earlier. He'll finally get it this year.
If pitchers had their choice, many if not all surely would have picked Scott Rolen at third and Andruw Jones at center field during their era. Hall of Famers Greg Maddux, John Smoltz, Tom Glavine and Chipper Jones have all said Andruw Jones belongs in the Hall of Fame. I agree.
Big bats
Yet again, I'll vote for the greatest slugging second baseman of his era. Why doesn't Jeff Kent get more support? I don't get it. The former National League MVP was the most feared second baseman on his era.
Kent's 351 home runs are the most by a second baseman in baseball history. He also had 2,461 hits, and his .500 slugging percentage would be the second best among Hall of Fame second basemen, behind only Rogers Hornsby.
Kent was so good, the Astros signed him and moved club icon and Hall of Fame Craig Biggio to the outfield for two seasons.
Big Papis (plural) with steroid clouds
We've made the case for Big Papi David Ortiz on Our Esquina multiple times already, so you surely know he's getting my vote. Yes, we know he reportedly tested positive in 2003 during the anonymous round of testing.
We reiterate, though, that there are already steroid cheats in the Hall of Fame. Unlike A-Rod, Rafael Palmeiro and Manny Ramirez, he was never suspended by MLB. Thus, he'll get our vote.
Gary Sheffield and Sammy Sosa also were linked to PED use. Their numbers, however, were among the best in their generation. They'll get my vote again too.
Get the Our Esquina Email Newsletter
By submitting your email, you are agreeing to receive additional communications and exclusive content from Our Esquina. You can unsubscribe at any time.