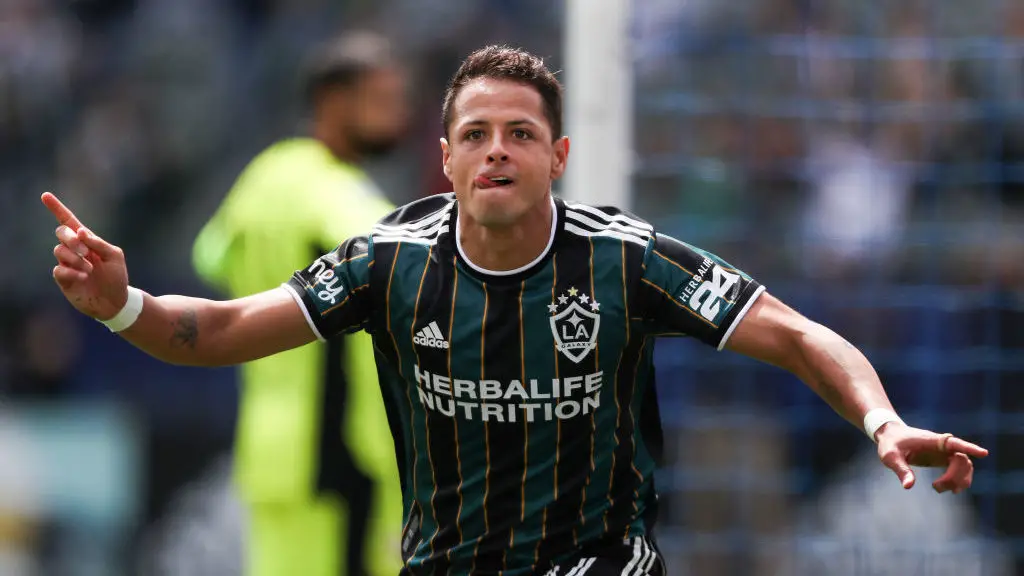 Hot Chicharito good for MLS, EL Tri, LA Galaxy
Mexican star Chicharito has the LA Galaxy off to a great start
El Chicharito offered a gentle edit, one that was more of a soft volley than a powerful strike. Yet, the correction highlighted the Mexican legend's pride and competitiveness after he scored his first hat trick in Major League Soccer.
After collecting the fourth hat trick of his career Sunday, Javier "El Chicharito" Hernandez was asked what that achievement meant. In Spanish, he mentioned a hat trick that he considers the fifth even though the Premier League didn't credit him with a third goal on a shot that deflected off an Aston Villa opponent before going in. 
"First of all, I will add a hat trick that wasn't counted for me because the Premier league didn't want to count it," Chicharito said in Spanish. "But I had one with Manchester United. The second goal they didn't want to count, but for me it's a hat trick."
Unlike the three goals he helped create for Manchester United on Nov. 10, 2012, against Aston Villa, the three in the 3-2 victory over the New York Red Bulls were put on his tally. Chicharito now has five goals in two games this season.
Chicharito is story of MLS so far
It won't be a surprise if he wins the MLS Player of the Week for the second week in a row.  More importantly, Chicharito appears deserving of a call back up to the Mexican national team. He is placing himself in the conversation for one of the over-age slots for the team Mexico will send to the Olympic Games this summer.
The Little Pea has been the face of Mexican soccer since he signed with Manchester United prior to the 2010 World Cup. He's El Tri's all-time leading scorer with 52 goals over 109 appearances.
Other younger forwards have surpassed him on the Mexican national team's depth chart, especially after he struggled last season with the Galaxy. Nonetheless, Chicharito rates along with Rafa Marquez, Hugo Sanchez and Andres Guardado as the Mexican players with the most productive careers in Europe. 
If Chicharito continues to play near his current form, he would be a perfect veteran leader as Mexico attempts to win its second gold medal in men's soccer.
Chicharito always open for El Tri
Unlike LAFC's Mexican superstar Carlos Vela, Chicharito has never turned down an invitation to play for El Tri. 
"All I have is words of appreciation that I may be considered (for El Tri)," Chicharito said. "I've always mentioned it after any question about the national team. I haven't closed doors. I haven't retired. The only one who can open doors for many opportunities with the national team is oneself with our performances."
Vela entered the season as one of the favorites to win the MLS MVP Award. The 2019 MLS MVP has been more productive than Chicharito over the previous three seasons. 
They are both near the end of their careers. Vela turned 32 in March, and Chicharito will turn 33 in June. They still have plenty to give, as Chicharito is showing early this season.
Can Chicharito threaten the 34-goal mark Vela set in 2019? He might not have the opportunity if he continues to play this well because he's likely to be called up for the Olympics. For now, though, he would rather not think too much about a return to El Tri.
"It's not that I discount it or accept it, but right now I'm very focused on the LA Galaxy," Chicharito said. "If things happen we'll talk about it, but right now I'm 100 percent with my club, celebrating this moment and we'll see what happens."
A year ago, most experts assumed Chicharito's time with El Tri was over. Now, he's in the conversation for a spot at the Olympics. That's a good thing for the Galaxy, MLS and Mexican soccer. 
Feature photo by Meg Oliphant/Getty Images
Get the Our Esquina Email Newsletter
By submitting your email, you are agreeing to receive additional communications and exclusive content from Our Esquina. You can unsubscribe at any time.