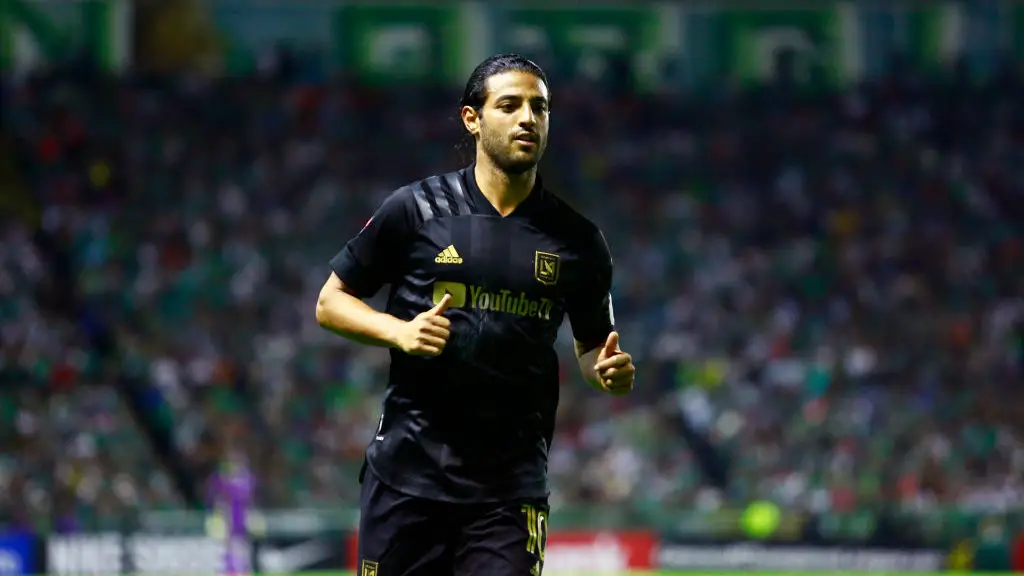 Carlos Vela, expansion Austin FC highlight MLS return
Is this the year Carlos Vela and LAFC finally earn the MLS Cup title?
Mexican superstar Carlos Vela and Major League Soccer are back. After the COVID-19 pandemic disrupted the league's 25th Anniversary celebrations, there's hope that this 2021 season doesn't include a tournament in a bubble in Orlando.
A new season means new narratives, renewed rivalries. A new season also means all of us have questions we want answered.
We've outlined three important questions heading into the start of the MLS season.
How will Austin FC perform in its inaugural season? 
We all know it's been a weird year. Now imagine trying to build a team from the ground up during a pandemic. That's the task Sporting Director/former U.S. national team player Claudio Reyna and coach Josh Wolff have been dealing with. We don't know much about how they intend to play.
Wolff comes from Gregg Berhalter's staff, so there's a basic assumption that Austin FC will follow the same set up that the men's national team employs. We can assume that they will also want to build play from the back and press high, but its not a sure bet. 
Using the previous two expansion teams – Nashville SC and Inter Miami – as a barometer for what Austin can achieve this first year, competing for the last playoff spot or being a 10th seed should be considered a good year. 
Austin FC will compete in its new stadium, Q2, in north central Austin. Reyna's club debuts on the road Saturday against LAFC. They'll have their home opener on June 19 against the San Jose Earthquakes
Will the Phil Neville experiment pay off for Inter Miami? 
David Beckham's MLS team underperformed last year. Or at least he thinks they did. What else would you describe as the reason for firing the coach who took you to the play-in round for the Eastern Conference playoffs?
If you look at their squad, there are a few names that pop out. Blaise Matuidi, Gonzalo Higuain, Rodolfo Pizarro. Those three are expected to be the spine of the team. They should make Inter Miami contenders.  As we all know, sports don't work that way.
Simply putting big names with international reputations and expecting them to waltz through the MLS won't work. So what's the solution? Beckham clearly thinks it lies in the mind of his former teammate Phil Neville. 
Neville joins Inter Miami following a disappointing result at the 2019 Women's World Cup as the England Women's Team manager. He had an even more disappointing showing at the 2020 SheBelieves Cup. It's hard to see how Neville gets this job without being friends with the team owner.
It's difficult to think he'll inject some creativity and new ideas into a team that looked stale last season. But I guess we'll find out. Prior to his position as an England coach, he served as assistant to his brother with Spanish La Liga side Valencia.
It's a big jump to go from assistant to a top 10 La Liga team to head coach of a national team. Maybe being an MLS coach will suit him better. Inter Miami will open against the L.A. Galaxy in Fort Lauderdale on Sunday. 
Can Carlos Vela's LAFC get over the hump? 
Carlos Vela's LAFC finished third in the Western Conference during its inaugural season and lost in the playoffs. They had the best MLS season in history the next season while the Mexican star had the best goal scoring season in MLS history. Yet, they lost in the playoffs.
Last year, LAFC made the playoffs but lost in the first round. It seems a bit unfair to call a team a disappointment when it has only existed for three years.
But two straight losses to the Seattle Sounders in consecutive years feel like failures. With the amount of firepower that they have in Carlos Vela, Diego Rossi and Brian Rodriguez (who is currently out on loan) one would think that they can win the MLS Cup. You'd think they would not crash out in the second round.
"For me the most important (thing) is to win something with my team," Vela said Thursday. "Because in the end football is a team sport so it's so important for me to bring a trophy for this club, these fans."
Defensive problems cost LAFC the CONCACAF Champions League title too. It'll be interesting to see what legendary coach Bob Bradley and the rest of the coaching staff do to play better defensively. But I think it's safe to assume that the expectations for this year are MLS Cup or bust.
After all, they do play in Los Angeles, a city with a short attention span with teams that can't win.  
Get the Our Esquina Email Newsletter
By submitting your email, you are agreeing to receive additional communications and exclusive content from Our Esquina. You can unsubscribe at any time.