Cuban reunion at MLB Futures Game
Cubans Pedro Leon, Jose Barrero and Yoelqui Céspedes reconnect at Futures Game
DENVER – As they prepared to return to their respective clubhouses Sunday afternoon, Reds prospect Jose Barrero raced toward Astros prospect Pedro Leon. The 2021 SiriusXM All-Star Futures Game was set to start at Coors Field, and Barrero wanted one last chat with his fellow Cuban.
A few hours earlier, Leon and White Sox prospect Yoelqui Céspedes gave each other hearty embraces. "Wow, brother," Leon told Céspedes. "How long has it been since I saw you?"
The Futures Game gave the trio of Cuban defectors a chance to catch up.  Leon and Céspedes were on the American League team. Barrero got the National League started in the 8-3 victory in the annual showcase of baseball's top prospects.
Just a few years ago, they wouldn't have dared to speak publicly of wanting to play in the Futures Game or even the majors. At that time, they all swore allegiance to Fidel Castro's Cuba even after Castro's death in late November 2016.
Changing Cuban tune
"In Cuba we would say, 'No to the big leagues," said Céspedes, the half brother of veteran major leaguer Yoenis Cespedes. "We all had the same opinion, 'No, I wouldn't go. Never.' 
"But, now look, thank God we are here now."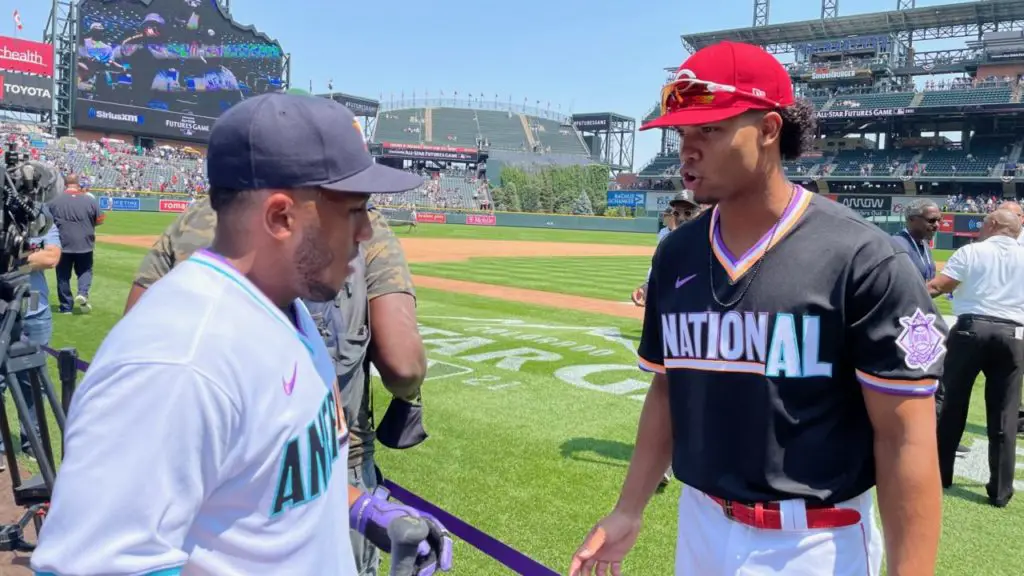 Barrero, who gave the NL a 1-0 lead with a home run to left in the first inning, was the first of the trio to defect. He signed with the Reds in 2017. The younger Céspedes remained in Cuba long after his old brother Yoenis defected in 2011, when Yoelqui was only 13.

Just as his older brother had done, Yoelqui represented the Cuban National Team before defecting.
Céspedes left Cuba in 2019 and then signed with the White Sox last December. Leon also defected from Cuba in 2019. He reached a $4 million deal with the Astros in January.
"I'm very happy," Céspedes said. "Despite being Cubans it has been four-five years since we had seen each other. Thank God we connected here. This is a dream that we're making reality."
In less than one full season in the minors, Leon and Céspedes were happy to be at the Futures Game with Barrero, who is already made a brief appearance in the majors with the Reds.  
Sharing stage
"There's nothing better than being able to be here with people from our country," Leon said. "It's important, as much with Yoelqui Céspedes with our team and Jose Berrero from the National League. It's something that you always dream about. I'm very proud and happy to be able to be here."
Now they dream of joining the other Cubans already in the majors. Céspedes and Leon are both grateful their teams have large Cuban contingents willing to give them advice as they climb toward the majors.
Yuli Gurriel, Yordan Alvarez and Aledmys Diaz of the Astros made Leon feel at home during spring training. Reigning AL MVP Jose Abreu and Luis Robert have been there for Cespedes with the White Sox. He speaks to them often.
"Their help is very important because you feel like you're home," Cespedes said. "It's something that helps give you confidence because they tell you how to do things. "
Get the Our Esquina Email Newsletter
By submitting your email, you are agreeing to receive additional communications and exclusive content from Our Esquina. You can unsubscribe at any time.