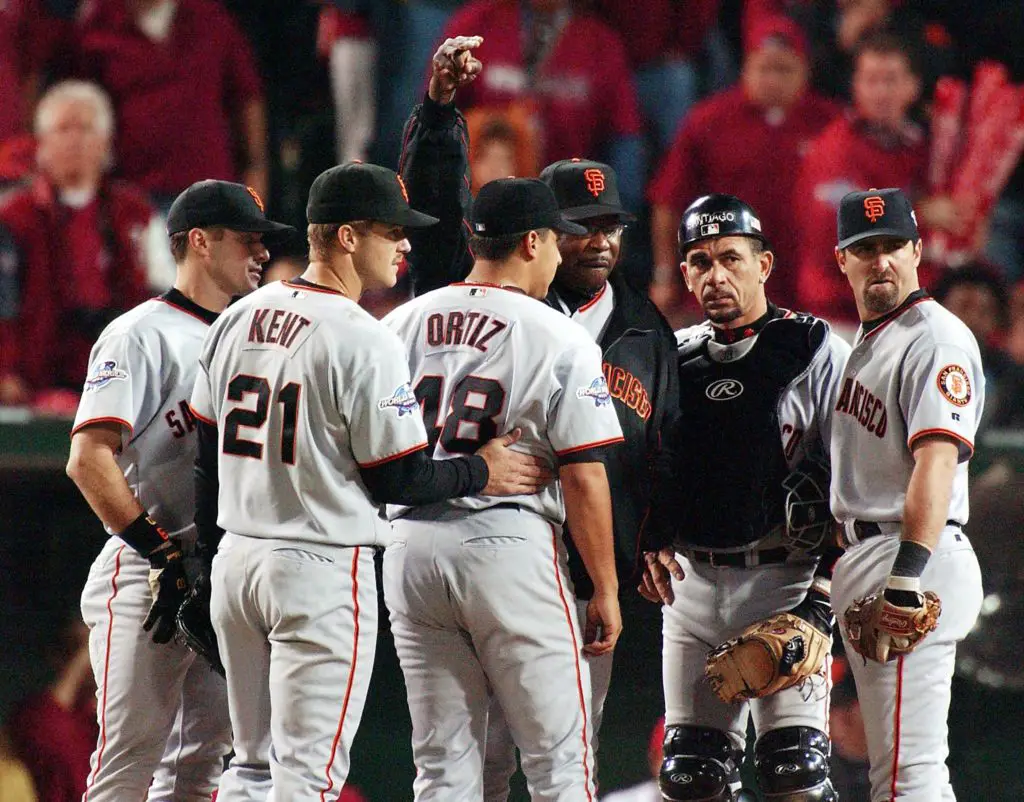 Russ Ortiz: 'I always knew Dusty Baker cared'
Dusty Baker devotes time to learning about his players
During Game 6 of the 2002 World Series, Dusty Baker removed me with a 5-0 lead in the seventh inning. On that Angel Stadium mound, he handed me the ball after I turned it over to him. It was a rare gesture.
The Angels came back against our San Francisco Giants, though. We lost Game 6, and Dusty got a lot of crap for it. We also lost Game 7 and the World Series. When we got back to San Francisco, Dusty called me in his office. That's when he explained that he just wanted me to have a memento from a World Series game I pitched in because it may be the only one I ever pitched in. And he was right.
That gesture in Game 6 of the 2002 World Series is just one of thousands of examples of how much Dusty Baker cares about his players. 
More Dusty Baker and Astros. Dusty Baker: 'Gotta have it'
More than Pozole Power for Dusty Baker, Jose Urquidy
Astros Title Chase A Family Affair For Carlos Correa
Dusty Baker, who has the Houston Astros in the American League Championship Series, wants to win so badly. I love his enthusiasm for his team and the game. He is able to trust his gut because he knows his players.
Dusty Baker knows his players 
Dusty Baker knows his players because he spends time getting to know us. He puts in the time and effort to meet us, our spouses, children, parents and even grandparents. He cares. 
He is a true players' manager, and it was awesome playing for him and being able to call him a friend. 
Dusty Baker had basically two rules: "Be on time and don't lie to me."
These we're basically it. I heard this for the first time in 1998, my first year in major league camp during spring training. That basically signified to me and, I think, to everyone else that Dusty was going to treat all of us like men and expected us to act like men. 
He was showing us that he was going to help lead this team by trusting us as adults and trusting that we would take care of our responsibilities and be ready every time we were called upon to do our job. As a rookie that's something I really appreciated.
The manager has to pay attention to a lot of things during spring training and the season. One thing Dusty made sure to do was get to know his players, especially the new ones.
Putting in the time
The time he spent with me that first season was spent asking me questions to get to know me and sharing some insights on how to be a successful major leaguer. I took everything he had to say to heart that first year and every other year I spent with him.
The topics Dusty spent time talking with me were about faith, family, music, travel in the big leagues, being responsible for my job, how to handle pressure, encouraging me to talk to other players who have a successful track record and many more. In my opinion, his goal was to find out what makes each player tick and be able to help them perfect that as much as they can to have individual success that will help garner team success.
It usually took me a couple innings to get settled in during my starts, and Dusty knew that. My first year and a half of starting, Dusty let me be me. He threw out some advice every now and then to help me be as consistent as possible. 
But from Day 1 I felt like he had all the confidence in the world in me. Early on I was always putting pressure on myself to do well for the team, for the city and to earn respect as a big leaguer. Dusty stayed on me to never let up. I always felt like he saw something special in me and made sure that he would do everything he could to help me always strive for greatness on the field and off the field.
Remembering special moments, good and bad
Some of the special moments I shared with him were: Before my first appearance in the big leagues at the Astrodome he told me to enjoy the moment, look around and take it all in before I started my warm-ups on the game mound.
And once I finish my warm-ups and my first batter steps in to look at him and give him his due respect, because he's earned it and then let that moment go and get to work.  I did exactly that, and it helped calm my nerves and allowed me to have a successful first appearance. 
In 2000 I struggled badly in the first half of the season after an 18-win season. He told me he was sticking with me because he believed in me even though he was getting pressure to take me out of the rotation. 
That was a huge encouragement. However I couldn't get it right. So at the All Star break he had to tell me he held on as long as he could and he had to remove me from the rotation.
I still have a picture at home from my third start in the majors in 1998. It ran in the Santa Cruz (Calif.) Sentinel, and it shows Dusty Baker greeting me on the mound. He has both hands around my face. He's looking me in the eyes, and I have a smile as he speaks to me.
In good times and bad ones, I always knew Dusty cared.
Featured image by LUCY NICHOLSON/AFP via Getty Images
Get the Our Esquina Email Newsletter
By submitting your email, you are agreeing to receive additional communications and exclusive content from Our Esquina. You can unsubscribe at any time.